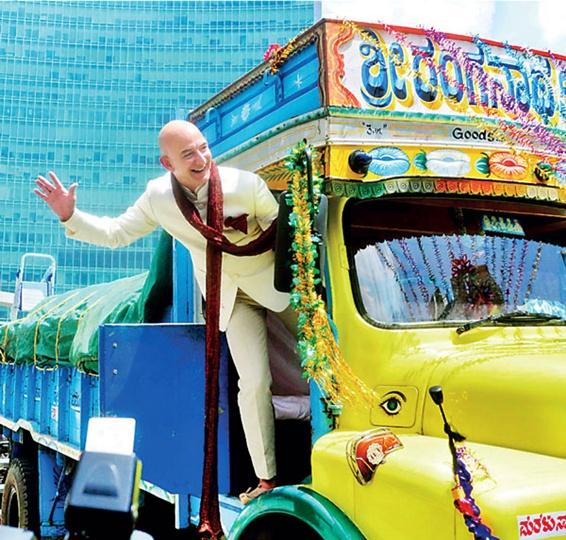 Image: Amazon founder and CEO Jeff Bezos poses as he stands on a supply truck during a photo opportunity at the premises of a shopping mall in Bangalore. Photograph: Reuters
Amazon pitches discount strategy against India rival's; festive sales war hots up as eBay jumps in, too.
A day after Jeff Bezos, the legendary founder and CEO of Amazon, said in media interviews that his company did not pay any attention to competition and that it preferred to focus on improving customer experience, the American online major's response to Indian rival Flipkart's marketing blitz was out in the open.

Prominent print advertisements on Monday pitched Amazon's discount strategy against Flipkart's.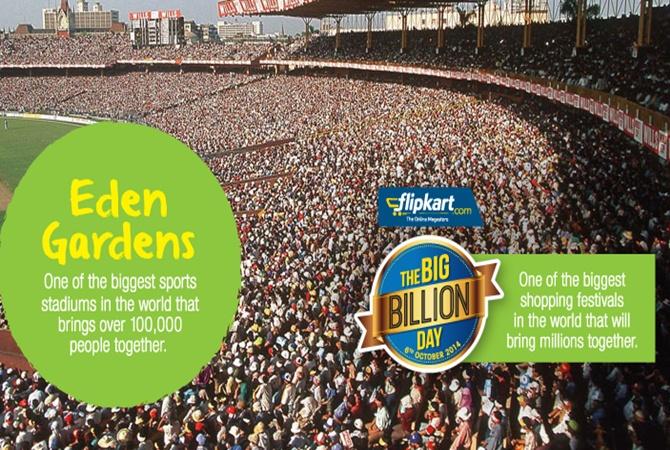 The Amazon ad said, why have a "one-day dhamaka'' (sensation) when sales can happen everyday.

Flipkart billboards all across Bangalore have been screaming over the last few days, "The big billion day — greatest sale ever'' on October 6, in the largest festival campaign by the company.
The Flipkart hoardings, many of them on the highway road from the airport to the city, were being interpreted as a way to tell Bezos, in India for a week, that Amazon was in for big competition in Indian e-commerce.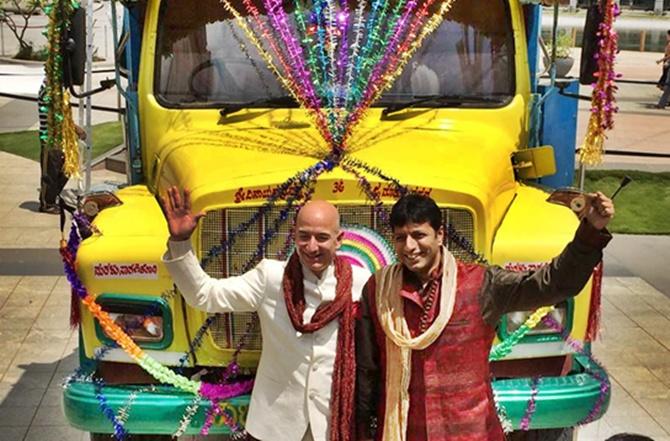 Image: Amazon founder and CEO Jeff Bezos with Amit Agarwal, Country Manager, India at Bangalore. Photograph: Amazon
Bezos said on Sunday that Amazon did not believe in such distractions and he would like to put heads down and concentrate on customers. "Rivals don't get us revenues, customers do,'' the man who's known to be a combination of a micro-manager and a happy-go-lucky boss told Business Standard on Sunday evening in an interview, while laughing and offering witty one-liners.
When asked whether he had noticed the big billboards on Flipkart's Diwali sales, Bezos said ''no'', dismissing the talk on competition as "a bunch of noise''.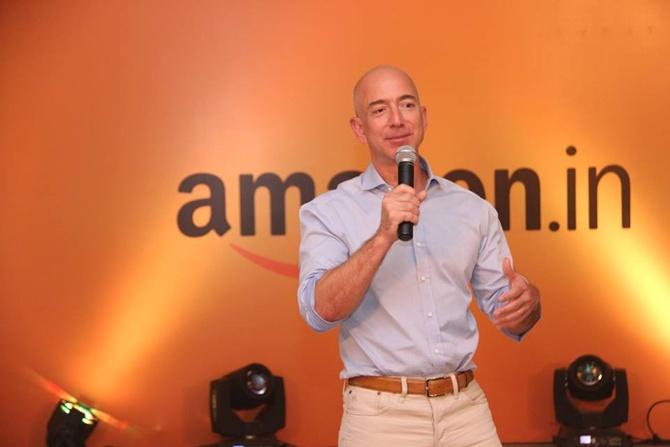 He added, "It's a noisy world we are living in'', but distractions must be kept aside to perform well.

"That has been our approach so far, and I'm not going to change that." On whether he had ever thought Flipkart's Sachin Bansal and Binny Bansal, who had earlier worked at Amazon, would one day give him competition, Bezos said, "I don't think much about these things.''
But competition matters. Apart from the prominent ads in the papers today, suggesting Amazon's sales are more lasting and widespread than Flipkart's one-day bonanza on October 6, Bezos in fact took on his competition within hours of landing in India.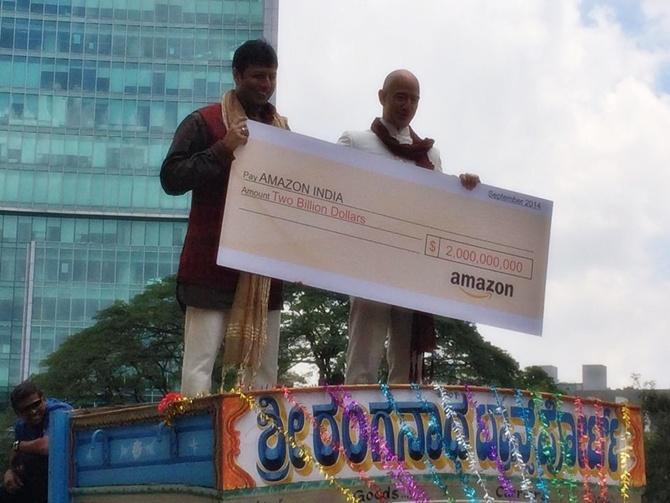 In a photo-shoot organised in Bangalore on Sunday morning, the Amazon boss dressed up in a sherwani and posed to the delight of the shutterbugs, quite similar to what Virgin group's Richard Branson has done many times, to reiterate the India identity of Amazon. He also symbolically carried a $2-billion cheque at the shoot.

Amazon had recently announced a $2-billion investment in India, just a day after Flipkart held a conference to talk about the $1 billion it had raised.
Though Flipkart is not talking about what the "big billion'' meant in its campaign, a source said the reference was to the population of India and that the upcoming sale would have something for everybody.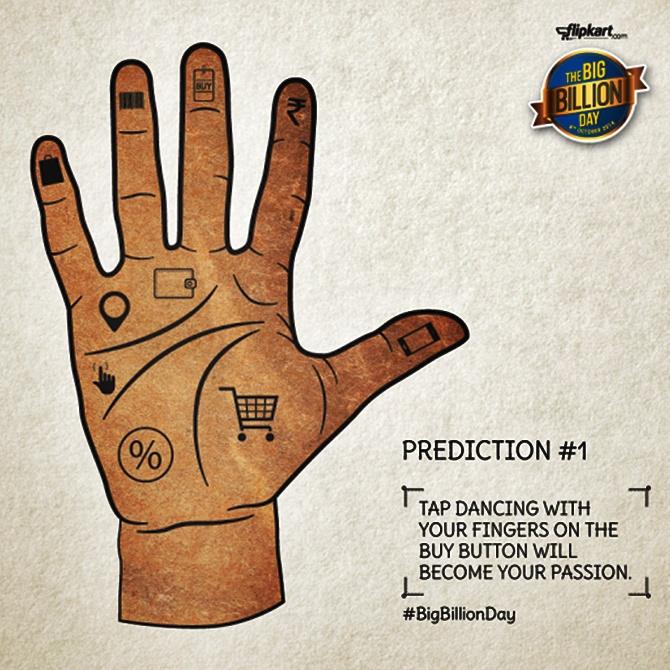 Mukesh Bansal, CEO of Myntra and a top strategist for Flipkart now, told Business Standard, this would be the biggest sale India had seen. Myntra was recently acquired by Flipkart. And the inspiration for the Flipkart sale seems to be China's Alibaba, which is in the news for its $25-billion IPO. "It's more like the Single's Day sales at Alibaba, where you gift yourself,'' said a source.

Last year, Alibaba did estimated sales worth $5 billion on the Single's Day.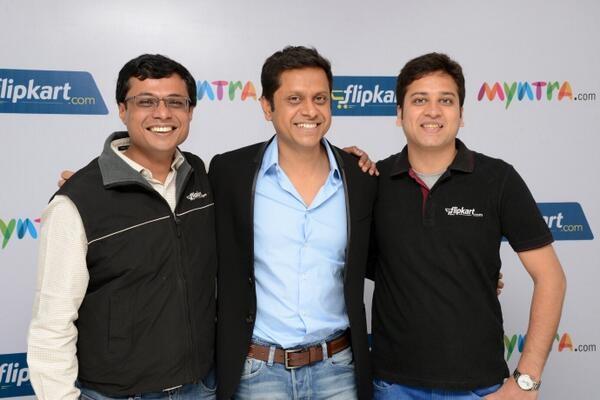 Image: (L-R) Sachin Bansal, Mukesh Bansal and Binny Bansal
Flipkart co-founder and CEO Sachin Bansal had last week quipped, in reply to media questions on Bezos' visit, that Amazon seemed to be worried about the whole place and that the American company was putting all efforts here as India was the next frontier in e-commerce after China.

When Bezos was asked if he indeed had come to India in panic, he refrained from any direct attack, saying, "I can only say I'm super happy to be here.'' The following day, Amazon told the world, through its ads, that it was more relevant to offer discounts on a daily basis than choosing a specific day for it.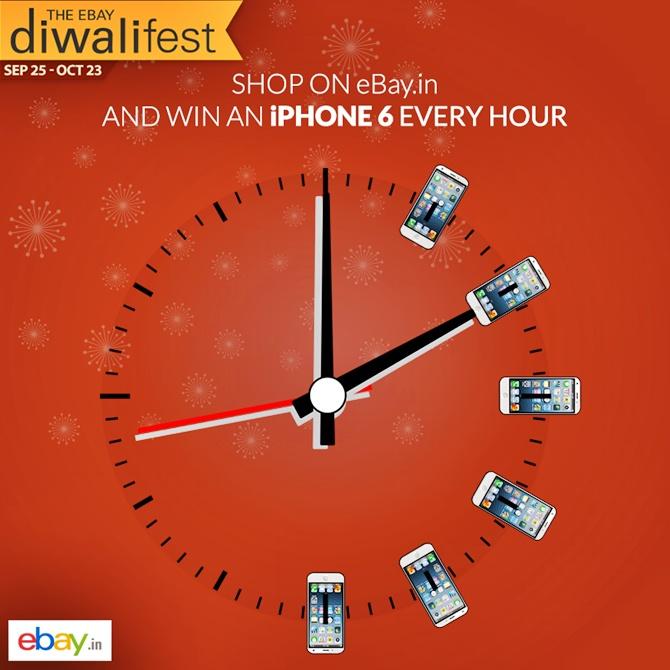 Neon boards announcing Amazon's festival sale have already appeared in Bangalore.
"Introducing online shopping dhamaka... The biggest festive celebration begins on amazon.in," the boards say.

Meanwhile, another US e-commerce player has jumped into the fray to offer festival discounts. eBay has announced a 'Diwali Fest', which will be live from September 25 to October 23.