With more firms now offering stock options to their chief executives, the salaries of these managers are sky-rocketing.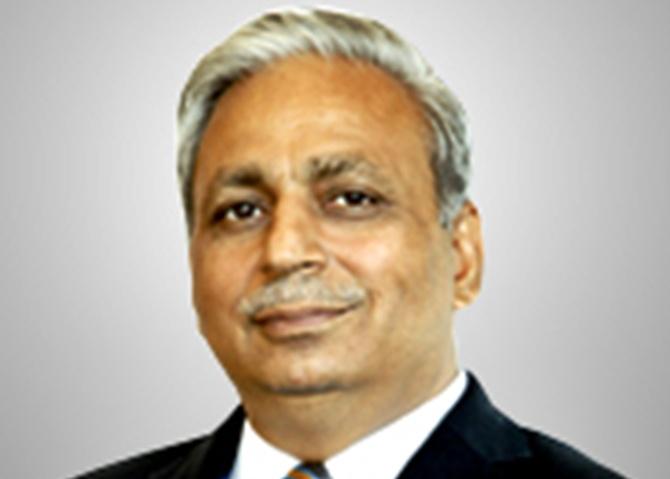 Tech Mahindra Managing Director & CEO C P Gurnani, for example, in 2014-15 earned in total Rs 165.57 crore, of which Rs 163.14 crore came through stock options.

This made Gurnani the best-paid CEO of an Indian company last financial year.
"The remuneration of Gurnani includes perquisite value of options, granted under ESOP schemes, which have vested in him over the past few years," said a company spokesperson.
The changed disclosure requirements under the new governance code of the Securities and Exchange Board of India and the new Companies Act require companies to discuss compensation of their top executive teams in greater detail.

This means, for the first time, companies are now disclosing in their annual reports the value of perquisite value of stocks their CEOs earned in a year through exercising their options which were vested to them over a few years.
Gurnani is not the only one whose annual compensation has a large stock option component.

HDFC Bank Managing Director Aditya Puri in 2014-15 drew an annual remuneration of Rs 32.8 crore, of which Rs 25.4 crore came through stocks received under Esop.
"Stock plans are now playing a substantial role in CEOs' pay; our research shows stock-based compensation on average accounts for about a third of a CEO's annual compensation in India," says Anubhav Gupta, solution head (executive compensation) at global executive search firm Aon Hewitt.
About 30 Nifty 50 companies have so far filed their annual reports for 2014-15.

An analysis of this sample shows 10 companies had promoter-CEOs, who were not entitled to Esops.

Among the 20 professional ones, eight exercised their stock options last year and that formed a substantial part of their annual compensation.
Mahindra & Mahindra Executive Director Pawan Goenka received a total remuneration of Rs 10.4 crore during the year.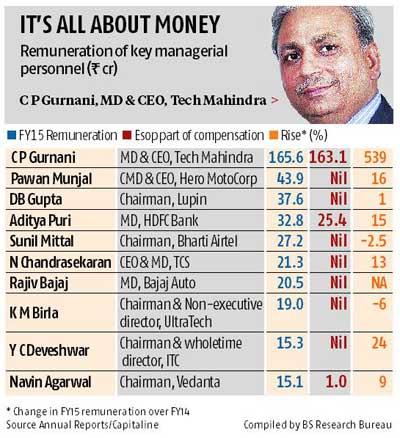 Of this, Rs 4.4 crore was earned through stocks. Kotak Mahindra Bank Joint Managing Directors C Jayaram and Dipak Gupta earned Rs 7.7 crore and Rs 7.6 crore, respectively. Of these, Rs 5.5 crore and Rs 5.4 crore came through stock options.
Among the 20 professional CEOs, there were some who were granted stocks but did not exercise any options last year.

These include ICICI Bank MD & CEO Chanda Kochhar, who earned Rs 5.86 crore without exercising any stock options.
"It is important to note that a CEO might have exercised a large portion of options accumulated over the years, so stock compensation could show a very high number in the case of some companies. This does not necessarily mean we will see similar numbers year after year," says Gupta, adding that stock options not yet exercised have created substantial wealth for CEOs.
Stock options are becoming a very important tool for wealth creation for both shareholders and professional CEOs. This is because the money actually realised by a CEO from stock ownership plans could be very different from the worth of these options at the time of grant.

Research by Aon Hewitt shows the pay-offs from Esops over the past four years have been three to five times their value at the time of grant of these stocks.

Simply put, options worth Rs 5 crore given to a CEO resulted in a pay-off of Rs 15-25 crore in four years. The pay-offs are even higher in the industries that have done well over the past four to five years.
Amit Tandon, founder of Institutional Investor Advisory Services, a Mumbai-based proxy advisory firm, says: "Considering stock option as part of annual compensation is a more appropriate way of disclosing a CEO's compensation, as this is what is going out of a company's profit and loss account."
Stock options have also become a potent tool to address shareholders' criticism of promoter-CEOs taking hefty salaries.

With professional CEOs' salary being linked with performance through stock options, they can earn much more now than the promoter-CEOs, who are not entitled to this.

For instance, Gurnani's overall compensation is nearly four times that of Hero MotoCorp Chairman, MD & CEO Pawan Munjal, who is second on the list of 30 companies.
"CEO salary has to be in line with shareholder value creation, and stock options are one of the best ways to make it performance-linked," says Govind Iyer, partner at Egon Zehnder International.
"It is good that companies have to disclose it now, as that makes things more transparent," says Iyer.