Rahul Yadav, the recently-ousted CEO of Housing.com, says he is too logical to be sentimental about the venture he co-founded three years ago.
Image: Rahul Yadav, the poster boy of startups.
Rahul Yadav's mince-no-words style of communication caught up with him on Wednesday when the board of Housing.com "released" him as CEO with immediate effect.

His behaviour, the board said, did not befit a CEO and was detrimental to the company he co-founded three years ago.
The 26-year-old, who is called the poster boy and Rakhi Sawant of startups in the same breath, is unlikely to withdraw into a shell.

In an interaction with Business Standard recently, Yadav said that though he loves Housing.com, he is too logical to get sentimental about it.

It is also unlikely that Yadav will change his ways: in the same interview, he had made it clear that he attaches no importance to what people think of him.
Yadav remains supremely confident of his instincts and capabilities, and is convinced he is destiny's child.

"I think whatever the world is today, it is because of a few people. These people bring in change and the world follows them for the next few decades. We at Housing.com are like that," Yadav said.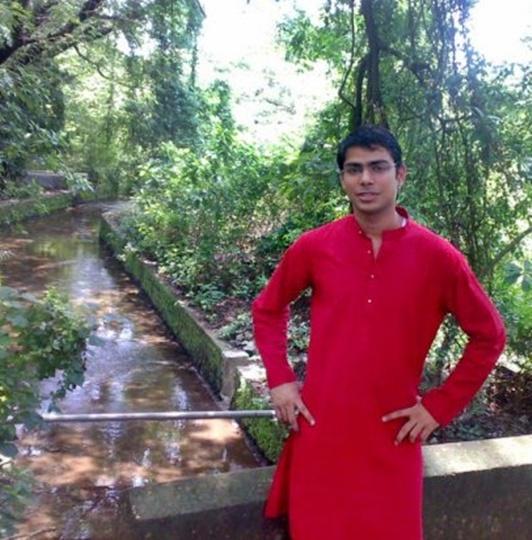 The rural lad
Second of the three children of a merchant navy officer, Yadav grew up in the countryside in Rajasthan.

"In our government school, we would sit on the floor on dust-laden mats. The classrooms did not have doors, there were no fans. Sitting on the floor would give us corns and callus feet."
Initially, he was indifferent towards studies. But a sarcastic jibe from his uncle, that he will never be able to achieve anything in life, made Yadav mend his ways.

"Mathematics in the 11th and 12th standards is tough. But I had to prove myself. I would study for 15 to 18 hours in a day and revised my course a dozen times. I learnt to solve sums in the shortest possible way," says Yadav.

He topped the state level exams in physics, chemistry and mathematics.
One day, Yadav's school took his class on a tour of the local engineering college. The college's glass facade became an incentive for Yadav to pursue engineering.

"I had never seen such infrastructure. I was in awe, and in an instant decided to join the engineering college," he remembers.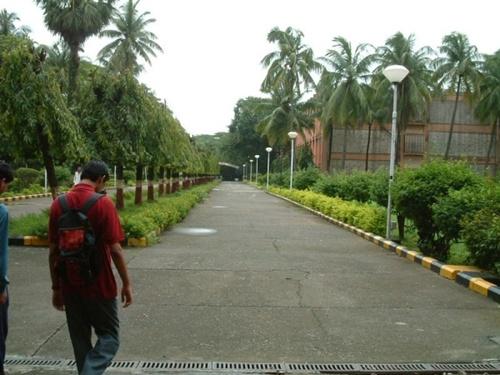 Photograph, courtesy: IIT Bombay
On the insistence of one of his teachers, he went to join one of the coaching classes at Kota, the Mecca of IIT aspirants.
He got through and chose IIT Bombay for a unique reason: "Mumbai received abundant rainfall and had tender coconuts available. These became the key reasons to join IIT Bombay," he says.
At IIT Bombay though, English proved to be an impediment. "I was quick with mathematics, chemistry and physics, but when it came to writing in English, I just could not do it. In examinations I would not even bother attempting questions that required answering in English." The rebellious streak in him was visible early.
The stint at the engineering college, however, helped Yadav hone his leadership skills.

He was the class representative and stood for elections for the position of general secretary. He also designed exambaba.com, a question bank for IITians.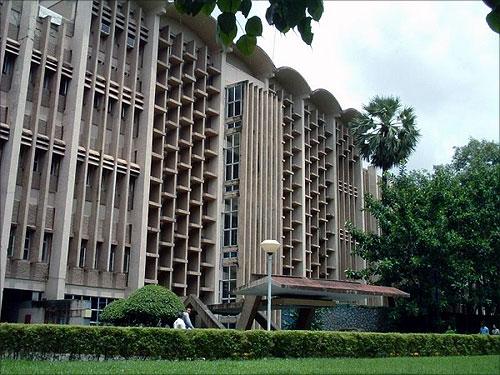 Image: IIT Bombay. Photograph, courtesy: Wikimedia Commons
Later, IIT Bombay took over the website. Meanwhile, his English improved. But even after he made peace with English, he decided to drop out.
The reason: "I don't think anyone at IIT is interested in teaching. The academics aren't up to the mark. I think most serious teachers are abroad," Yadav says.

"It is a waste of four years. It is just that with so many bright and genius people around you, you get to learn a lot."
Yadav wrote to his professor about his desire to quit, but he asked him to stick around and complete his course.

In the final year, when his batchmates sat for placement interviews, it was Yadav's sheer laziness to write his own CV that made him skip the sessions. "I don't have the patience to write two full pages about myself and that too in English. So I skipped it." He finally didn't complete the course.
Yadav is not sure if his parents are aware of his dropout status. His sister though got a whiff of it from media reports.
"Recently, my sister called and the first thing she asked me was if I had finished my course. I told her I have. Just that I have not collected my degree," Yadav says with a grin.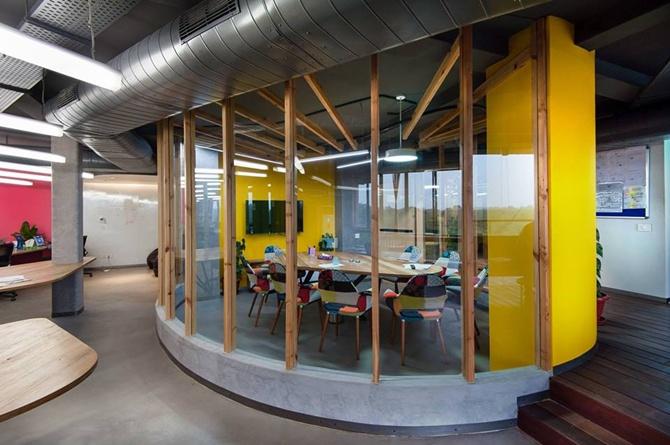 Image: Housing.com's design studio.
Birth of a venture
After IIT, Yadav struggled to find a space to live in Mumbai. Those experiences gave birth to the idea of Housing.com.

"I realised that making money is not difficult. You just need to be sure of what you are doing."

It is probably this philosophy that made Yadav give away his 4-odd per cent stake in Housing.com to his employees this May. But his move to challenge CEOs of other start-ups to do the same was termed a publicity stunt.
"Had my challenge of giving away my stake been accepted by other CEOs, it would have reduced inequality in the world," says Yadav, adding that he does not regret anything that he has done so far, be it shooting off emails to his investors and media or questioning the capabilities of his board.

"I have been the face of the company. I started it, the ideas were mine, I wanted to run the company my way and thus I decided to quit."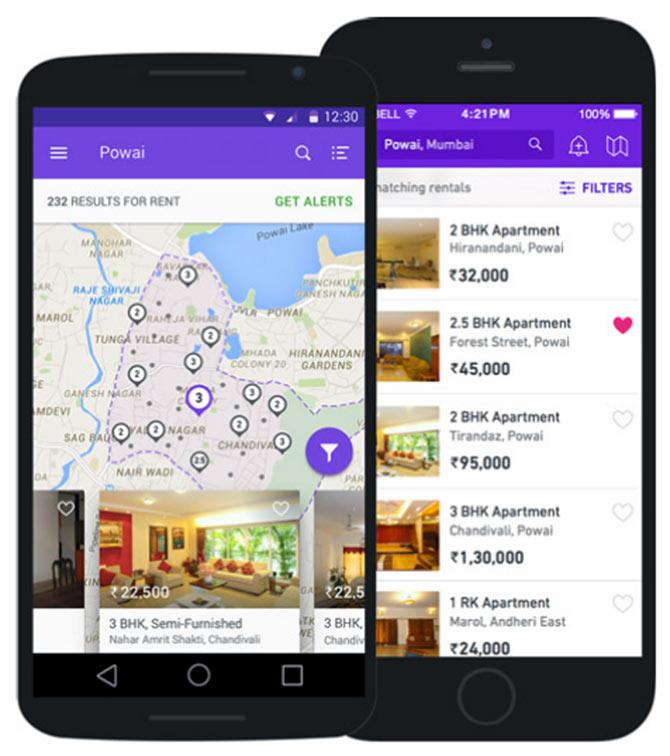 Housing.com made news for its advertising campaign recently — it cost Rs 120 crore (Rs 1.2 billion), though the company is far from reporting profits.

"In real estate you need to keep acquiring new customers and for that you need to advertise and build brand recall," says Yadav. "Besides, no one is making profits. Some of the others have been in business for over eight years, while we have been here only for three years."
Yadav does not have a girlfriend. His weekends until recently were devoted to Housing.com and personal matters took a backseat.

That could change now. "I want to better my English and learn Mandarin," says he.
"I am planning to use my weekends to work on my public speaking and delivery."
Noble intentions, but what to say is more important than how to say it.

Photographs, courtesy: Rahul Yadav's Facebook