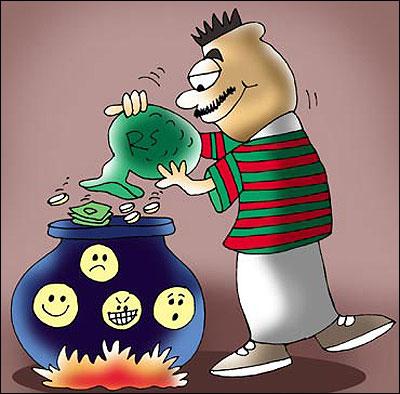 A part of EPPO's Rs 6.5 lakh crore corpus may be used to set up Workers' Bank with the objective of maximising returns as well as providing easy credit, primarily to its members.
"We are working on the proposal to create Workers' Bank using Employees' Provident Fund Organisation's (EPFO) funds," a senior Labour Ministry official told PTI.
Asked whether the proposal would soon be sent to the Department of Financial Services (DFS) for vetting and approval, the official said, "Obviously. It would be sent to DFS. But first we have to firm up the proposal."
The proposal was discussed in the EPFO's apex decision making body the Central Board of Trustees' (CBT) meeting on December 19.
The deliberations on the matter concluded that it would ideal for EPFO to set up Workers' Bank as it would not only meet the financial requirements of members but also improve returns.
As per the minutes of the CBT meeting, then Labour Secretary Gauri Kumar had said that "EPFO may not have the core competence to run Workers' Bank. However, the suggestions for Workers' Bank can be referred for consideration of DFS based on discussions in CBT."
Commenting on the proposal another senior official said, "It would not appropriate at this point of time to create Workers' Bank. EPFO is bringing its house in order by improving delivery of service."
He further said, "EPFO is going through a transition phase to move toward providing core banking type services to its subscribers. It has recently introduced portable PF account numbers to its subscribers. It needs to consolidate its core competence rather than starting new venture."
Budget 2015: Complete Coverage
EPFO has a subscribers' base of over 5 crore (50 million) and manages a huge corpus of Rs 6.5 lakh crore. It receives around Rs 70,000 crore (Rs 700 billion) every year as incremental deposit. During the current fiscal, EPFO is estimated to receive Rs 79,000 crore (Rs 790 billion).
When asked about the status of Labour Ministry's proposal to set up a central vocational university, the official said, "It is still there and ministry is working on it."
The university is expected to leverage experiential learning, provide pathways for upward mobility and provide necessary framework and expertise in the areas of research and institutional development for vocational training.
It would have the main campus at Hyderabad in Telengana with regional campuses at Ludhiana, Kolkata, Gujarat and Chennai. Land and premises are already available at Ludhiana, Kolkata and Chennai.
Meanwhile, the CBT meeting scheduled for today was deferred due to time constraints.
The proposal for appointment of new fund managers for three years term beginning April 1 was on the agenda of the meeting. Besides, increasing the age for vesting pension by two years to 60 were was also on the agenda for today's meeting.