'It will cause problems for people who deal in small amounts of cash.'
'I hope it does not cause law and order problems.'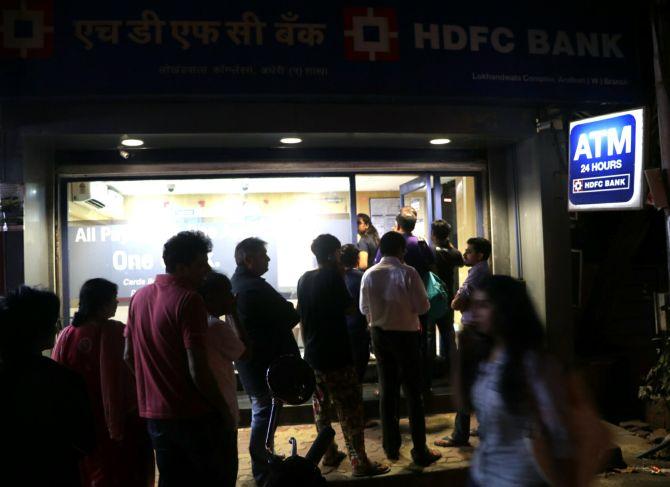 Mumbaikars were divided over the government's demonitisation decision, discovered Rediff.com's Aslam Hunani.
While Santosh Shetty, Chairman and Managing Director, Sinestar International, felt the move would eliminate black money and the funding of terrorism, businessman Rakesh Chopra felt it would not only affect big businessmen, "but even lower class people will suffer.
Banker Iram Taibani felt the government had taken a "very bold, powerful and decisive step" to curtail the use of black money in the economy, but Dhanraj Amin, who owns bars in Mumbai, was unhappy with the sudden move and felt the government should have given citizens more time rather than outlaw Rs 500 and Rs 1,000 notes from midnight.
"It will cause problems for people who deal in small amounts of cash," Javedbhai, a small time trader in cutlery, pointed out, adding, "I hope it does not cause law and order problems."
"I am really very happy (with the Rs 500 and Rs 1,000 notes being declared illegal)," businessman Savjeet Chheda told Rediff.com's Jahnavi Patel and Hitesh Harisinghani outside an ATM in Andheri, northwest Mumbai.
"We should and must hundred percent support Modi," Chheda said. "We work so hard. We don't even get Rs 5,000."
This move, he felt, would make a huge difference and all the Indians with black money would be exposed.
"Jiske paas goniya bhari hai, vo niklega na bahar abhi (people who have bags full of money, all that will be out now)."
---
Business Standard's Shine Jacob and Nivedita Mookerji report from New Delhi:
Panic-stricken citizens across cities rushed to ATMs, leaving their favourite TV soaps or post-dinner walk on Tuesday night, as word spread that the Rs 1,000 and Rs 500 notes in their wallets may not be accepted by shopkeepers anymore.
By 10 pm, long queues could be seen outside ATMs and those waiting for the most prized Rs 100 notes, to survive till banks start replacing high value notes, were anxious as ATMs soon ran out of cash, one by one.
'Out of service' notices greeted many who had caught the news late.
Wherever the cash dispensing machines still worked, citizens played cop, in a reminder of the days when onions had turned the most coveted item in households and nothing more than a kilogram was sold to any customer at one point.
A harassed young professional said, 'people in queues are imposing a cap and nobody could withdraw more than Rs 400 at a time so that everybody had something to take back home.'
If ATMs turned into hottest destinations, petrol pumps gave a close fight in terms of extraordinary footfalls.
A banker said, "I had to get rid of the last thousand rupees note I had and drove to the closest petrol pump to use the money." A petrol pump owner captured the mood saying "Today, nobody wants to pay by card. We have a huge pile up of Rs 500 and 1,000 in less than an hour."
On Delhi roads, Metro trains and social media, where the most trending conversation has been Delhi's thick smog, the talk swiftly turned to money matters.
Medicine shopping at chemists picked up too. Besides petrol pumps, airports and stations, chemists and hospitals have been mandated to take the demonetised notes till November 11, and nobody wanted to miss out on the chance.
Even though neighbourhood corner stores were not part of the government list to accept the demonetised currency, many loyal shoppers were spotted racing to grocery shops to stock up their kitchens.
"I am confused on what to do now. We have several transactions to make in the next two days for purchasing fruits from the market, for which we have already withdrawn money," said Anil Yadav, a fruit shop vendor, while he waited outside an ATM.
Namrata, a college professor, had earlier in the day withdrawn Rs 7,000 and was planning a shopping spree on Wednesday. Now all she was thinking of how to get the currency exchanged from banks.
As people worked their phones incessantly to spread the news around, making mobile service providers richer, the conversation steered from serious to bizarre.
While some discussed how big-time real estate transactions during Diwali were under attack, one of the jokes doing the rounds was, 'whoever owed money were rushing to pay back, using the phased out notes.'
IMAGE: A queue outside an ATM in Andheri, northwest Mumbai. Photograph: Hitesh Harisinghani/Rediff.com