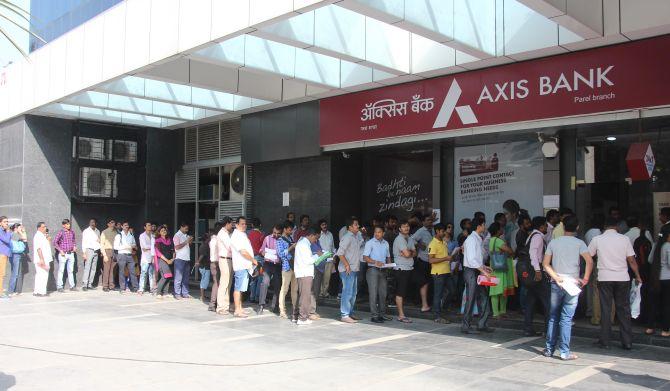 The scramble by millions of panicked consumers to exchange banned currency or deposit them turned tragic on Friday when two people died in separate incidents in Maharashtra and Kerala amid chaos and confusion for the second straight day with poor cash flow.
There were no signs of immediate relief even as several cash-strapped people were told to go back after bank servers at several branches reportedly collapsed while several ATMs went dry in a few hours. People who were able to exchange the old currency could get hold of the new notes only after waiting for several hours.
Vishwanath Vartak, 73, who was standing in the queue before a State Bank of India branch for exchanging currency, collapsed and died on the spot at Navghar in Mulund in eastern suburbs, police said.
Vartak had been standing for hours in the queue to exchange Rs 1,000 and Rs 500 denomination notes. Though he was rushed to hospital by some people who saw him collapse, he was declared dead before admission, police said.
In Kerala, 75-year-old Karthikeyan from Kumarapuram in Haripad in Alappuzha district was standing in a queue at a branch of the State Bank of Travancore, when he collapsed and died.
In another incident, a 48-year old man, who came to deposit Rs 5 lakh worth scrapped high denomination notes in a bank in Thalassery in Kerala, died after he fell down from the second floor of a building.
Unni, a Kerala State Electricity Board employee, was filling the necessary forms to deposit the amount in the State Bank of Travancore's branch, located in the first floor, when the mishap occurred, they said quoting preliminary information.
He had unsuccessfully tried to deposit the notes on Thursday and came to the bank again on Friday morning.
Running out of money for the last two days, men and women across the country had thronged the ATMs since early morning while in many places, to their disappointment, they found the machines not working.
Police was also called in to help banks control the angry depositors whose patience wore thin after standing in long queues.
"I waited for an hour in the queue and minutes before my turn the ATM was already down. My biggest problem is buying groceries and paying for other petty expenses," said 35-year-old housewife Aditi Saha in Kolkata.
Even the bank employees are facing tough time dealing with customers in view of people rushing to the banks to exchange their old money.
"We (employees) could not get time to have our lunch during the day as the branch was flooded by people," S K Shrivastava, Manager, Bank of India, S K Nagar branch in Patna
said.
People in Delhi had a harrowing time like in other parts of the country as they stood in long queues for several hours outside banks to exchange their demonetised Rs 500 and Rs 1,000 notes with new ones even as many of ATMs had not stocked up cash.
"I had been saving money but it wasn't of any use since all of them were in Rs 500 and Rs 1,000 denominations. My only hope after surviving two days without cash was that the ATMs will be operational from today, but owing to many of the ATMs being closed, I had to borrow money from my neighbours," said Delhi homemaker Sunita Dass.
In Mumbai, Kolkata and Chennai, ATMs of various banks failed to operate in the initial hours and many ran dry within few hours of reopening forcing the people to make a beeline for banks.
"After completing my morning walk, I went to the ATM of ICICI Bank around 7 am on Boring road roundabout but it was closed. One of the guards told me that the ATM was to be replenished with cash in the night but the process could not be completed in the night and hence it was not dispensing money," said Ajay Kumar, a resident of Anandpuri area in Patna.
"Things have become bad to worse as I am completely run out of money and it is becoming difficult to meet my daily needs," Kumar added.
By afternoon, most ATMs downed their shutters and put up notices announcing that they were left with no cash.
"There is a huge requirement of cash now and our people are trying their best to meet the demand. Every 10-15 minutes, an ATM is being refilled by us," State Bank of India AGM Mohan Mitra said in Kolkata.
"I was told there was enough cash in ATMs and there will not be any problem in dispensing the cash. But, when I came here, we were asked to leave as ATMs ran out of cash," Kumar, a customer of State Bank of India, said in Chennai.
The Centre has asked all states to ensure proper security to all banks, ATMs and vehicles transporting cash in the wake of demonitisation of Rs 500 and Rs 1,000 currency notes.
The Union home ministry has deputed three officials to be in touch with state governments to ensure security of banks, ATMs and cash transporting vehicles.
ATMs of various banks in South Mumbai, Lalbaugh, Parel, Dadar, Andheri, Ghatkopar and Mulund were found to be out of service and not dispensing money, forcing people to return empty-handed.
Sanjay Dubey, working with a garment outlet, said, "I approached an ATM in suburban Kalyan around 8.30 am but it was shut. I hope government would take some corrective measures soon."
Claiming an SBI ATM to be non-functional, Gurudath Naik said he had complained about it to the bank's chairperson.
Despite the chaos, country's largest public sector lender SBI said in statement: '29,176 ATMs of State Bank of India are up and functioning, rest are expected to be operational by tomorrow.'
The SBI group, which includes associate banks, has an ATM network of 55,000 across the country.
Meanwhile, a youth was arrested by Odisha police when he was trying to deposit fake currency in a bank at Khurda town near Bhubaneswar amid the rush of customers.
Sumit Kumar Tudu, a resident of Kendrapara district, was trying to deposit Rs 2.5 lakh at the SBI branch at Khurda town.
"We found Rs 47,000 fake currency notes in the bundle containing Rs 2.5 lakh," SBI in-charge, Khurda, Deba Prasad Kanhar said, adding the bank authorities informed the police about it.
Photograph: Sahil Salvi