The addition of new flights at airports will now be based on passenger-handling capacity at security checkpoints, according to the Bureau of Civil Aviation Security (BCAS).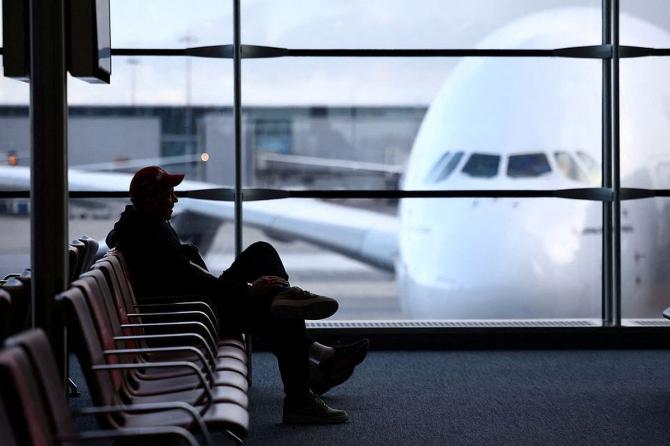 The civil aviation security regulator issued directions in this regard on May 22 in a move to reduce congestion and delays inside airport terminals.
Following this, airports will have to check passenger-handling capacity at security checkpoints before allotting slots.
The BCAS directive will not immediately impact ongoing flight schedules but has upset airports, which fear cost escalation.
The Association of Private Airport Operators (APAO) has objected to the order, saying the parameters considered by the regulator are too conservative.
The airports believe that massive capital expenditure will be needed for capacity augmentation if the directives are implemented.
APAO has also urged the ministry of civil aviation to appoint an international consultant to undertake such a capacity assessment exercise.
The BCAS move comes against the backdrop of chaos at Delhi Airport last winter, with passengers complaining of long waiting times at the entrance and security checks.
Following this, the ministry took several steps to decongest terminals in Delhi.
Aviation Minister Jyotiraditya Scindia also chaired meetings to assess the readiness of airports for peak travel seasons.
BCAS has fixed the maximum per-hour passenger processing capacity (to be updated twice each year) of airports based on baggage X-ray machines and screening facilities for staff and crew, among other things.
This, in turn, has been determined by the per-hour processing capacity at each baggage X-ray machine.
On the domestic side, the processing capacity per machine per hour has been kept between 135 and 180 passengers; the higher throughput is for machines with automated tray retrieval systems.
On the international side, the processing capacity per machine per hour is between 105 and 160 passengers.
International passengers typically carry more bags than domestic ones, and hence the processing capacity of machines on the international side has been determined to be lower.
Also, during winters, the processing capacity is likely to decrease as passengers need more trays for their jackets, winter wear, etc.
Thus, airport operators have been advised to plan proportionate infrastructure in terms of space and equipment to meet additional requirements during the winter season.
On Saturday, airports across the country handled 6,721 aircraft movements and over a million passengers.
These included both domestic and international departures and arrivals.
The number of flights that an airport can handle depends upon factors such as runway capacity, the number of parking bays, and the facilities inside the terminal.
Thus, Mumbai Airport has little scope for increasing flights because of its limited slots.
At some other airports, the problem is due to limited parking bays.
"We have issued the directions after discussions with airports.
"There is transparency in the entire process, and it will benefit all stakeholders.
"The intention is to improve passenger experience by reducing congestion and delays.
"Airports should not keep adding flights without increasing security capacity.
"Our objective is to support growth and not cap it," said a BCAS executive.
"Airport operators should assess their passenger processing capacity.
"They should plan and prepare well in advance to augment their security checkpoint infrastructure to meet the requirements of passenger growth and submit to BCAS headquarters for necessary examination and security vetting procedures," BCAS said in its order.
"There is no impact on our operations as of now.
"We are still in discussions with the government regarding this order," said a senior executive of a private airport.
In a letter to Scindia, APAO said a more scientific approach to capacity assessment should be used, including considering peak hour load, passenger processing requirements, and a mix of transfer passengers, among other parameters.
The airports have objected to parameters considered by BCAS regarding traffic growth, capacity parameters, and peak hour loads.
For instance, APAO has argued that BCAS has considered 100 per cent peak hour load while determining passenger processing capacity, while International Air Transport Association and other agencies suggest a scientific basis for computing peak hour loads.
"Transfer passengers contribute a significant share of passengers and do not use the departure facilities as there are designated transfer facilities," APAO has said.