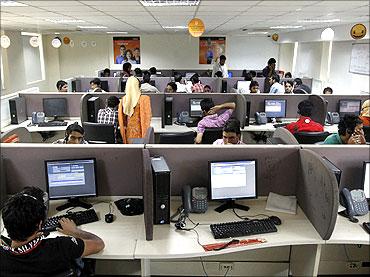 The minister said to further accelerate projects, he has given instructions to officials on expediting the decision making process.
Government expects investments worth Rs 25 lakh crore (Rs 25 trillion) in the infrastructure sector by 2019 which will help generate 4 crore (Rs 40 million) jobs, Union Minister Nitin Gadkari has said.
"First two years were spent in correcting the legacy we had inherited of stalled projects.
"We could manage to award projects worth Rs 2.5 lakh crore (Rs 2.5 trillion) only as most of our efforts were directed towards addressing roadblocks.
The infrastructure space was one of the worst victims and things were at standstill.
Yet, with our grit we bulldozed majority of the problems impeding growth.
"We expect investments worth Rs 25 lakh crore in the sector in the next three years.
"We rolled out the majority of the 403 stuck projects worth Rs 3.85 lakh crore (Rs 3.85 trillion).
"The developers who were shying away were brought back again and now the stage is set for an unprecedented work," Road Transport and Highways Minister Gadkari told PTI in an interview.
Gadkari further said the union Cabinet took as many as 21 major decisions pertaining to highways sector besides other policy initiatives.
The minister further said that with the massive projects that are lined up, the country will witness at least 4 crore (Rs 40 million) direct and indirect jobs and a boost in gross domestic product by up to 3 per cent by 2019.
In the next one year, the government will award projects worth at least Rs 5 lakh crore (Rs 5 trillion), he said adding that projects worth Rs 2.5 lakh crore (Rs 2.5 trillion) only could be awarded in the last two years but now the target is to achieve building of 41 km of highways a day.
When the system gets streamline it is easier to work, he said adding the first two years were spent in solving problems but now things have become smooth.
"There is no dearth of money in pursuing the dream of a world-class infrastructure. What I say, I do.
"We are spending only Rs 12 lakh crore (Rs 12 trillion) in Sagarmala project of which projects worth Rs 1,500 crore (Rs 15 billion) already have been rolled out," he said.
Gadkari said that Rs 50,000 crore (Rs 500 billion) investment has already been lined up for the port sector and a massive work is underway to develop the waterways as well.
Citing an example of how bad the situation was when he took charge in 2014, the Minister said at that time Larsen & Toubro CMD had come to him expressing inability to work in the highways sector.
"Sector had collapsed. . . Larsen & Toubro chairman came to me that seeking rejection of a tender in Maharashtra and said they were ready to pay penalty as their Board had decided to not to do any road project as the company had suffered loss of Rs 2,500 crore (Rs 25 billion).
". . . now the same L&T due to reforms in the sector is doing work worth Rs 15,000 crore (Rs 15 billion) in the highways sector.
"The situation has now changed," the minister said.
The minister said, "Bankers had left. As regards the environment and forest clearance, no file was cleared in 2.5 years.
"The proposals for railway overbridges were stuck for three years.
"Land acquisition was not happening, there were litigation.
"All important projects like Delhi-Jaipur, Delhi-Dehradun (highways) were stuck. Economic viability was not there."
How to bring back things on rail was a big challenge and marathon meeting with bankers, stakeholders, developers and officials bore fruits, he said.
"I had clearly said that where the government is at fault then accept it and do not make it a prestige issue.
"There are mistakes but check whether it is mala fide or bona fide.
"If it is bona fide and if there are faults of the government, we cannot penalise the contractors.
"We have corrected our flaws now," he said.
Now there is a complete turnaround and the public private partnership that was at a standstill has become vibrant with the government's new hybrid model.
"Seventeen projects have started on hybrid mode now and another 25 are in pipeline," he said.
Under the new model, the government provides 40 per cent grant in aid while the rest has to be borne by the developer, who is awarded the project with at least 80 per cent land acquisition and with all necessary clearances.
The minister said to further accelerate projects, he has given instructions to officials on expediting the decision making process and warned them against sitting on files for too long.
"It takes three to four months for a simple decision.
"I have requested the PMO to find out a solution to reform the system.
"I have briefed the Prime Minister how the projects are getting delayed. I have made it clear that no officials can sit on any file beyond three days. If anyone holds it beyond three days then action will be taken," the Minister said.
He said that concerted efforts had expedited road projects and the road building pace that was barely 2 km a day when the Narendra Modi government took over has reached around 24 km a day.
A very important step the ministry has taken is to build cement concrete roads in place of traditional bitumen roads and 95 lakh tonnes cement has been committed by 37 cement makers at a very affordable price, he said.
Rating agencies recently said concerted efforts made to address execution bottlenecks have yielded positive results and have reflected in the 39 per cent increase in the pace of NH executions.
The Ministry of Road Transport and Highways plans to increase both awards and execution in the current fiscal by 2.5 times, from that of the FY2016 levels and for NHAI, the targets are more steep with target execution of 8,000 km and target awards at 15,000 km.
The target for the current fiscal is almost four times higher than what was achieved during the last fiscal.
The image is used for representational purpose only. Photograph: Reuters