DAY 7. 6.45 am.
Rediff.com's Prasanna D Zore speaks to Indians in the long queues outside banks and post-offices in Mumbai as they open after Monday's holiday.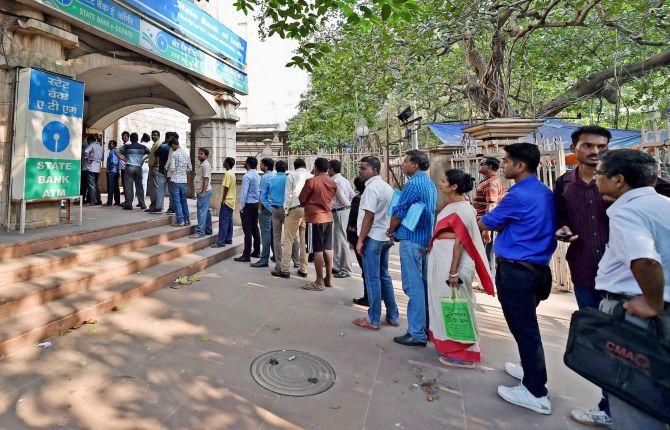 IMAGE: People wait outside an ATM. Photograph: Swapan Mahapatra/PTI Photo
DAY 7. 6.45 AM.
The queues to deposit Rs 500 and Rs 1,000 notes/withdraw cash/exchange these now banned bank notes are only getting longer.
While people are braving the long hours in serpentine queues, insensitive remarks from Bharatiya Janata Party leaders have added to their anger.
At 6.45 am, more than 100 people are standing in a queue outside a bank in suburban Mumbai.
Arun Vishwakarma, a welder, and Rakesh Agarwal, an accountant, are among the many who have arrived at the bank to deposit Rs 500 and Rs 1,000 notes that are no longer legal tender.
"We voted for the BJP in 2014. Yes, we are thieves standing in long queues to deposit our black money," Vishwakarma says angrily.
"Those who looted the nation have fled the country. Those with rooms full of cash have already converted their cash into gold and property," adds Agarwal.
Both Vishwakarma and Agarwal praise the prime minister's efforts in fighting corruption, but are angered by BJP General Secretary Ram Madhav's tweet that standing in queues without complaining reveals one's love for the country.
"Yes, we voted for Narendra Modi because we really believed he will take on the corrupt and get all the black money abroad into India. But now you are questioning our patriotism because we are talking about our disappointment in the way this demonetisation is being implemented," says Vishwakarma.
"Only Vijay Mallya is a true patriot and you allowed him to flee India. People like us, who stand in queues, are thieves," says Agarwal angrily.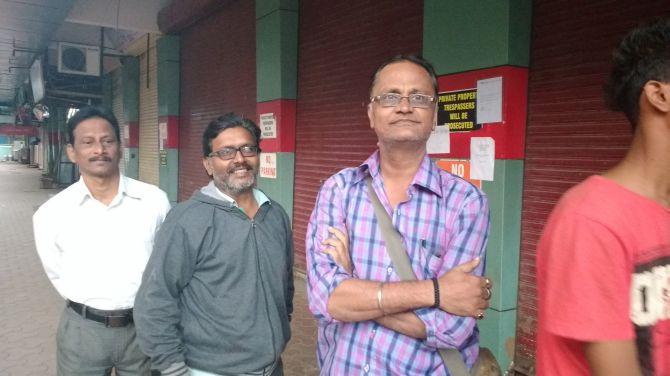 IMAGE: Arun Vishwakarma, in black jacket, and Rakesh Agarwal, standing to his left, outside a bank in Mumbai on Tuesday, November 15, morning. Photograph: Prasanna D Zore/Rediff.com
'Got only half the salary this month'
Joginder Safi works as a guard at a redevelopment project and gets his salary on the 10th of every month.
Safi, who earns Rs 12,000 every month, has to make do with just half the salary this month.
His employer said he would be paid the rest of his salary in a couple of days.
Safi says he faces difficulties in getting his monthly rations and sending money to his wife and children in Allahabad.
Safi has no clue about the increase in the limit of exchange of banknotes from Rs 4,000 to Rs 4,500.
"I have only Rs 1,000 notes, so won't be able to exchange Rs 4,500 today," he says.
"I will send some of this money to my family in Allahabad," he adds.
'No money to pay the workers'
Sudhir M Seth is standing outside a post office to exchange the no-longer-legal-tender banknotes as well as deposit money.
Unlike some banks, people are allowed to exchange, withdraw and deposit money at the same counter at this post office in suburban Mumbai.
"Because of this ban, businesses like mine are facing hard times," says Seth. "I am unable to release payments of my workers as well as unable to get my payments released from those who owe me money," he adds.
Seth believes the demonetisation will help unearth black money, but complains that ordinary Indians are having a difficult time because of the way the scheme is being implemented.
'Rs 500 notes will ease our lives'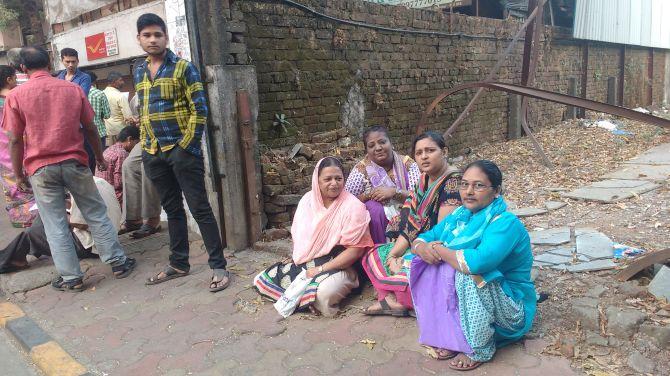 IMAGE: Shehnaz, in a blue dress, waits outside a post office in Mumbai to get notes exchanged on Tuesday, November 15, 2016. Photograph: Prasanna D Zore/Rediff.com
Shehnaz, a worker in a clip factory, is also standing outside this post office.
Shehnaz was paid her salary on November 10 in Rs 500 and Rs 1,000 notes though the ban on Rs 500 and Rs 1,000 notes came into force from November 8-9.
This is the first time she is queuing up outside a post office, Shehnaz says, but the second time she is getting her banknotes exchanged.
"Shortage of money," she says, "means I can't buy food."
Shehnaz does not know that banks and ATMs will distribute new Rs 500 notes from November 15.
"If they give us Rs 500 notes it will ease our lives," she says. "500 ka chhutta toh koi bhi de dega (Anybody will give change for Rs 500)."