India's first true e-commerce marketplace is struggling for its survival and in it lies valuable lessons for pure play aggregators, experts tell Alnoor Peermohamed.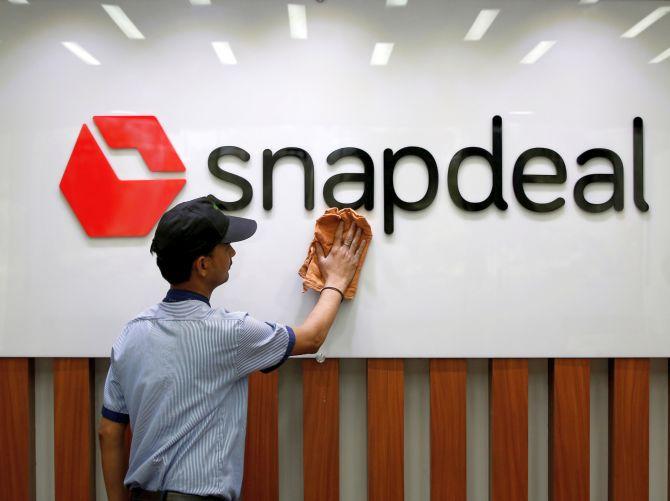 Photograph: Adnan Abidi/Reuters
Snapdeal India's first true e-commerce marketplace, is struggling for its survival. The pure aggregator model, which it pioneered and was once heralded as the cure to India's disorganised business landscape, has finally begun showing its limitations.
Apart from investors losing confidence and some bad business decisions, one can argue that Snapdeal's failure to create brands of its own led to rivals Flipkart and Amazon leaving it in a trail of their dust -- the consequence of all this being the sale of the company that was once valued at $6.5 billion at under a billion dollars.
As investors began pressing companies to turn on their profitability taps, unlike Snapdeal, others have been quicker to launch private label brands. Serving the dual purposes of plugging lacunae in supply and helping improve margins, companies that started off as pure aggregators are now looking at hybrid models.
This trend is now being seen across industries and not just limited to e-commerce.
OYO Rooms, the budget hotel room aggregator, has set a goal of opening 250 townhouses, its own line of properties, by December.
Swiggy has opened its own restaurant -- The Bowl Company -- while rival Zomato is investing in cloud kitchens that restaurants will be able to rent from it.
There are several other such examples of new economy companies ditching the pure play aggregator model.
"The biggest problem with the aggregator model is that all players in the market ideally carry all the brands, so there is no differentiation. In that case, price becomes the only differentiator, and so far that worked because there was a non-stop flow of venture capital. As easy money has become difficult to come by now, people are realising they need a differentiator outside of price," says K Vaitheeswaran, e-commerce pioneer and author of Failing to Succeed: The story of India's first e-commerce company.
One of the biggest switches made by an Indian start-up from being a pure aggregator to controlling its own inventory is Ola. The ride-hailing firm, which is modelled around its global rival Uber, initially provided an open platform for any driver to list on its platform. Of late, the company has begun focusing more on leasing cars to drivers on its own, helping lock that inventory onto its own platform.
By December 2016, Ola had facilitated almost $850 million in loans from private banks to lease cars to drivers on its platform. Taking the average cost of a car as ₹5.76 lakh, it's very possible that the company achieved its target of leasing 100,000 cabs in 2016.
Going forward, as more independent drivers quit the platform due to a massive reduction in earnings, the share of leased cars in Ola's fleet is expected to go up.
While differentiation from rivals and plugging loopholes in supply are reason enough for launching private labels, the other is to increase margins.
"It's a combination of increasing margins, plugging gaps in the market and differentiating from rivals. Even if you take physical retailers, one of the drivers for a private label is margins," said Devangshu Dutta, chief executive at Third Eyesight, a retail consulting firm.
For Swiggy, opening its own cloud restaurant, The Bowl Company, is a move driven to plug holes in the market rather than to drive higher margins.
"While the supply side continues to grow on the platform, we also want to solve potential long-term gaps in the most efficient manner. These gaps could range from poor supply of restaurants in certain areas to specific-use cases that would not only benefit our customers but also the marketplace," says Sriharsha Majety, co-founder and chief executive officer at Swiggy.
---
Recommended for you
---
At an ethical level, companies launching private labels aren't wrong, unless there's foul play where a company is promoting its in-house brands by blocking or meddling with the service being offered by partners on its platform. It is the customers who will decide which product or service to buy, be it a private label brand or an independent one.
One inherent advantage online aggregators have over their offline vendors is an abundance of customer data, giving them a better chance of tuning products and service of in-house brands.
Myntra, one of the first e-commerce companies in India to begin promoting its own brands, went back to its app data to decide the location of its first offline store for its in-house brand Roadster. The upmarket location selected in Bengaluru put the store in close proximity to stores of similar brands that sell their apparel on Myntra's online platform.
While experts agree that controlling inventory, building private labels or offering in-house services will cost more than merely aggregating existing providers, they say the switch being made by these companies won't significantly increase their expenditure. Money that was being used to discount products will now increasingly be used to grow private labels as investors demand returns.
"For most, it's not a switchover from one model to another; it's a complementary offering. Moreover, if you saw what was happening last year, a lot of money was being spent on customer acquisition, and there's been some rationalisation in that. So, automatically that has freed up some capital for these players to deploy elsewhere," adds Dutta.
Other than that, the capital required by companies to nurture their own brands will be large, but will still only be a small component of their overall expenditure.
While claiming to have built lean business models, most of the large Indian start-ups are overstaffed and its employees overpaid. The aggregator model, which was supposed to be lean and a low-expenditure business, actually isn't any of that, Dutta says.
"I don't think the aggregator model is dead. Aggregation is the only way customers can be offered true choice," says Vaitheeswaran, adding, "But I think there are several problems with the model as well."
Also read: 'Entrepreneurs don't fail, organisations do'