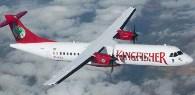 Cash-strapped Kingfisher Airlines owed over Rs 5,600 crore (Rs 56 billion) to public sector banks as on February this year, the government has said.
The consortium of 13 PSU banks, including State Bank of India, have an exposure of Rs 5,608.07 crore to Kingfisher Airlines (KFA) as on February 2012, Minister of State for Finance Namo Narain Meena said in a written reply in Lok Sabha last Friday.
Replying to a query on whether SBI has any proposal to extend a financial lifeline to Kingfisher, Meena said," State Bank of India, leader of the consortium of lenders, has informed that no such lifeline has been extended to Kingfisher Airlines Ltd by them during the current financial year."
SBI alone has an exposure of Rs 1,408.45 crore (Rs 14.08 billion) to KFA. The airline, which has a debt of Rs 7,000 crore (Rs 70 billion) and an accumulated loss of over Rs 6,000 crore (Rs 60 billion), has been operating only 16 of its 64 aircrafts since last month. It has quit Kolkata and Hyderabad routes completely. It also wound up international operations last week.
Directorate General of Civil Aviation (DGCA) and the Aviation Ministry have threatened to cancel the 7-year-old airline's licence if it is unable to come up with an operational schedule next week.