The past few weeks have seen several hundred people let go of by IT services firms joining unions claiming to represent tech workers fighting for their rights. Romita Majumdar, Gireesh Babu and Ayan Pramanik report from the ground in Mumbai, Chennai, and Bengaluru.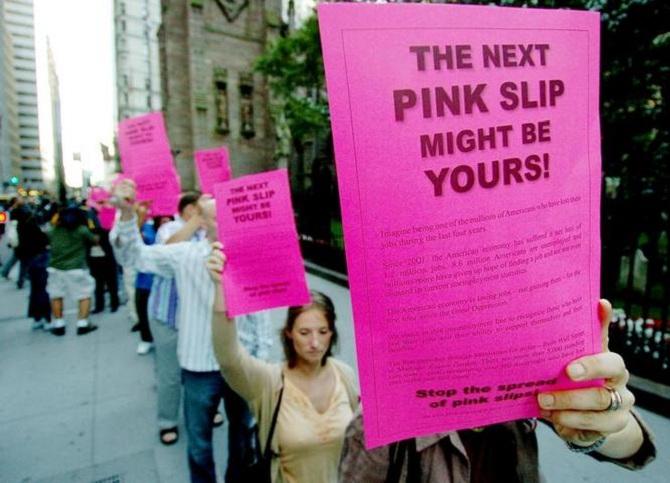 IMAGE:

Usually, IT employees let go during annual appraisal cycles would be absorbed by other firms looking for such skill-sets.

This year, however, people being laid off are not getting jobs. Photograph:

Henny Ray Abrams/Reuters

.
On May 1, the annual workers' march in Bengaluru to mark the Labour Day saw for the first time a group representing employees of the information technology (IT) industry. It was probably an ominous sign of things to come.
The past few weeks have seen several hundred people let go of by IT services firms joining the Forum for IT employees (FITE) or the New Democratic Labour Front (NDLF) IT Employees Wing, two unions claiming to represent tech workers fighting for their rights.
FITE has led the charge by filing cases with the labour departments in Bengaluru, Pune, Hyderabad and Chennai against firms such as Wipro, Tech Mahindra and Cognizant, saying engineers were wrongly terminated by these companies.
Nitin Sharma (name changed to protect identity), for example, was one such worker who reached out to FITE after being let go.
Sharma, an employee of a large IT services firm, got a promotion last year after four years. When a set of new employees joined his team at a lower pay scale, a senior informed him about his imminent exit. A few days later, he was asked to resign.
"I have documents to prove I showed consistent performance. Suddenly, I was given the lowest performance rating available. They said the HR (human resources) department gave me this rating," said Sharma.
More such people are reaching out to trade unions for help.
The companies have said people were let go because of weak performance as part of the annual review exercise. But this has attracted attention this year as the sector faces its worst crisis in a decade -- primarily because of rising protectionism overseas and increasing automation.
For nearly two decades, India's export-focused software industry saw rapid double-digit growth as western clients outsourced work to cut costs and improve profitability. The sector logged exports of $110 billion last year and employed 3.9 million people.
As the industry matured, companies grew in single digits. Costs rose, too. But clients started cutting outsourcing budgets on traditional services and spending more on digital and cloud technologies.
Lower-end work such as testing and maintenance, which employed a huge number, saw major automation.
Then came the blow from abroad.
Governments in the United States, the United Kingdom, Australia and Singapore started restricting movement of inbound labour to protect local jobs.
Indian IT firms then started looking at ways to cut costs. Non-performers or those who did not have the skills to migrate to new areas were let go. The companies started hiring residents in the country of operation to get around the governments' labour blockade.
While the industry remains a net hirer, said lobby group Nasscom, "workforce realignment linked to performance appraisal processes is a regular feature every year. Skilling and workforce realignment are essential to remain competitive in international markets. It needs to be appreciated that such workforce realignment is a normal part of the internal process of companies based on their own operational imperatives."
Usually, employees let go during the annual appraisal cycles would be absorbed by other firms looking for such skill-sets.
This year, however, people being laid off are not getting jobs. Engineers laid off in 2016 are still struggling to get jobs in the new environment.
This has led to such engineers getting into unions or forming groups.
For more than a decade, IT employees have largely stayed away from such groupings. High-paying salaries, opportunities to travel to client locations abroad and retention efforts by companies kept these people glued to the job.
In 2014, Tamil Nadu saw efforts to unionise IT employees after Tata Consultancy Services (TCS) allegedly laid off a large number. The company had denied any such move.
Three unions -- FITE, a platform formed by the Young Tamil Nadu Movement (YTNM); NDLF IT Employees Wing and Knowledge Professionals Forum -- emerged and started taking up the cases of those who approached them.
Their fight got a shot in the arm in January 2015, when a woman employee got an interim injunction against a termination order issued by TCS.
The employee, who was pregnant, was later reinstated by TCS, "as an exceptional case, in line with its practice of not relieving any employee during pregnancy".
Other employees, too, started petitioning the labour department.
In June 2016, the Tamil Nadu government allowed employees of IT firms to form a trade union, saying labour legislations did not exempt companies in the IT and IT-enabled services verticals. Maharashtra, too, said the IT sector would get no exemption in this regard.
Maharashtra's Commissioner of Labour Yeshawant Kerure said, "As there is no special Act governing IT, we can only try to protect labour interests based on acts like the Industrial Disputes Act. We try to resolve disputes by inviting both parties to mediate. If that fails, then we advise them to approach the respective labour court. IT sector needs special attention, which is something we will be looking at. There is very little representation in terms of employee rights and that too from a single group".
Industry response
The industry has played the survival card. When the going was good for companies, employees benefitted. But during tough times, they need to evolve to survive.
Firms also say they spend millions of dollars to train and upgrade skills of employees.
C Prabhakar, president of Karnataka Employers' Association, and a labour law expert, said it could become a "question of survival" for IT companies if they retain surplus people who cannot hone new skills.
"The quantum of employees let go of is normal, like before. In IT companies, unlike manufacturing, individual contribution of software engineers is important and there is scope for enhancing skills, too. Even if the management cannot oppose formation of unions, encouraging such unions may turn out to be detrimental," said Prabhakar, a former board member at Wipro.
IT companies provide better service conditions than, say, a factory, he said.
"IT employees should realise the importance of re-skilling themselves," he added.
Saurabh Govil, head of human resources for Wipro, said in a recent interview: "Unions come as a consequence of an economic reason. Here we are dealing with knowledge workers. They understand it is about being transparent, and fair. You can take a tough call. If you treat people with respect transparency and perceived fairness, then there would not be an issue."