Indian economy is likely to grow at 6.3 per cent next year largely due to favourable base effect, while inflation is expected to drop to a comfortable 5.4 per cent level in FY14, UK-based bank RBS said.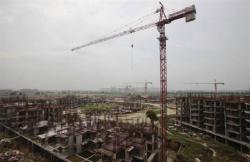 "Growth should accelerate to 6.3 per cent (in 2013) from 4.8 per cent this year (2012) due to favourable base effect, particularly in the industrial sector," RBS Research said in a report.

It said that inflation will trend down next year on the back of weak growth and relatively stable commodity prices. "We do expect a discernible deceleration in inflation as weak growth and relatively stable commodity prices should mitigate inflation pressures. For FY14, we expect inflation to average 5.4 per cent compared with 7.6 per cent this fiscal."

Though it is optimistic about higher growth rate, the report warned that ingredients are still missing which will pave the way for a durable recovery with sluggish momentum in both consumption and investment.

"At this stage, various indicators, ranging from non-food credit to auto sales, are still showing marked weakness, presumably an outcome of slowing income growth and persistently high inflation," it said, adding investment is likely to remain weak at least till second half of FY 2014.

On
the policy front, RBI pointed out that the recent reforms are inadequate for turning around the investment cycle and policy measures in the area of domestic resource allocation such as mining and land acquisition are required.
The report took note of the rising non-performing asset in banking system and said it may constrain lending.
Referring to inflation trend, it said while core inflation could come off faster due to weak demand, consumer price rate would ease at a slower pace.
On monetary policy, the RBS opined that a cumulative easing of 125 basis points (1.25 per cent) between January, 2013 and March 2014 was likely. "It is likely to be concentrated in the latter part of the year to coincide with the reduction in the twin deficits and improvement in deposit growth."
On the rupee, the report said the Indian unit will be in the range of 53-55 a dollar for the better part of 2013 but may trend lower towards the last quarter.