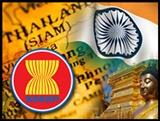 India is targeting a 40 per cent jump in its trade with the ASEAN to $70 billion in 2012 with the signing of Free Trade Agreement with the 10-nation trade grouping, said Commerce and Industry Minister Anand Sharma on Wednesday.
He told the Rajya Sabha during Question Hour that India's trade with ASEAN has grown to $50 billion in 2010 from $41 billion after New Delhi signed a Trade in Goods Agreement with the south east Asian block on August 13, 2009.
"We have to take care that there is a balance...If imports have increased, India's exports to ASEAN)have also increased," he said.
ASEAN consists of Brunei Darussalam, Cambodia, Indonesia, Lao PDR, Malaysia, Myanmar, the Philippines, Singapore, Thailand and Vietnam. The agreement that provides for both India and ASEAN reducing tariff on agreed goods has come into force with all but Cambodia and Philippines.
"The agreement mainly consists of exchange of tariff concessions by India and ASEAN countries during January 1, 2010, and December 31, 2024," he said.
Allaying fears that the FTA will harm domestic agriculture, he said majority of the agriculture items are protected by placing them in exclusion of negative list where no tariff concession is available to ASEAN countries.
Items on the negative list include vegetables, fruits/nuts, spices, cereals/grains, oilseeds/oil, natural rubber and tobacco.
"The agreement also provides for a safeguard mechanism to address sudden surge in imports on account of tariff concessions," he said.
"When such a surge is likely to hurt the domestic market, safeguard measures including imposition of safeguard duties can be initiated to prevent or remedy serious injury and to facilitate adjustment for the domestic market."
Sharma said 1,297 products including 689 agriculture goods, have been kept in the negative list.
On reduction of tariff on tea and coffee, he said the tariff on tea and coffee will be 45 per cent each and that on pepper will be 50 per cent in 2020, a 1.8-5 per cent reduction from present import duties.
To a separate question, Sharma said the government plans to formulate a manufacturing policy to increase the share of manufacturing in the nation's gross domestic product.
Share of manufacturing in India's GDP is 16 per cent as compared to 26 to 33 per cent in other fast growing economies, he said.
Though there is no decline in industrial production, the share of manufacturing in GDP has remained almost stagnant at 16 per cent over last few years, he said.
"Manufacturing policy will aim to increase share of manufacturing in GDP," he said.