An unprecedented decision to form a ministerial-level committee was driven by fears of witch-hunt by investigating agencies.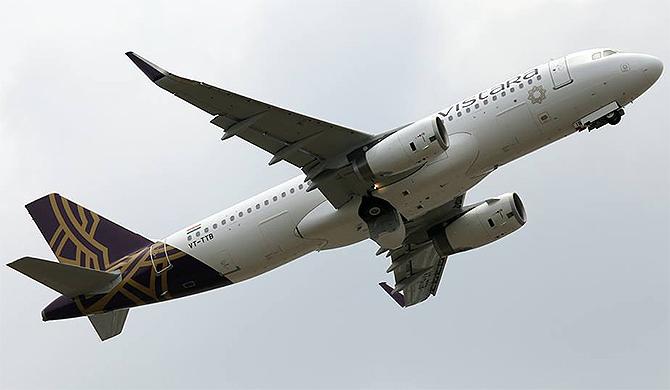 The government has formed an inter-ministerial committee of three Cabinet-ranked ministers to decide if an international flying permit should be given to Vistara.
This is the first time such a panel has been formed for granting an international flying permit to an airline.
According to the Aircraft Rules, 1937, the aviation regulator Directorate General of Civil Aviation (DGCA) has the final authority to grant a permit for international operations.
Multiple government officials, speaking anonymously, said such an unprecedented decision to form a ministerial-level committee was driven by fears of witch-hunt by investigating agencies.
"There is a growing risk aversion among bureaucrats and hence, the need of delegating the decision to a joint committee to escape finger pointing by anyone later," said a person involved in the decision-making process.
The Central Bureau of Investigation (CBI) has opened a probe into AirAsia India for alleged lobbying for international flight permits.
As part of the investigation, the agency is investigating the current government's decision to amend the 5/20 rule.
The amendment dropped the five-year criterion from the 5/20 rule.
It also allowed any airline with over 20 aircraft to fly on international routes, if it deployed 20 per cent of its capacity on domestic routes.
Vistara, which started flying from January 2015, is supposed to be the immediate beneficiary of this amendment as it has 22 aircraft.
The CBI investigation is stalled as former CBI chief Alok Verma, under whom the case was registered, has been relieved of his duties by the government.
Sources said the committee, which comprises Civil Aviation Minister Suresh Prabhu, Home Minister Rajnath Singh, and Law Minister Ravi Shankar Prasad, would decide if it was legal to allow a permit for Vistara in the light of the CBI probe.
The Tata Group owns AirAsia India and Vistara.
Civil Aviation Secretary Rajiv Nayan Choubey confirmed an interministerial panel had been formed. He defended the decision, saying it was necessary to ensure all norms were being followed.
"We want to ensure all laws are being followed for which consultation with other ministries is important," he said.
The airline has recorded losses in three consecutive years.
It has struggled to command higher fare on domestic routes because of competition from low-cost airlines. Its business plan is dependent on creating an identity on international routes, where it can command higher fares.
The delay in approval has affected its business plan, as flying rights to Thailand are on the verge of getting exhausted amid low-cost airlines, such as IndiGo and GoAir, deploying new flights.
What is the 5/20 rule?
5/20 is an erstwhile rule, which mandated that Indian airlines should have operated for five years and have 20 planes to become eligible to fly abroad
What was the change?
The amendment done in June 2016 removed the five-year criteria
Whom did it benefit?
New airlines such as AirAsia India and Vistara were supposed to be the beneficiaries
After reaching the requisite 20 aircraft fleet size, Vistara applied to the Ministry of Civil Aviation for an international permit in June and planned to start flights to Bangkok, Phuket, Colombo, and Male by the winter schedule of 2018.
"We will look to start international operations by the second half of this year and will gradually expand from short-haul flights to medium- and long-haul destinations," Vistara chief executive officer Leslie Thng had told this paper in January.
Sources said Vistara was now weighing other destinations, such as Kathmandu and Dhaka, as a replacement for destinations in Thailand.
"For an airline like Vistara, which depends on premium traffic, flights to Bangkok and Phuket would have been a money-spinner. Kathmandu and Dhaka, in comparison, are low-cost traffic and not ideal for Vistara," an executive of a travel agency said.
Experts have called the delay a policy logjam. "When India's third full-service carrier launched, it did so with its eye on the opportunities in the international market.
More than three years later, Vistara remains a solely domestic carrier, thanks to Indian regulations," aviation consultancy firm CAPA said.
"They have every right to move court over this delay," said a lawyer, who advises multiple private airlines.
When asked if the airline was planning to move court, a Vistara spokesperson said, "We don't comment on speculations."
Photograph: Kind courtesy, Vistara/Facebook