Britain's 'remain' option gaining traction, with the implied probability of such an outcome at 78 per cent.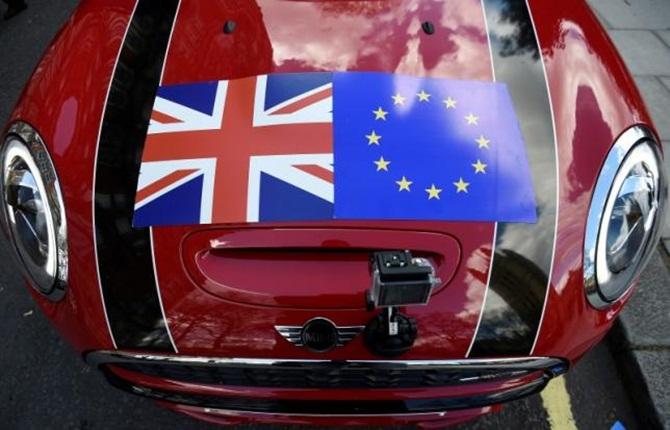 Britons will vote on Thursday on whether to remain in the European Union. Market volatility is expected to be particularly severe if the result is an unprecedented 'Brexit'.
Two opinion polls released on Monday suggested support for Britain staying in the 28-nation bloc had recovered some ground following the murder of a pro-EU lawmaker last week, although a third survey found backers for Brexit ahead by a whisker.
Betfair betting odds have also shown Britain's 'remain' option gaining traction, with the implied probability of such an outcome at 78 per cent on Monday, up from 60-67 per cent on Friday.
Here is a look at what analysts at several banks feel a Brexit vote could do to the broad commodities sphere.
UBS
Call: "Remain" scenario to have limited downside impact on gold
"We believe the potential sell-off in Gold in a "Remain" scenario would be small relative to the upside potential in the opposite case."
Citibank
Call: Gold prices could rise above $1,350/oz levels
"We believe a 'Brexit' result could see gold prices eventually hit levels above $1,350/oz even if a portion of the risk is already baked-in to current prices and even if the USD likely rallies on a knee-jerk reaction."
Societe Generale
Call: Oil prices to fall
"In case of a Brexit, our oil analyst, Mike Wittner expects oil prices to drop some 5 percent as the market will be driven by risk aversion rather than fundamentals."
Morgan Stanley
Call: Downside risk to oil prices
"We see more downside risk to oil from a 'leave' vote than upside risk from 'remain.' In terms of a possible Brexit's effect on oil prices, oil could be impacted on three fronts near-term: 1) The direct demand impact from potentially slower GDP. 2) Risk off and sentiment. 3) A stronger trade-weighted USD.
Brexit could also have some supply impacts in the UK and North Sea."
Standard Chartered
Call: Temporary pushdown in oil markets
"Brent prices rallied back above USD 50/bbl in early trading on June 20, and we expect this rally to push on towards USD 60 per barrel in the event of a UK decision to remain within the EU.
In the event of a 'leave' decision in the UK referendum, oil prices are likely to be caught in a general downwash across markets."
Capital Economics
Call: Oil prices vulnerable in short-term, gold could hit $1,400
"A majority for Brexit could see oil prices fall to our existing end-2016 targets of $45 (for Brent and WTI) much sooner, with gold jumping to our end-2017 forecast of $1,400 almost straightaway"
Energy Aspects
Call: Oil prices could dip to low $40s
"Some of these fears are exaggerated, but a 'leave' vote will cause a sharp decline in oil prices, below the current range of $47-53, to the low $40s."
ANZ
Call: Commodities other than gold could face steep losses
"Commodities would likely be sold off as investors seek safe haven assets if the UK votes to leave the EU. Gold, however, should be one commodity which finds support under such a scenario. Brexit could see gold push towards USD 1,400/oz."
"While the impact may be temporary, losses in commodities could be steep."
ABN AMRO
Call: Gold prices could rally to $1,350 per ounce, perhaps $1,400
"In the days and weeks following the Brexit result, gold prices could rally to USD 1,350 per ounce. The question is if financial markets will start to anticipate contagion to the eurozone and a revival of the eurozone crisis. If there is contagion, gold prices will likely continue to rally and could move above USD 1,400 per ounce"
Photograph: Reuters