Use whole life term policies for legacy planning. By doing so, your annual outgo will come down and returns will improve, suggest Chirag Madia and Tinesh Bhasin.
Illustration: Uttam Ghosh/Rediff.com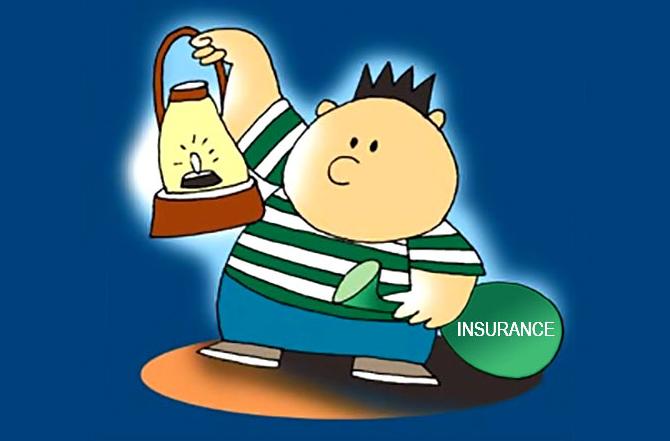 Insurance companies have started to offer term plans that cover the policyholder for their entire life. While these products are better than existing whole life plans, which are endowment products, the premiums are higher than in a regular term plan.
"Terms plans that cover policyholders for their entire life are designed for those who want returns on premiums paid. Insurers do have term plans where an insured gets the premium back at the end of the policy term. But, the returns on the new plans are higher," says Rajeev Chugh, chief financial officer at Aegon Life Insurance.
There are a few others who don't buy term plans, as it offers a cover only up to 70-75 years.
"Individuals in this segment believe their financial liabilities will not be over even after retirement and with life expectancy going up, they need a cover for a longer period. A whole life term plan helps them in estate planning and leaving funds for the family after they pass away," says Santosh Agarwal, head of life insurance, Policybazaar.com.
What's on offer
At present, three companies offer whole life term plans. HDFC Life has a product called Click2Protect 3D Plus -- Life Long Protection Option; Aegon Life has Life iTerm Forever and PNB Met Life offers Mera Term Plan.
In HDFC Life, the policyholder needs to pay premium only until the age of 65 and can get the coverage for the remaining years.
The policyholder shells out the highest annually as the premiums are taken upfront. For a cover of Rs 1 crore, a 45-year-old needs to pay a premium of Rs 2.21 lakh each year.
Aegon Life offers three options for premium payment.
An insured can stop paying premiums at either 60 or 65. In the third option, the individual can pay premiums every year as long as he lives.
In PNB Met Life, the policyholder has to pay annually. HDFC Life and Aegon Life offer coverage for the whole life, PNB Metlife covers the insured for up to 99 years.
"Extending life cover till 99 years provides an opportunity to customers to avail protection benefits beyond just the earning years, along with comprehensive benefits at each life stage. In the post-retirement period, customers may continue to have dependants and existing assets may not be sufficient or liquid to take care of the needs of the family," says Khalid Ahmad, product head at PNB MetLife.
Regular term plans are cheapest
Insurers have started offering many options within term plans such as the return of premium, whole life coverage, and so on. But a regular term plan is still the cheapest product.
If a 40-year-old-male opts for a 30-year term plan and Rs 1 crore sum insured, he pays Rs 14,839 a year for the Aegon Life iTerm plan. The premium for whole life term plan for the same profile works out to be Rs 47,149 a year.
In the case of PNB Metlife, the premiums for the regular term plan (Mera Term Plan) is 16,762 for the profile and Rs 23,600 if the individual opts for the whole life option.
Legacy planning with whole life
Whole life term plans are a better way to plan a legacy than the existing endowment and unit-linked insurance plans (Ulips).
In the endowment products, the insured typically gets a cover of up to 10 times the premiums paid. If you want a Rs 1-crore cover, most insurers will charge you Rs 10 lakh premium each year, which might not be feasible for many.
The final payout would be the sum insured and also the guaranteed returns.
In the case of Ulips, which are few in the whole life segment, the insured get the sum assured and the returns on investment, which is market-linked.
In the whole life term plan, insurers invest the money in securities the Insurance Regulatory and Development Authority of India has approved. That means 50 per cent in government securities, 15 per cent in infrastructure investments, 20 per cent in approved bonds and the remaining 15 per cent can be invested in equities, venture funds, and so on.
Financial planners say while life term plan has a purpose when it comes to estate planning, as the policyholder can choose frequency of payout.
"Many times when somebody passes away, people are in a highly emotional state and in this situation they can rightfully or wrongfully deploy money in different products. Here if the policyholder chooses the option of having half lump sum and the rest as monthly income, it helps the family to tide over the crisis," says Suresh Sadagopan, founder, Ladder7 Financial Advisors.
Opt for lifelong premium paying term
If you opt for a whole life term plan, preferably opt for the one where you can pay the premium the whole life, rather than up to a certain age. This way, your annual premium outgo will be much lower.
Choosing the option where premiums are paid upfront could hamper the overall returns. Say, a 30-year-old takes a Rs 1 crore policy. He dies at the age of 80.
If he had opted for HDFC Life's Life Long protection, the annual premium would be Rs 75,690.
In this case, the internal rate of return works out to be 3.88 per cent. In this case, the premium payment stops at 65.
In the case of PNB Metlife Mera Term Plan, the premiums will be Rs 15,812 and the IRR comes to 8.06 per cent.