Staying healthy can reduce your next premium.
Through wellness programmes, policyholders can get discounts ranging from 8 per cent to 30 per cent, experts tell Chirag Madia.
Illustration: Dominic Xavier/Rediff.com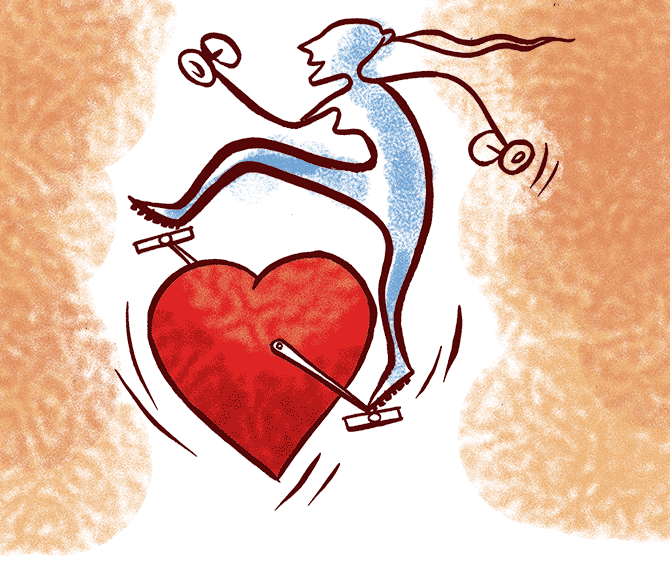 Medical insurance policies in India, by and large, still offer plain vanilla (basic) covers. This means the benefits can only be reaped once the policyholder falls ill or is hospitalised.
However, some insurance companies have started offering products that prompt you to stay fit. If you are able to do so, there are benefits in terms of lower premiums.
Popularly known as wellness programmes, these policies help policyholders get benefits to the tune of 8 to 30 per cent if they remain healthy.
Recently, Bajaj Allianz General Insurance launched a wellness platform, Pro-fit, where a policyholder can monitor and improve his health.
Industry players feel such rewards serve two purposes -- these wellness programmes inculcate a healthy lifestyle among policyholders and help create a portfolio of healthy policyholders, which could eventually reduce incoming claims for insurance companies.
What does a wellness plan offer?
'Pro-fit' has 10 features where policyholders can store health records, track their fitness level and get reminders for vaccinations or medications.
Policyholders can also do a live chat with a doctor who can address their general medical queries at zero cost.
Another policy, Aditya Birla Active Health Plan, offers a health returns benefit.
If a policyholder remains healthy and active, the insurer gives him returns of 2.5 per cent per month, which can go up to 30 per cent per year.
"We have created a couple of products that incentivises wellness. This is good for the policyholder and the insurance company. If I am doing this business and can attract younger and healthy policyholders in the longer run my claims will be lower than competitors," said Mayak Bathwal, chief executive officer, Aditya Birla Health Insurance.
In this plan, a policyholder needs to download the active health app, fill an online questionnaire to check her/his health relative to their current age and find the healthy heart score.
Later, if the policyholder improves her/his health by exercising or goes for a fitness assessment test every six months, depending on her/his health returns s/he can use this for buying medicines or use it to pay next year's policy premium.
Premiums are competitive
Even the premium rates offered for such wellness products are competitive.
For example, if we take the Aditya Birla Health Insurance Enhance plan, for a 30-year-old male in a metro and having a sum insured of Rs 5 lakh, the premium would come to Rs 7,722 inclusive of taxes, according to data from Policybazaar.com.
This plan offers asthma, blood pressure, cholesterol and diabetes cover from day one and covers medical consultation, required diagnostics tests, pharmacy expenses, health returns and wellness coaches.
But if we look at other non-wellness plans, premiums would be in the range of Rs 7,500 to Rs 8,500 for a 30-year-old male in a metro with a sum insured of Rs 5 lakh.
"Normal plans don't offer such benefits. In my plan, there are two more benefits. If I lead a healthy life I can get up to 30 per cent of benefits and in case I get any of the four chronic diseases covered by the policy, there are benefits of Rs 8,000 to Rs 15,000 for an out-patient department which is there for the entire life of the policy. And, the premium remains the same," added Bathwal.
What should one do?
Industry players feel if a policyholder gets all these added benefits at no extra cost, with more or less the same premium offered by a non-wellness plan, it is useful to look at such policies.
"Today, under wellness programmes, insurance companies offer an OPD component, which can be used for doctor consultation and medicines. Diagnostic tests are also part of the programme of insurance companies," said Dhruv Sarin, head of health insurance, Policybazaar.com.
"Insurers also do annual health check-ups and there can be a discount on the premium if you stay fit. A policyholder should certainly look at these products."