If the spouse is the guarantor of husband's business loans, banks can hold her liable for default.
Here are ways to ring-fence her assets, says Tinesh Bhasin.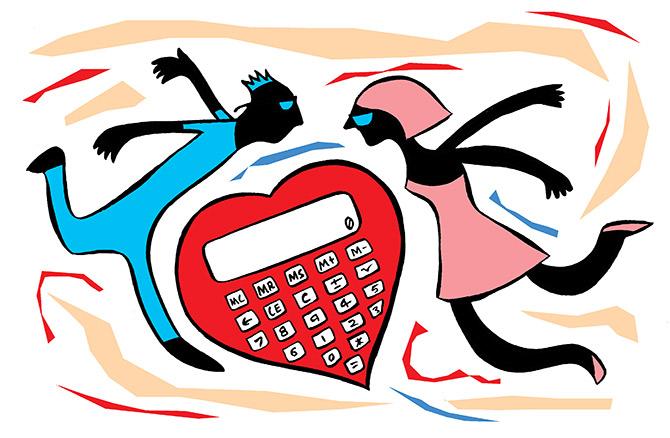 Illustration: Uttam Ghosh/Rediff.com
In a business family, a husband typically makes the wife a director or a partner in his company to ensure complete control. The wife has little idea of the business activities and dealings.
Only when the company defaults in repayment of a loan, the wife realises the consequences of signing documents without being fully aware of the repercussions.
A lender can attach any asset that belongs to the wife to recover the loan.
"We are increasingly coming across such cases. Women just sign on papers when asked by their husbands without realising the consequences," says Ashok Shah, Partner, NA Shah Associates.
"Now, we have orientation programmes for women in our clients' families to make them aware of problems they can face if they become directors, partners or guarantors in a business," Shah adds.
There can also be several other issues besides loan defaults.
A director or a partner can be held accountable under many laws such as goods and services tax, income tax, laws pertaining to provident fund, Companies Act, etc.
"The law doesn't consider ignorance as a justification for any wrongdoings or defaults. When an individual signs a paper, it is expected that she has read and understood everything," says Abhishek A Rastogi, partner, Khaitan and Co.
Once the default has happened, there's little that can be done. But if a woman is made a director or a guarantor, there are a few things she can do to ring-fence her assets or save her own business.
Ring-fencing assets
When a bank lends to a company, it's common practice that the lender makes all the directors give a personal guarantee for the loan. It is done to ensure that in case of default, a bank can recover its dues by attaching assets.
Even if a woman is not working, there's a possibility that she has assets in her name.
Parents usually bequeath assets to daughters after marriage. The best way to ring-fence the property is by setting up a discretionary trust where the woman is the beneficiary.
"Lenders cannot attach assets of beneficiaries in this structure. In a discretionary trust, the assets do not belong to the beneficiary and she can't claim it when needed. The trustees decide everything," says Suresh Surana, founder, RSM India.
When a lender asks for assets of guarantor when giving a loan, they don't consider properties that are part of a trust.
Many business families also use this structure to ensure that in case of a divorce, their daughters' assets are separate from their husbands'.
A woman's role as director
A business can be under different structures such as partnership, limited liability partnership (LLP) and private limited. In case of a partnership firm, the liabilities of partners are unlimited.
In an LLP, as the name suggests, the liabilities are limited. It's one of the best structures a family can adopt to limit the liability of women.
While a private limited company has directors, they are not liable for debts of the company. Banks, however, don't give a loan unless directors give a personal guarantee.
It's mostly in this set up that a woman gets involved in loan defaults.
Business families are appointing more women as directors after the amendment to the Company's Act, which mandates appointment of women directors.
"It is true that many Indian corporates have appointed their female family members to comply with the law. In such cases, a special resolution can be passed to limit the role of women directors in the day-to-day business of the entity, thereby specifically limiting their liability," says Neha Malhotra, executive director, Nangia & Co.
Limit liability if you own a separate business
In many cases, women run their own businesses. If they act as a guarantor for a business loan to their husbands, their companies can face legal issues.
Shah had a client who is a successful entrepreneur and she also became a guarantor to help her husband get a loan.
When the husband defaulted, banks sent notices to her for loan recovery. Her business was in a fast-growth phase and bank recovery process could bring it to a halt.
The client transferred the business to her brother at the fair market value and used the proceeds to pay the loan.
This way, she could save her business that has the potential to be many times bigger than it is today.
Tax experts say that women who run their businesses can follow a similar strategy if they are guarantors.
This way, even if there's a default, the woman can continue to grow her business while the lender can get its dues. But they should consult a chartered accountant to understand the law around such transfers and the structure that would suit them the best.
When lenders can't hold a woman liable
If a woman has no role to play in her husband's business, lenders cannot attach assets in her name.
Woman have this protection under the Married Women's Property Act.
If there's joint ownership in any asset, the lender, after liquidating the asset, needs to return the wife her share.
Also, if a director is not a guarantor, banks cannot hold her liable for default.
"An individual director has no power to act on behalf of a company unless there is a specific resolution of the Board of the company giving specific power to her or where the articles of company confer such a power," says Malhotra.
The law in this regard is well settled and has been reiterated by courts in several judgments.
While a woman now has share in her father's property, unless the assets are bequeathed or partition of the property has happened, lenders cannot stake a claim to her share.
Similarly, while a woman continues to be a coparcener in a Hindu Undivided Family (HUF) even after her marriage and has the right to HUF assets, the share of the daughter in her father's HUF cannot be attached except in the event of a partition.
Lenders can hold you liable if...
You are a guarantor for a business loan and there are defaults.
You are a director and there's misappropriation or fraud.
You are a partner in a partnership firm.
You have signed post-dated cheques which bounced.
Take responsibility with caution.
Understand the consequences of becoming a director, partner and guarantor
Be a guarantor only if your assets are in a trust.
Be involved in company affairs.
If you are a director, ensure tax dues and provident fund payments are up to date.
Leased offices should be under joint names, in case something happens to the partner.