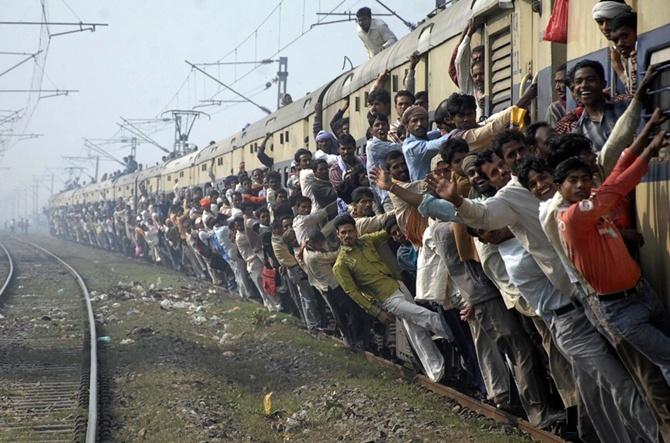 In a first, the Railways has decided to declare its quarterly financial numbers for three months till June, which shows that the national transporter's capital expenditure soared a whopping 134 per cent to Rs 17,734 crore (Rs 177.34 billion) from the projected Rs 13,231 crore (Rs 132.31 billion).
Minister Suresh Prabhu shared the details with foreign and domestic investors and bankers over the weekend at a closed door meeting at the Bombay Stock Exchange.
"It's for the first time any government-run organisation has declared its quarterly performance," Prabhu told the investors in a presentation, a copy of which has been seen by PTI.
The total earnings in Q1 rose 14.54 per cent, while working expenses grew at a measly 4.22 per cent, lower than the targeted 7.68 per cent growth during the reporting period.
The 108-km new line from Agra to Etawah and a new line from TunaPort to Gandhidham in Gujarat were commissioned during the Q1, according to the presentation.
Similarly, a 23-km stretch on the Lalitpur-Singrauli line and 122-km long gauge conversion project from Lohanu to Sikar in Rajasthan were also commissioned in the reporting period.
Doubling works of 150 km to de-congest the network was also commissioned during the reporting period. Moreover, the Railways completed electrification of 151 km network during the period.
Prabhu while rolling out the red carpet to investors asked them to replicate their success in telecom, power and road sectors as well as the Railways.
He said that the national transporter needs a whopping Rs 1 trillion funds this year and Rs 8.5 trillion over the next five years.
"You have successfully invested in the telecom and power and roads sector, but never in the Railways. The government also didn't invest during the past two decades. So we've chalked out a five-year plan under which we are looking at an investment of Rs 1 trillion this financial year and Rs 8.5 trillion over the next five years," Prabhu told the gathering.
Those attended the closed-door meeting at the BSE Tower included multinational i-bankers, Foreign Institutional Investors (FIIs), domestic insurers like LIC and other financial institutions, sources said.
Most rail lines are running at 100 per cent of their capacity now leading to lots of congestion. Hence we need investments to ease the rail traffic, Prabhu said, adding it will cost Rs 10 crore (Rs 100 million) for laying 1-km rail link and another Rs 6 crore (Rs 60 million) for doubling/ tripling of an existing railhead.
Stating that most of the funds for railways come either from public institutions like LIC which has committed to subscribe Rs 1.5-trillion worth of RFC bonds, or through the budgetary support, Prabhu maintained that the Railways need large funds from the private sector, considering the state of public finances.
Explaining the need for capital investment, the minister, who was praised for his radical reforms in the power sector during his tenure in the previous NDA ministry, said, "For improving rail infrastructure, we need to invest 10 per cent of the total infrastructure GDP of $2 trillion over next five years.
"This means that we need to invest $200 billion annually in the Railways over the next five years, after which we need an annual investment of 1.5 times more of this ($350 billion) for the next five years," Prabhu said.
Offering a break-up of rail finances, he said it has three main sources of revenue generation - passenger and freight fares and the budgetary support. However, Prabhu said as many as 65 per cent of the rolling stock are passenger trains but they generate only 30 per cent of revenue, leaving 70 per cent of revenue to be mobilsed by freight trains which constitute only 35 per cent of rolling stock.
On rail modernisation plans, he said the national transporter is on its way to construct 400 model railway stations this fiscal year. He also said as many as 79 announcements made in the rail budget for the year have already been implemented.
On involving the states in railway development, he said his ministry will sign MoUs with 17 states for investment.
"We have already signed MoUs with Maharashtra and Odhisa and on the way to do the same with a total of 17 states," he said, adding Maharashtra has agreed to pump in Rs 10,000 crore (Rs 100 billion) over next 10 years.
"On the part of the Railways, we will be investing Rs 70,000-80,000 crore (Rs 700-800 billion) in Maharashtra over next five years," he added.
On the dedicated freight corridors, he said out of Rs 82,000 crore (Rs 820 billion) approved by the Cabinet last month, the Railways has already floated tenders for Rs 19,000 crore (Rs 190 billion) so far.
About the proposed two locomotive units with FDI participation-one electric and the other diesel - he said tenders will be floated by the end of this month and a number of MNCs have evinced interest in the project.