As the Kerala government looks for the best technologies to rebuild infrastructure, start-ups see a bigger role for themselves.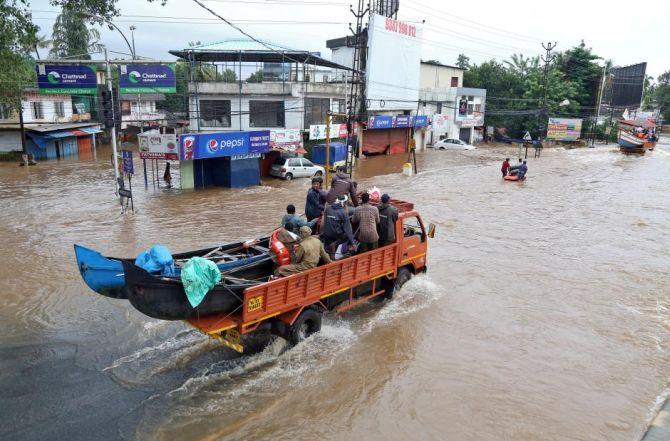 Start-ups in Kerala, which have come out with various technologies to support the rescue operations, may now engage in rebuilding activities as the state government is looking for the best technologies to build the infrastructure.
Several technology start-ups have already utilised their technologies in supporting the rescue operations when the state experienced its worst natural disaster, last month, after heavy rains, landslides and floods killed over 480 people and left thousands homeless.
Start-ups such as Strava Technologies, which used spatial data analytics platform CyberMonkey to offer geospatial intelligence to rescue teams; QKopy, a social networking app that has helped authorities fight fake news during emergency; and Riafy, an app studio that has developed cookbook recipes and others -- used their knowledge and technology to convert physical addresses into GPS coordinates, supporting rescue teams in mapping those requiring support.
Strava provided drone-mapping and GIS technology to help the rescue forces and also helped manage various distress calls and messages to offer useful data for efficient and faster rescue operations, said officials.
Riafy Technologies developed a platform in which addresses were converted into GPS coordinates -- as physical landmarks were not making any sense given most of them were submerged -- and colour-coded the locations based on rescue, food, water and medicine requirements.
Besides, it also eliminated duplicate requests, thus helping authorities effectively utilise useful data.
The company said in a blog post that within three days of the platform being launched, it has processed 100,000 requests for help and after eliminating duplicate requests, accurately pinned GPS locations of more than 35,000 people, saving thousands of lives.
QKopy, a start-up from Kozhikode, has also been working with local authorities to manage traffic as various roads were either inundated with flood waters, or damaged.
With the app installed by the public along with a particular number advertised by local traffic police officials, the administration was able to communicate to people directly on road conditions without any fake messages distracting users.
Earlier, when the Cyclone Ockhi had hit the southern coasts of Kerala, another start-up, C Mobile, had helped in search operations.
Now, with the rescue operations having ended and rehabilitation operations in progress, the state government is looking at various technologies available to help it rebuild the state.
"We are contemplating launching a programme to get resources from start-ups for finding solutions that would be ideally suitable for development," said Saji Gopinath, CEO of Kerala Start-Up Mission (KSUM).
The government is looking for solutions on faster construction technologies, weather-resistant models, and others.
For instance, a company from Copenhagen (Denmark) has come out with a technology to build houses through 3D printing, which could be set up very fast.
The government is looking at various aspects including such technologies.
This is apart from the "Call for Code Kerala Challenge", the new edition of the global initiative "Call for Code" that unites developers to solve pressing social issues, for which this year's topic is natural disaster preparedness and relief.
The hackathon, to be held on September 7 and 8, will focus on creating solutions pertinent to solving problems on the ground.
The hackathon will be a chance to find out how one can apply technology to better prepare for as well as reduce losses that result from such large-scale natural disasters, and what solutions could be built to help aid rescue and relief efforts during and after such events.