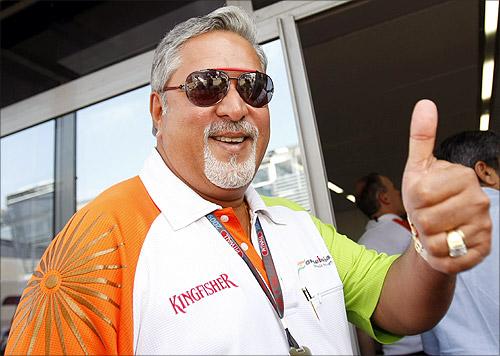 He skirts the issue of boardroom battle with Diageo at AGM
Sporting a French beard and a ponytail, Vijay Mallya, skirted questions from shareholders, who asked why United Spirits Limited (USL) wrote off Rs 7,200 crore and why Diageo board had lost confidence in its chairman.

"There is no operational loss. The brands are doing well, we have enviable stable portfolio of brands, and we are concentrating on premium plus brands," said Mallya. "Business wise, we are profitable."

A shareholder, Ashok, criticised Diageo, the British liquor maker that owns 54.7 per cent of USL, and Mallya, telling them that instead of "quarrelling like schoolboys" in public, these differences should be resolved behind closed doors.

He referred to the note in the annual report by the board that maintained that it had recommended Diageo to ask Mallya to step down as chairman and director.

In April, Mallya, chairman of USL, left a board meeting in a huff after other members sought his resignation. Ashok said Mallya should continue as chairman, getting applause from several shareholders at the UB City, where UB companies are housed.

At the annual general meeting, Nicholas Bodo Blazquez, the head of Asia Pacific and Africa for Diageo, was elevated as the vice-chairman at USL. ". . .He is a great help and ultimately, you cannot be a batsman the rest of your life. Ultimately, you should think of retirement, isn't it," said Mallya.

"I am not retiring, not yet. But when you turn 60, you should be thinking of retiring and enjoying your life," Mallya told reporters later.

He said the erstwhile auditors of USL, who had cleared the accounts of USL under Mallya, were in talks with Diageo auditors to explain their position. Mallya said he, too, was in talks with banks to negotiate a settlement for the defunct Kingfisher Airlines, but did not specify whether this would involve selling his stake in USL.

Mallya owes dues of over Rs 8,700 crore (Rs 87 billion) to a consortium of 17 banks, including State Bank of India. India's largest bank, SBI has declared him a wilful defaulter as negotiations have so far yielded little results.

"I am focusing on settling Kingfisher affairs with banks. That is what my current focus is," Mallya said.

In 2012, Diageo signed a deal to buy stake in USL, in which it controls a majority 54.7 per cent stake. After it acquired the firm and looked at the books, it found discrepancies.
Image: Vijay Mallya. Photograph: Reuters