Jeff Bezos, chief executive officer of Amazon, has committed to invest $5.5 billion into India and that figure is approaching quickly.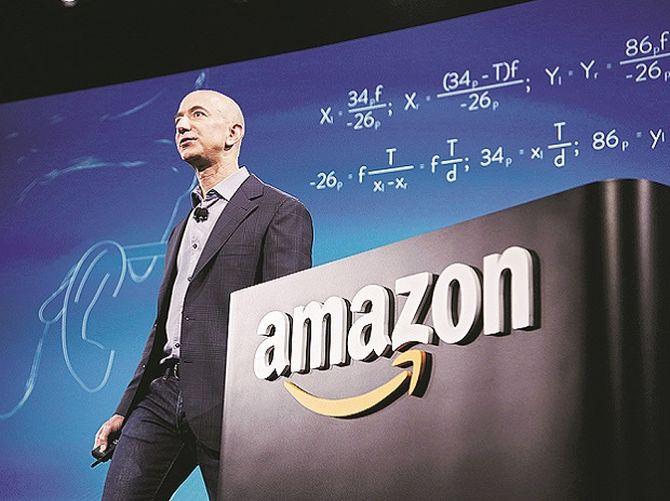 As the massive $16-billion deal between Flipkart and Walmart nears closure, which will add a further $2 billion to the Indian firm's war chest, rival Amazon is ensuring that it keeps up the fast pace of investments in its India business.
Amazon Seller Services, the marketplace unit of the US online retail giant in India, received an infusion of Rs 2,700 crore (around $385 million) earlier this month, according to documents filed with the Registrar of Companies, which were sourced from business intelligence platform Paper.vc.
The Seattle-headquartered firm also invested a further Rs 100 crore in Amazon Retail India, the food retail unit of the firm, which will drive its grocery category.
Amazon had said that it would invest $500 million into food retail, soon after the government opened the sector up to 100 foreign direct investments.
This investment in Amazon's marketplace unit comes just three months after it infused Rs 2,600 crore into the unit.
Jeff Bezos, chief executive officer of Amazon, has committed to invest $5.5 billion into India and that figure is approaching quickly.
Amazon says over half of the capital it has invested in India so far has gone towards building infrastructure, including investments in technology, warehousing, logistics, etc.
While the company does not admit it, a lot of investment has also gone into discounting products on its platform to attract more buyers.
In the past one year, Amazon has also made significant investments in its loyalty programme Prime, which not only call for more money to be spent for logistics to enable faster deliveries but also for creation of original content that goes up on Prime Video.
The US firm had said that it would invest as much as $300 million to create India-specific shows over the next few years.
Apart from its core e-commerce marketplace, Amazon is also investing heavily into its cloud computing, payments, and its IT services divisions in India. According to analysts, Amazon's investment in India ticks over $4 billion.
Moreover, Amazon's investments in India are expected to steadily increase over the next few years.
In the first two quarters of the current fiscal year, Amazon has already invested Rs 53 billion, compared to Rs 8,150 crore it invested in the whole of the previous fiscal year.
Traditionally, the company brings in a larger quantum of investment during the festive period of Diwali to drive its mega sale.
While the investment in India has been steadily going up, the loss the firm makes in India might not show up as prominently on Amazon's balance sheet.
For the three months that ended June, Amazon reported a loss of $494 million from its international business, the third consecutive quarter-on-quarter drop, even as the firm continues to ramp up its investments in India.
This drop in losses the company was making internationally was attributed to improved operating margins in Japan and Europe, effectively offsetting some losses the company was making in India.
"We have seen improved operating margins over the past few quarters in Europe and Japan. But we continue to invest and are investing in India obviously," Brian Olsavsky, chief financial officer at Amazon, had told investors during a call.
Photograph: Jason Redmond/Reuters