FMCG, durables, pharma firms say they remain unclear about transition gains and losses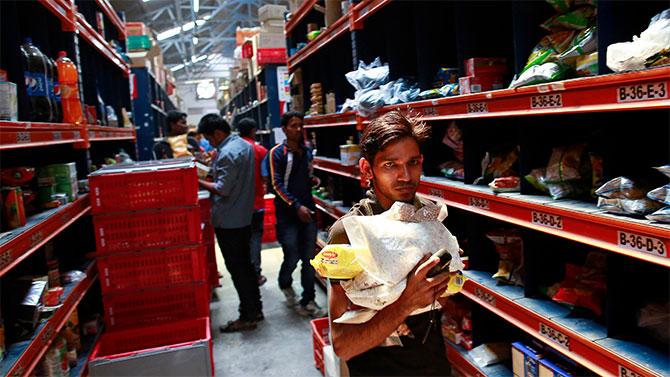 The goods and services tax (GST), the biggest tax reform since Independence, is likely to lead to much disruption in trade as transition fears grow in the run-up to its introduction on July 1.
Retail and wholesale trade Business Standard spoke to (across fast-moving consumer goods, durables and pharmaceuticals) admit they remain unclear about transition gains and losses, prompting them to scale back on inventory requirements by 50-70 per cent from current levels.
"I am speaking to manufacturers on a daily basis to understand what is the tax I land up paying and what is the reimbursement or input credit I get against it," said Nilesh Gupta, managing director, Vijay Sales, a Mumbai-based electronics chain that has operations in the west and north of India. "If clarity doesn't come I will be forced to cut down on inventory requirements for some time at least," he added.
Dealers and retailers of consumer goods and pharma stock inventory for 30-45 days so that there is no disruption in sales. A thinning down of the inventory pipeline will mean that dealers will carry stock for 10-15 days only, which is a situation most companies would like to avoid.
This is likely to kick in by the second or third week of June if the matter is not cleared quickly, people in the know told Business Standard.
"We may see some inventory correction happening in the latter half of June. Instead of lifting stocks for 40-45 days, we may see them taking stock for 10-15 days," said Ameesh Masurekar, director of AIOCD-AWACS, the market research wing of the All India Organisation of Chemists and Druggists.
The government last week had indicated to companies that trade across categories will get a 40 per cent reimbursement only against tax paid. Most wholesalers and stockists as well as consumer durables dealers say this will only push them to keep their inventory pipeline thin till the matter is resolved.
The GST Council is set to meet next week to determine not only rates for categories such as gold, jewellery and textiles but also iron out issues pertaining to trade, highly placed sources said.
The discussion point, they say, was added after FMCG companies petitioned the government to reconsider reimbursing trade to the extent of 40 per cent of the tax paid only.
"There is a significant proportion of FMCG products that comes out of excise-free zones. So, they may not have an excise bill to show for those goods, impacting the reimbursement process down the chain," said Sumit Malhotra, managing director, Bajaj Corp, the maker of brands such as Bajaj Almond Drops Hair Oil.
CM Singh, chief operating officer (COO), Videocon Industries, said, "We are extending the excise paid bills now and telling trade partners that we will compensate for any difference in unsold inventory when the GST kicks in. Business needs to go on as market activities cannot be halted at any cost."
Manish Kumar Gupta, chief financial officer (CFO), Panasonic India, said he saw some impact in sales in July-August due to GST destocking, though it would recover during the festive season.
Dabur's CFO Lalit Malik said the company would be providing incentives and schemes to compensate trade. "We will also manage production in line with the demand scenario by optimising our supply chain pipeline," he said.
Drug makers, including Abbott and Cipla, have agreed to absorb losses which may be incurred by stockists on closing inventory on June 30. This, they say, is in response to nervousness among trade about the negative impact on trade margins due to GST.
Auto dealers, on the other hand, say companies have assured them of full support during the GST transitory process.
"We are working out the impact. In some cases, prices are going up, and in some, they are going down. Inventory is a tricky situation currently. If price is going up, there is no issue. If it is going down, we will have to work out a mechanism. At this moment, we are asking dealers to focus on sales," Jnaneswar Sen, senior vice-president (sales & marketing), Honda Cars India, said.