The permission right now is for delivery only for stationary usage. This limits the service to those who operate units like diesel generation sets.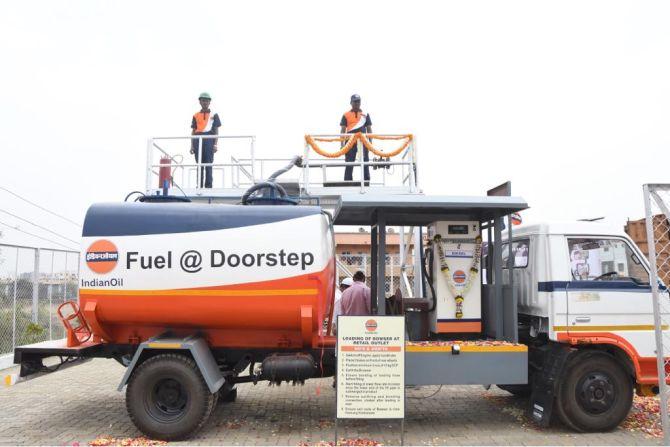 When Indian Oil Corporation chose Pune for its first experiment to supply fuel at one's doorstep, the decision was driven more by convenience than strategy.
"We had a company-owned vehicle with a Maharashtra registration; that is why Pune," says a company official.
This, more or less, is the story of implementing 'fuel at doorstep' for the first time.
IOC was the first of the government's three oil marketing companies to start such a service, in March.
It is mandatory to transport fuel under this service through a company-owned and specially-designed vehicle, registered in the same state where it wishes to use for delivery.
According to industry officials, unavailability of such company-owned and registered vehicles was one reason delaying rollout for the other two OMCs, Bharat Petroleum and Hindustan Petroleum.
This is one of many strict guidelines put in place, to ensure transportation of these highly inflammable liquids.
In fact, diesel is the only one presently approved for delivery.
'Fuel at doorstep' will continue to remain a distant dream for individual users; that is not presently under consideration.
"The permission right now is for delivery only for stationary usage," said Sanjeev K Jain, executive director, retail sales, for IOC.
This limits the service to those who operate units like diesel generation sets.
That is the profile of the current 15 customers which IOC is allowed to supply at the doorstep from its Pune outlet.
"We have permission for these 15 customers, of which nine are taking delivery," Jain added.
The process to enjoy a premium service like this is also complicated. Buyers wanting this service need to approach a dealer or the firm.
The company in turn sends details of the customer to the regulatory agency, which has to approve. "This process might take a couple of weeks," Jain said.
The service is typically targeting customers with usage of hundreds of litres of diesel.
Petroleum and Explosives Safety Organisation is the regulatory agency.
Devil in the detail
The three OMCs are allowed to operate one outlet each with this service.
And, need to adhere to a long list of guidelines, mostly put in place, as mentioned earlier, to ensure safety in movement of the fuel.
Beside company ownership of the vehicles, it is restricted to stationary units and limited to diesel.
Some of these, Jain adds, need to be relaxed later if the model has to be replicated on a larger scale.
It would be difficult, for instance, to run a wide network of doorstep fuel supply solely based on company vehicles.
"At some point, dealers or a third party should be allowed to own and operate these delivery vehicles," he said.
At present, it is expected that the three OMCs may be allowed to operate eight outlets each on the same model in the next six months.
Though private oil retailing companies are willing, this service has been limited to the government OMCs.
The idea was actually mooted some years earlier but had to be put on the backburner for technological reasons.
Jain explains that the delivery vehicle is geo-fenced to dispense diesel only after it is at a pre-specified location or within its 500-metre range.
"This is to ensure that fuel is not (given out) anywhere on the road or at an unsafe location," he added.
The next leg of what is likely to be a long journey for the project could be the opening of the service to fleet operators.
At a later stage, the idea of providing this service to firms that operate a fleet of automobiles might be considered.
The idea of supplying it at the doorstep of a four-wheeler owner or supplying of petrol is not on the cards at present.
Photograph: IOC via Twitter.