The conglomerate adopted an unremitting focus on diversifying from the mid-seventies but the exercise has not been without controversy and the results have been mixed

Two decades after joining Imperial Tobacco Company as a "management pupil" in 1948, Ajit Narain Haksar, a Harvard Business School alumnus, became its first Indian chairman.

A year later, the Imperial in the company's name became India, and in 1974, it became plain ITC.

The name change was done with a purpose.

Haksar had realised by then that the company needed to diversify as the business environment is changing and it would be difficult -- even risky -- to stick to the tobacco business alone partly also because of the restrictions imposed by the Monopolies and Restrictive Trade Practices Act of 1969.

Haksar knew how to walk the talk in a hurry.

So, ITC opened its first hotel in Chennai (then Madras) -- the ITC Welcomgroup Hotel Chola -- in 1975.

The paperboards business followed two years later.

It was at one point also the largest marketers of condoms, mainly Nirodh, for the government.

The momentum continued under Haksar's successor, J N Sapru. Inspired by British parent British American Tobacco foray into financial services with Eagle Star, ITC set up its non-banking financial arm, ITC Classic Finance, in 1986.

The iconic "Bukhara" restaurant was taken beyond Indian shores to New York.

Then came the edible oils business under ITC Agro Tech.

Under K L Chugh, who took charge in 1991, ITC carved out its own "sogo shosha" or trading company, ITC Global Holdings Pte Ltd.

Additional capital was raised through a global depository receipt issue to finance the expanding businesses.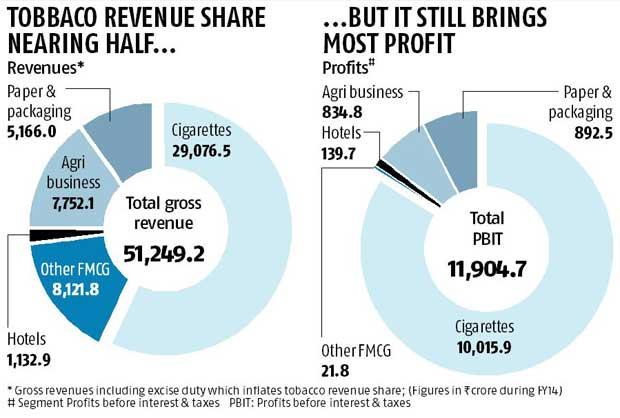 Sometime in 1993, ITC tied up with global financial services major Peregrine.

By 1996, however, most of these diversifications had failed.

But till it all came crumbling down, the imposing corporate headquarters, Virginia House, on 37, Chowringhee Road, was an icon of a successful global corporation.

Yet it's the global operations (the Bukhara deal and the international business division namely) that turned out to be a major embarrassment.

The Enforcement Directorate (ED) believed that ITC had inflated profits by over-invoicing imports.

A massive nationwide search and seizure operation followed in what was believed to be one of the biggest tax evasion cases of its time.

In a late-night swoop in October 1996, Chugh and Sapru were arrested by the ED; they were in custody for months.

At the end of it all, ITC was left with financial liabilities (excise plus liabilities dues of failed companies) of Rs 1,500 crore (Rs 15 billion).

This
prompted a rapid rationalisation of its portfolio.
It began with the exit from financial services (which was sold to ICICI in 1998), then edible oils, overseas restaurants, real estate, followed.
Y C Deveshwar, who took over as chairman in 1996, inherited hotels and paper board, the only two non-tobacco business of any real scale, from his predecessors.
The options before him were two: to focus on core business (tobacco) or, to diversify.
The backdrop was complex - on the one hand, was the company's failed diversifications, on the other, its overseas parent (British multinational BAT which owned 31.8 per cent) was upping the ante.
After an aborted attempt to greater foothold in the company, and ITC's failed diversification, the single-largest shareholder wanted the Indian company to stick to its core business.
Instead, Deveshwar opted for more diversification -- and how.
The new drivers for growth were created -- non-cigarette fast moving goods and information technology.
The big blow came in 2004 when the government dropped a bombshell with the Cigarettes and other Tobacco Products (Prohibition of Advertisement and Regulation of Trade and Commerce, Production, Supply and Distribution) Act, 2003 to protect public health by imposing restrictions on advertising and banning sponsorships.
There was little option before the company, but to de-risk its business model.
Its portfolio of traditional and greenfield businesses comprise fast moving consumer goods, hotels, paperboards & specialty papers, packaging, agri-business and information technology.
With the restrictions on tobacco advertising, the brand Wills, so far synonymous with cigarettes, was extended to garments and personal care products with Wills Lifestyle.
In hotels, the high points were hit in the 1990s, when the company decided to invest heavily and properties such as the ITC Maratha, ITC Grand Central, ITC Sonar and ITC Gardenia came up.
In 2000, ITC launched e-choupal, a model that enables farmers to obtain information on mandi prices and good farming practices, and to place orders for agricultural inputs like seeds and fertilisers.
Possibly ITC's most awarded initiative, it was however, constrained by various government restrictions.
The FMCG business with some 20 brands in its kitty is growing, more importantly, profitably.
Most of these ride on the robust distribution network that ITC has built over the years.
Forty years on, ironically, the managerial attention to new businesses has meant almost 40 per cent of revenues now come from the non-tobacco business (see chart).
But tobacco still accounts for 84 per cent of the group's profit. Over the next 40 years, then, ITC's challenge will be to kick the tobacco habit in terms of the bottom line too.