Of the 600 young change makers who made the cut this year '1:6 are immigrants from 44 countries' -- an important ratio in the age of growing protectionism, Monali Sarkar points. out.
Illustration: Uttam Ghosh/Rediff.com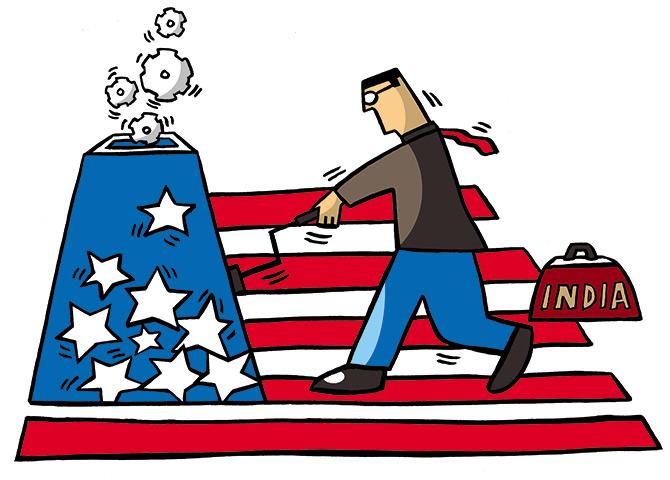 In an era of growing protectionism, the 2017 Forbes 30 Under 30 list makes an impressive case for welcoming immigrants.
According to the magazine, 'This is the most definitive gathering of today's leading young change-makers and innovators in the US... (And) this year, the competition was more extreme than ever: 15,000+ nominations for just 600 spots.'
'That's an under 4% acceptance rate; making it harder to get into than the nation's two most selective colleges, Stanford University (4.8%) and Harvard University (5.2%),' the magazine added.
Of the 600 chosen ones, '1:6 are immigrants from 44 countries.'
Divided by continent, most of the immigrants hail from Asia.
A majority of them -- 35.4% -- are from China.
When narrowed down to South Asia, India emerges as the country of origin of 87.5% of the immigrants from the subcontinent.
These are immigrants who are making game-changing contributions to 20 industries, ranging from sports to manufacturing.
Nishant Garg and Jimit Shah, who made it to the 'Energy' category, co-founded Flow Labs, which Forbes says, 'has devised a small wireless-enabled sensor that attaches to water pipes and measures the amount of water flowing through them -- ideal for homes and businesses looking for ways to save water and save money.'
Anurag Garg made it to the 'Manufacturing and Industry' category for co-founding Dattus, an industrial Internet of things company that 'transforms old manufacturing facilities into smarter factories.'
Anish Abuwala, a portfolio manager at Caxton Associates; Raja Bobbili, an analyst at Abrams Capital; and Dhruv Maheshwari, a research analyst at Point72 Asset management are making waves in the 'Finance' category, while Anarghya Vardhana is making a mark in the 'Venture Capital' category as a senior associate at Maveron.
The 'Healthcare' category has benefited from the talents of people like Vivek Kopparthi co-founded NeoLight, 'which has developed a phototherapy device that is portable for use at home for jaundice... (and is) working on a second tool to treat infant hypothermia,' and Sudhakar Nuti, an MD candidate at Yale University, who studies variations in the quality of health care in the US.
Akshay Khanna, listed in the 'Sports' category, drives the strategy for American football team Philadelphia 76ers, while the Saswat Panda co-founded Live Like VR, listed in the 'Consumer Technology' category, uses virtual reality to cash in on the desire fans sitting at home have to feel like they are at a game.
They are just a fraction of the young change makers, who according to Forbes, 'are challenging the conventional wisdom and rewriting the rules for the next generation... They are passionate and formidable bunch, and for good reason. Their goal is nothing short of breaking the status quo and transforming the world.' Regardless of borders.