'Over the next two to three years, hiring will come down further.'
'You will see the industry intake of freshers go down to 150,000 from the current 200,000.'
Vinay Umarji, M Saraswathy and Shivani Shinde Nadhe report from Ahmedabad/Mumbai/Pune.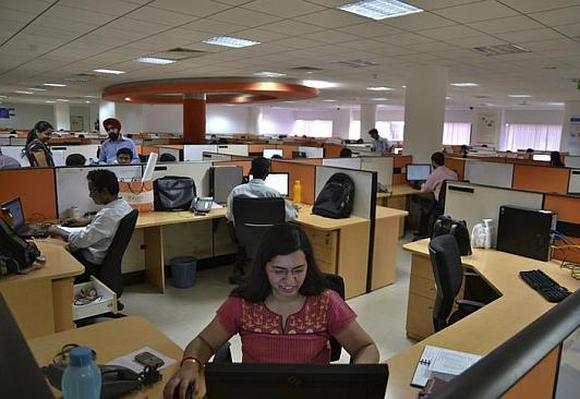 Uncertainty over the outcome of the US presidential elections and Brexit as well as increased automation has cast their shadows over campus recruitment at most engineering colleges this year.
Offers could dip by at least 20 per cent and salary growth would be flat at mid-level engineering colleges such as SRM University, Chennai, VIT, Vellor and Chennai, and the National Institutes of Technology said officials at institutes Business Standard contacted.
Entry level salaries for engineers have remained flat over the past five to six years, hovering around Rs 3 to Rs 3.5 lakh (Rs 300,000 to Rs 350,000).
"Offers may dip by 20 to 25 per cent this year at engineering institutes. There are too many engineers in the market. As a result, entry-level salaries have not risen from the Rs 3 lakh to Rs 3.5 lakh for the last five to six years," said a source at SRM University, Chennai. An emailed query to the university did not elicit any response.
Placements at engineering institutes will begin around the first week of November, but there is a note of caution in the air.
Recruitments are likely to continue till end-December. The information technology sector accounts for almost 50 to 60 per cent of the jobs offered to graduates on campuses.
Though big recruiters such as Tata Consultancy Services, Infosys and Wipro have promised jobs to large campuses such as Birla Institute of Management and Technology, Greater Noida, and VIT, Vellore and Chennai, the numbers are not yet known.
A senior placement officer with a large engineering school said while there was no dip in the number of companies coming to campuses, they were anticipating a fall in the number of job offers.
"While they have not officially communicated any dip in hiring numbers to us, we are getting early indicators from the market that there could a drop," said the official who did not want to be named.
For instance, while Microsoft recruited three students this year from the National Institute of Technology, Warangal, as against six last year Directi recruited two students both last year as well as this year.
Placements at NIT-Warangal started in the second week of August for the batch of 800 undergraduates.
"Companies are not hiring large numbers. If earlier, they recruited four, this year they are recruiting two," said G Amba Prasad Rao, professor in charge, placements, NIT-Warangal.
"Even in terms of compensation packages, roughly 90 per cent of the firms have maintained their cost to company at last year's levels," Rao added.
The CTC for the software sector tends to be around Rs 10 lakh (Rs 1 million) and for the core sector, around Rs 6 lakh (Rs 600,000).
So far, 60 firms have visited NIT-Warangal, with the placement process likely to continue till the last week of April.
Given the downward trend in hiring, NIT-Warangal is ensuring that enough companies visit the campus this year.
"We are trying to invite as many companies as possible both for undergraduates as well as post graduate batches," Rao added.
While other sectors such as manufacturing and public sector undertakings are improving their presence on campuses, institutes feel these would not be sufficient to offset the dip in offers from the IT sector.
"There is uncertainty surrounding the US presidential elections coupled with Brexit and rising automation in the IT sector, which could impact the job market this year," sources at the SRM University said.
The size of the batch at SRM University is 4,000, including undergraduate and postgraduate students. Summer and final placements at SRM University began on July and August, respectively.
IT provides the bulk of recruitments, followed by manufacturing, consulting and banking.
V Samuel Rajkumar, director, placement and training, VIT, said there was a drop in numbers of job offers from the IT companies compared to last year. However, he added, they were not impacted in a big way since they were not depending on the IT sector for placements.
The institute had 200 companies on the campus till now, of which seven or eight were from IT sector.
VIT received about 1,000 job offers from Cognizant, TCS and Infosys.
TCS, Infosys, Cognizant and Wipro were going slow as these were trying to retain employees, increase utilisation and start pushing for automation.
TCS, which gave 35,000 offer letters for campus recruitments, had maintained that FY17 would see lesser number of lateral hires. Going ahead, even campus hiring would come down.
"Their largest revenue contributors, banking, finance services and insurance, have slowed down. There will be cautiousness when they hit the campuses for recruitment. Over the next two to three years, hiring would come down further. You will see the industry intake of freshers go down to 150,000 from the current 200,000," said Kris Lakshmikanth, chairman and managing director, Head Hunter India.
IT firms, he added, were going big on staffing for their immediate project needs.
"During the peak, Infosys took 25,000 freshers every day. The top three players would give offers to as many as 200,000 students every year. This has fallen to 70,000 to 80,000 now," he said.
A look at the annual addition of employees among the top five firms also shows a drop.
According to a Centrum Research, the pace of growth in the reported total headcount of the top five IT vendors in the country has been slower on a year-on-year basis over the past few years.
While the headcount for the top five was been growing at 18 to 20 per cent in FY12, the pace has moderated substantially for FY16.
Over FY11 to FY15 the top five companies delivered a US dollar revenue growth of 14.5 per cent CAGR while headcount has grown at 11.3 per cent.
Since only TCS and Infosys have announced their Q2FY17 numbers, the first half of the financial year shows a drop in headcount growth.
The employee addition among the two firms in the first half of FY17 grew by 9.12 per cent.
Image published only for representational purposes.