Royal Enfield's sales are equivalent to the global sales of Harley-Davidson, KTM, BMW, Triumph, and Ducati combined, but Bajaj's MD has a counterview.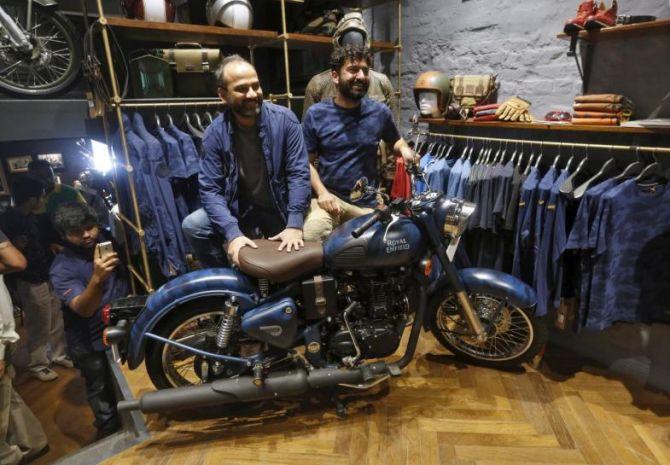 Image: Eicher Motors chief executive officer Siddhartha Lal at a Royal Enfield store in New Delhi. Photograph: Adnan Abidi/Reuters
Rajiv Bajaj calls him a "good friend", yet his company, Bajaj Auto, is waging a bitter battle against Siddhartha Lal's Eicher Motors to break into the 250 cc-plus motorbike market, where the latter reigns supreme.
In a tweet recently, Lal, chief executive officer, Eicher Motors, said, "Royal Enfield's sales are equivalent to the global sales of Harley-Davidson, KTM, BMW, Triumph, and Ducati, combined. Let that sink in for a second."
Eicher owns the iconic Royal Enfield motorcycle brand.
Bajaj, managing director of Bajaj Auto, which has a 49 per cent stake in KTM and a comprehensive collaboration with Triumph Motorcycles, counters Lal's view.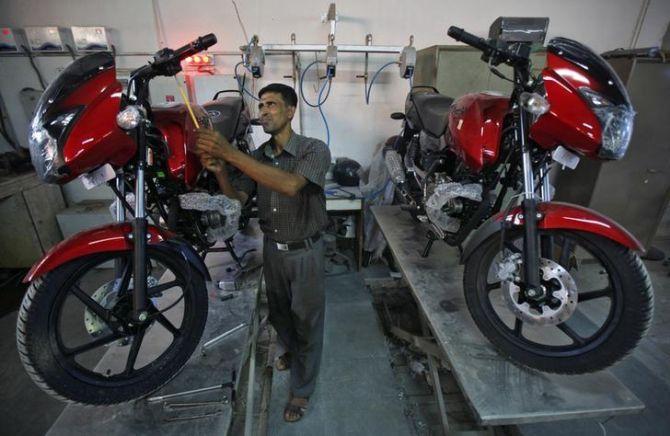 Image: A worker prepares a Bajaj motorcycle before it is delivered to a customer at a Bajaj showroom in Kolkata. Photograph: Rupak De Chowdhuri/Reuters
"By measuring solely on the basis of volumes at the exclusion of pricing power, it would seem that Maruti Suzuki is above and beyond brands such as Mercedes, BMW, Audi, and Porsche put together," he told Business Standard.
Eicher sold 378,029 motorbikes in the 250-500 cc segment during April-September this year, with nearly a 90 per cent share of the domestic market.
In contrast, international brands sell far smaller volumes.
For instance, Ducati sold 55,000 bikes globally in 2016, Triumph 65,000, KTM 190,000, and Harley Davidson 260,000 bikes.
However, their products command a huge premium in the global market, as a result of which their average sale price is multiple times what manufacturers in India sell for.
KTM, for example, sells a bike at an average price of $8,400 (Rs 541,000), which is nearly five times of what Indian players sell their products in this category.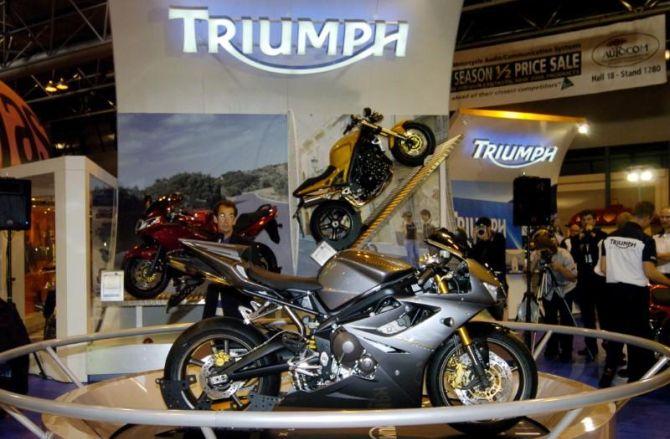 Image: The Triumph Daytona 675. Photograph: Paul Harding Livepic/Reuters
Eicher sold over 660,000 bikes last financial year, generating revenues of Rs 7,939 crore.
Harley-Davidson, on the other hand, sold only a third of the number of bikes (194,000) in the first nine months of this year, but generated revenues of Rs 19,300 crore.
In the export market for over 250 cc bikes, the equation is different.
It is here that Bajaj Auto, with over 53 per cent market share, dominates -- mainly through KTM and its recently launched Dominar.
Eicher has a market share of under 19 per cent.
Bajaj has put together a clear strategy to take on Eicher in the 250 cc-plus segment.
Apart from launching the Dominar, a 373 cc bike at over Rs 100,000, it has tied up with Triumph to combine its frugal engineering skills with that of its partners' technology and brand to come out with mid-segment bikes for both the domestic and export market in the Rs 100,000-Rs 200,000 price range.
The bikes are slated to hit the roads by 2020.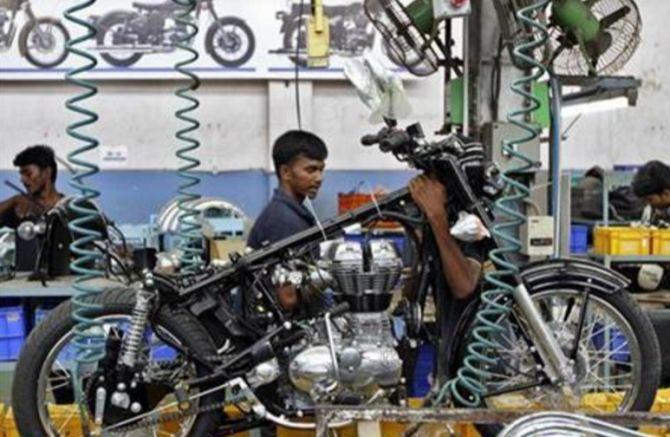 Image: Workers assemble a Royal Enfield motorcycle inside its factory in Chennai. Photograph: Babu/Reuters
Eicher, the darling of the stock market, has stitched together a five-year export plan and has identified southeast Asia (Thailand, Indonesia, and Vietnam) and Latin America (Brazil and Columbia) as key markets for growth.
Lal is also looking at opportunities to fill the gaps in the mid-weight mobike market across the globe and grow it tenfold.
That is because the big boys -- Ducati, Harley, BMW, and Triumph -- which have a high cost structure, are forced to price bikes at a high price tag and sell only limited volumes.
Instead, they prefer to sell heavyweight bikes, where they make good margins at only an incremental increase in cost of production.
To fill this gap, Eicher has just showcased its 650 cc parallel twin-engine mobikes, which will target its 2.3 million domestic Enfield customers, some of whom might be looking for an upgrade.
But it will also provide Lal with volumes needed to reduce costs and will be offered at a compelling price in the US and Europe.