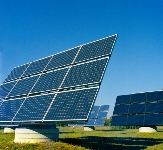 European Investment Bank has expressed interest in financing solar park projects in India, the Asian Development Bank senior investment specialist Don Purka said on Thursday.
"From our talks with the ADB donor members and investment banks, EIB has expressed interest in providing financing for the Indian Solar Park projects," he said on the sideline of the Clean Energy Expo Asia conference in Singapore.
Financing support is also seen from the US Import-Export bank and Germanys KWF, he said, adding that financing support shows the growing support for Indias National Solar Mission, which calls for installation of 20,000 MW capacity by 2022.
This would need multi-billion dollar investment, based on $2.6 million per MW investment for big projects and $3 million per MW investment for small projects, Purka said.
Noting that India has only 14-MW of solar power linked to the main grid, he highlighted two solar park projects in Gujarat and Rajasthan, which reflection of the two state state-governments support for the clean energy development in the country.
Gujarat has set aside a 2,500-hectare site for 1,000-MW solar energy projects, while Rajasthan has 8,000 hectare site for 3,000-MW park.
The two parks would be part of the second phase of national solar mission, which calls for 4,000-MW of solar energy panels installation by 2015.
The two states would also be
providing infrastructure, leveled sites and transmission connectivity as well as utilities such as water for these projects.
The Manila-based ADB is providing $3 million technical grant for the projects, and is following up by arranging financing through its donor members and investment banks, stressed Purka who presented an industry report on 'ADB Support for Solar Power in India'.
Meanwhile, ADB is also supporting the missions Phase I installation of 350-MW of solar energy panels, 150-MW of which would be in 5-MW capacity per plant and 200-MW of which would be in 50-MW capacity per plant.
"We have seen strong expression of interests in the smaller 5-MW photovoltaic plant investment, some 300 investors having been qualified," said Purka, adding that the Indian government was expected to award the smaller projects next month.
ADB has also supported these projects by providing credit guarantees to the financing banks, with assurance of 50 per cent returns of loans in case of any small project failing to reach commercial completion, he said.
The banks have agreed to support these smaller projects, with 15-year loan term, he added.