The Rs 1-trillion organised dairy market is dominated by co-operatives in almost every state.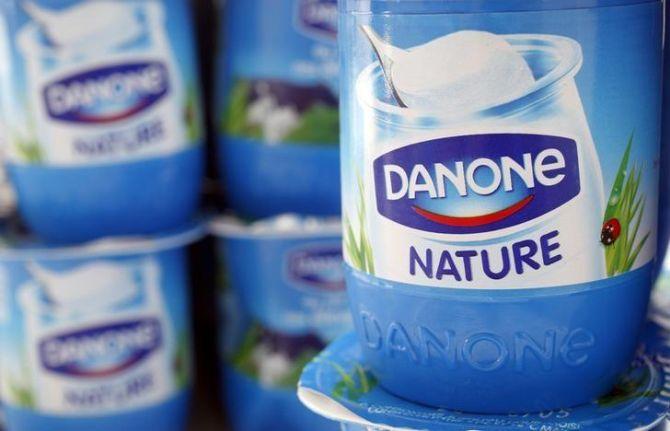 Last week, French food-products major Danone put its India dairy chapter to rest with the sale of its Haryana unit to local player Parag Milk Foods.
Danone's exit, the second after New Zealand-based Fonterra Dairy in 2009, points to the challenges that global firms face in the world's largest milk-producing nation.
Danone's arch-rivals Nestle and Lactalis, too, face difficulties in the Indian market, said experts.
Nestle, the world's largest food company, has a presence largely in the dairy space, pushing products such as greek yoghurts, dairy whiteners, probiotic dahi, and tetra pak milk that have an urban skew, added experts.
Lactalis, on the other hand, has opted to operate through acquisitions.
It bought Hyderabad-based Tirumala Milk Products in South India in 2014.
Then, it moved north by snapping up the dairy business of Indore-based Anik Industries in 2016.
R S Sodhi, managing director of Gujarat Co-operative Milk Marketing Federation (GCMMF), which markets the Amul brand of milk products, said multinationals were unable to operate at the margins that local players do.
"Our cost of production is hardly anything on packet milk and for value-added products we are able to manufacture at half the price of what multinationals do. These savings are passed on to consumers," Sodhi said.
The Rs 1-trillion organised dairy market is dominated by co-operatives in almost every state.
The National Dairy Development Board, which owns Mother Dairy, in the north and Karnataka Co-operative Milk Producers' Federation, which owns Nandini, in the south are some of the private players.
These include companies such as Hatsun Agro in Tamil Nadu, Heritage Foods in Andhra Pradesh and Parag Milk Foods in Maharashtra.
Britannia (in cheese, curd, chaas, milk, cow's ghee and dairy whiteners) and Patanjali (cow's ghee) have a presence in the domestic dairy market.
ITC has big plans for the dairy market, including an array of milk-based beverages and frozen desserts that will be rolled out of its Kapurthala plant in Punjab in the near future.
To give a sense of where the multinationals are vis-a-vis local players, consider this: In Mumbai, a one-litre tetra pak milk from Nestle, for instance, comes for Rs 75 versus Amul's for Rs 62.
The Karnataka Co-operative Milk Producers' Federation's Nandini is the cheapest of the lot, priced at Rs 57 for a one-litre tetra pak of milk.
In the case of packaged dahi or curd, the most affordably-priced is Amul at Rs 50 for a 400-gram pack in Mumbai.
Danone used to operate in this space at a higher price point but is no longer there, said sources, while Britannia comes at Rs 65 for a 400-gram pack.
In a price-sensitive market, Sodhi said this was a clear advantage that local dairy majors enjoyed over multinational companies. Akshali Shah, senior vice-president, strategy, sales and marketing at Parag Milk Foods, said another advantage was the relationship that local players have with dairy farmers.
"Sourcing is an important factor in the dairy business. Local players understand the lay of the land well and are able to strike the right price when procuring milk," she added.
Brahmani Nara, executive director at Heritage Foods, said an efficient cold chain and distribution network set up by local players helped in pushing reach aggressively, benefiting local companies. But she argued foreign players had a niche of their own.
"The domestic dairy market is tough and global players can find it difficult if they choose to strike out on their own, but if they work with local players, it would help.
"They can bring in their technical expertise and local players can bring their on-ground sourcing, distribution and supply-chain strengths," she added.
Britannia is in talks with international players for a joint venture (JV) in the dairy segment, while Heritage Foods announced a JV last year with French company Novandie for manufacturing yoghurts and desserts.
Photograph: Vincent Kessler/Reuters