Religious leaders come last, with corporations featuring slightly better in the list
Indians give more credence to the central government and the military, more than the media, human rights organisations and the judicial system, according to the 2017 Global Attitudes Survey, conducted by Pew Research Center.
Religious leaders come last, with corporations featuring slightly better, it said.
The study was done in collaboration with the Center for Strategic & International Studies (CSIS), a US-based policy research organisation. The survey analysed four developing and populous countries: India, Indonesia, Kenya and Mexico (see chart).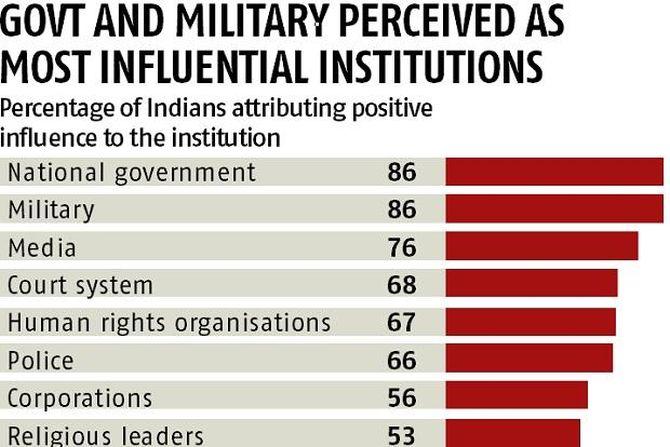 Among the four countries, however, Indians are the least advocating (or supportive), or the most sceptical, about the effectiveness of human rights organisations (HROs) and their influence on "the way things are going".
The global attitudes survey, conducted for the fourth time in India, interviewed 2,464 individuals across 15 states in eight Indian languages between February and March.
In 2016, a report by the Organisation for Economic Cooperation and Development (OECD) ranked India third, with 73 per cent confidence in government, on the list of countries with the highest trust in the respective national governments, behind Switzerland and Indonesia (both 80 per cent).
However, the report also added that Indians' trust in government came down from 82 per cent in 2007.
When it came to the perception on the impact of human rights organisations on the way things are going, 75 per cent of Indonesians said these organisations impacted the state of affairs, with 27 per cent among those feeling it does so strongly, said the Pew survey.
Only 60 per cent of Indians, least among the four countries, perceived HROs as important agencies (see chart).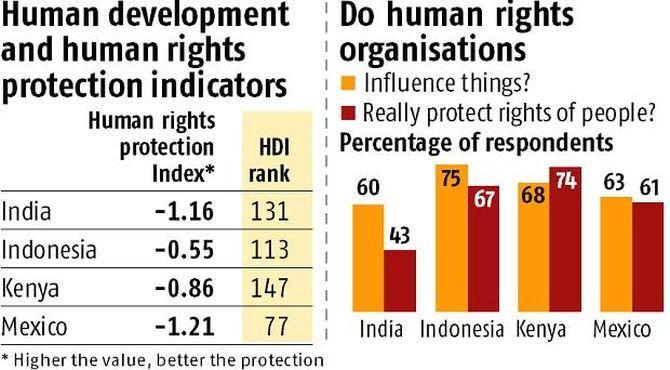 Among them, 23 per cent considered these as institutions making a real difference.
Promoting poverty alleviation was the top priority action point people expected from HROs, among the four countries.
As a second priority, Indians and Mexicans expected HROs to advocate gender equality. Indonesians wanted these to ensure government accountability. Kenyans wanted free and fair elections.
More women than men said gender equality should be advocated by HROs in all the four countries.
An important finding from the survey was that Indians answered with a 'can't say' or a 'don't know' more often than their peers in other three countries.
Photograph: Vivek Prakash/Reuters