Cement manufacturers' show during the June 2023-ended quarter (Q1FY24) has indicated an intensified slugfest for market share.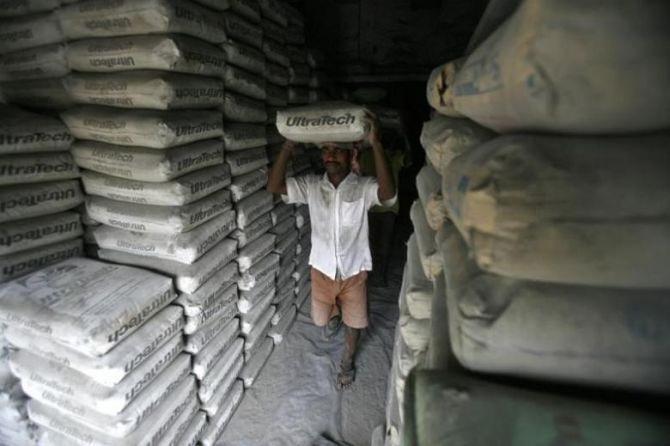 For instance, Dalmia Bharat (Cement) said it has lost market share in eastern India owing to lack of price discipline.
Industry analysts also said that the seasonal weakness in cement prices for Q1 is showing up earlier than usual.
Companies do not disclose a regional break-up of market share.
However, at an all-India level, Dalmia Cement's peers in the industry — UltraTech Cement, Shree Cement and ACC — all grew at a significantly higher pace, outpacing both Dalmia's and industry growth.
"We did an experiment in eastern India to improve price discipline among our dealers.
"And, I think it has not worked to the extent that we wanted it to.
"We have had our learnings from this experiment and have definitely lost market share in that region," Puneet Dalmia, managing director (MD) at Dalmia Bharat had told analysts in an earnings call.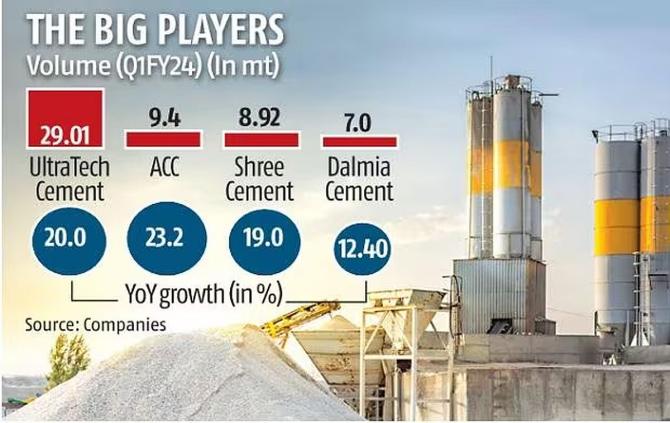 Price discipline typically refers to resisting sales at lower prices. For the June quarter, Dalmia Cement reported a 12.4 per cent rise in cement volumes compared to a year ago.
Satyadeep Jain, analyst at Ambit Capital, said, "Adani, UltraTech, Shree Cement and Nuvoco, along with Dalmia, are the main players in the eastern India market.
"We expect Nuvoco to have also lost market share. Their loss would have been gain for UltraTech, Shree and Adani."
On a year-on-year (YoY) basis, Adani-promoted ACC reported a 23.2 per cent rise in volumes, Shree Cement was at 19 per cent and UltraTech at 20 per cent. Ambuja Cement, also an Adani-promoted company, is yet to declare its Q1FY24 earnings.
The management of Shree Cement and UltraTech indicated they have outpaced industry growth.
Indian cement demand has been robust in FY23 and is expected to continue the growth momentum in FY24.
CARE Edge estimated growth in FY23 at 8.8 per cent, and expects a similar growth for the current year.
Cement companies, in a high-growth market, prefer losing margins over market share as they believe it is easier to recoup the former.
Price pressures
Ravleen Sethi, associate director at CareEdge, points out a new trend in cement prices for April-June 2023, attributing it to intensified competition.
"Historically, cement players tend to implement price hikes in Q1, as it is a strong quarter in terms of demand.
"Q1 has witnessed a marginal decline in prices in a few regions.
"Moreover, Q2FY24 may witness a more pronounced decline in prices as demand slumps during the monsoon season, and players are cautious about losing market share to competitors," she said.
She added, "For the full year, CareEdge expects cement prices to decline by 1-3 per cent on an average YoY.
"This is due to intensifying competition among players to gain market share."
Cement makers, however, remain hopeful of a price improvement.
Atul Daga, executive director and chief financial officer (CFO) of UltraTech, in the latest Q1FY24 earnings call, said, "Markets will be very strong, which will entail price improvements," towards the end of the current financial year.
Sethi also said most cement companies have indicated a price hike expectation in the second half. It is to cover the decline in prices to be witnessed in the first half.
Sethi and Jain warned of concerns arising out of a price war, election impact on demand and new capacity commissions, going ahead.
"With the intensified competition, the saving respite is that capacity additions are likely to lag demand growth in FY24.
"Next year, with acceleration in capacity growth and typical post-election slowdown in demand, it will be a different ball game," said Jain.
Sethi added, "So far, the sector has not witnessed a situation of price war, keeping prices stable or muted.
"A key monitorable would be if the pricing discipline is disturbed when major cement companies divert their free cash flows towards aggressive capacity expansions."