Regulators find it difficult to track down illicit transactions with no limit on the number of subsidiaries.
Veena Mani reports.
Illustration: Uttam Ghosh/Rediff.com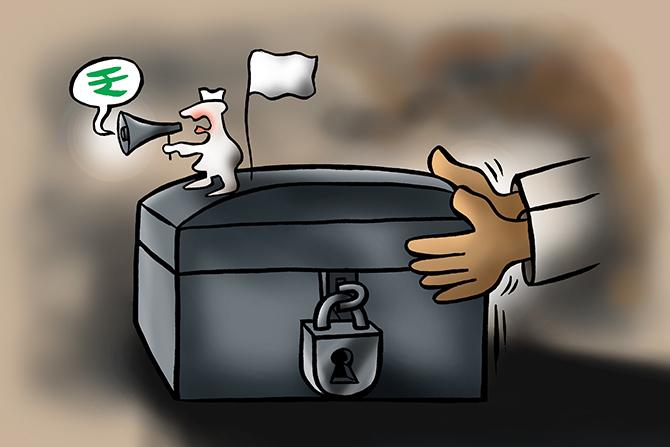 A restructuring drive may be in the offing for corporate India following the recent government decision to bring down the number of subsidiaries in a company to two layers.
The move by the government is seen as part of its effort to crack down on shell companies.
Experts say the limited number of layers will ensure that a company does not use shell structures to launder money and evade taxes.
Indian companies will have to restructure themselves to fall in line with this amendment.
"Existing companies having more than two layers shall only require to report the same within three months from the date of enforcement of the rules," said Sumit Naib, associate director, Nangia and Co.
"However, such companies cannot have any additional layer of subsidiaries over and above the layers existing on the date of enforcement," Naib added.
Experts say even for unlisted companies, there could be heavy cost involved in shifting all the assets to the holding company as transferring is time-consuming.
There could be third-party rights and obligations that may lead to hurdles in complying with these changes in structuring of companies.
There could also be a loss of capital gains for these companies, say experts.
While this might pinch India Inc in the short term, it will be beneficial for everyone, including banks, as they will also be able to track loans etc, say experts.
Experts point out that multiple layers of subsidiaries have been used in many of the cases the corporate affairs ministry has identified for money laundering.
In many cases, loans have been diverted to subsidiaries and have later on come back to the hands of the promoters, they said.
Regulators have been finding it difficult to track down illicit transactions with no limit on the number of subsidiaries.
With fewer subsidiaries, it will improve the government's ability to track down such transactions.
Currently, a cap on layered subsidiaries an investment company can have is already in place.
The cap will now be exempt for non-banking finance companies, banks and State-run firms.
These rules will not be applicable to foreign firms and acquisition of overseas companies.