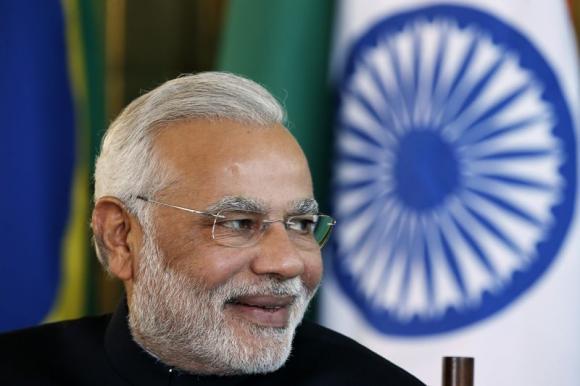 Factories need freedom from absurdities like seeking permission for working on Sundays and keeping detailed records of when the premises were whitewashed, says Shyamal Majumdar.
Prime Minister Narendra Modi has vowed to end the "inspector raj" in India's factories and unveiled steps to make inspections transparent and hassle-free.
As a stated principle, this is nothing new since successive governments have resolved to end the dreaded midnight knocks from inspectors. What they forgot was to bridge the gap between promise and performance.
But Modi's statement has led to optimism because of his formidable reputation of walking the talk. And if he can pull it off, India Inc will be grateful to him — forever. The inspector raj has bothered companies for years, particularly the smaller ones, and been a key source of corruption.
To understand the problem, let's look at a few examples of the "inspections" that are required under the law and permissions that factories need to take from a vast army of inspectors who, according to the Factories Act, have the powers to "enter any office, establishment, factory or other premises of the employer and require them to produce records for examination".
The examples give an idea of why the entire process is ridiculous and simply a waste of time, energy and resources. According to the Act, a factory manager cannot ask or allow a worker to work in a factory on the first day of the week (Sunday), unless "he has or will have a holiday for the whole day on one of three days immediately before or after the said day".

That's not enough. The manager must, in advance, deliver a notice at the office of the inspector of "his intention to require the worker to work on a Sunday". He also has to display a notice to that effect in the factory.
If you fail to follow the procedure, all that you have to do is pay a fat bribe to the inspector who will otherwise harass you for "violation" of rules.
There are other absurdities, too. For example, all inside walls, partitions, staircases and roofs need to be whitewashed once in 14 months, or revarnished and painted once in three years with washable paint or once in five years with non-washable paint.

Besides, all doors, window frames, other wooden or metallic framework and shutters should be painted or varnished at least once in five years. Most importantly, the dates of whitewashing, painting or varnishing and so on should be noted in the prescribed register to the satisfaction of the inspectors.
Here is another gem. Every factory is required to provide "adequate and suitable" (the interpretation depends on the inspector) facilities for washing and drying of wet clothes and storing of clothes not worn during working hours.
Also, factories have to provide sitting arrangements for employees "who are required to work in standing position in order that they may take short rests in the course of their work".
And the factory management has to maintain detailed registers or records in forms, as may be prescribed by the state government in the rules.
You need permission even if you install a generator in your factory and the permission is a long and painstaking process. Even if one forgets the massive amount of paperwork, the government has to employ a battalion of employees with the designation of inspectors whose only work is to harass industry.
Your woes won't end by dealing with one inspector since they come in all shapes and sizes. Over 44 central labour laws and nearly 100 state laws provide for chief inspector of factories; labour inspector; factory inspector; minimum wage inspector; vigilance inspector and health and safety inspector. There is also a provision for "bonus inspector" and "general inspector".
A typical factory has to maintain the following registers: muster rolls (separate for adult workers and children); register of accidents and dangerous occurrences; inspection book; overtime records; salary register; fine deduction register; wage slips and so on.
In that respect, Modi's stated plan of allowing companies to self-certify that they were complying with labour laws instead of annual inspections throughout the year will go a long way in improving India's rank of 134 in a list of 189 countries, compiled by the World Bank's Ease of Doing Business ranking.