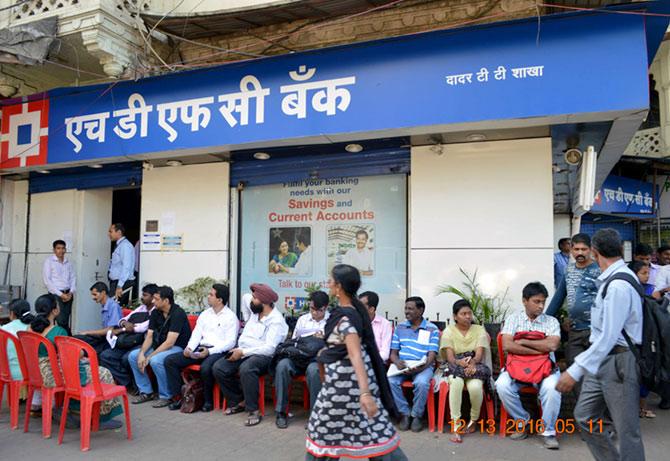 A complete lifting of withdrawal caps could be months away, reports Business Standard's Sanjeeb Mukherjee and Arup Roychoudhury.
As the deadline for making payments through old Rs 500 notes for select purposes drew to a close on Thursday midnight, the Centre is planning to come out with a fresh set of incentives and discounts to promote digital transactions.
The government seems to be quite sure that the pain faced by the common man in the wake of demonetisation would ease by early next month, but it may not lift the limits imposed on withdrawal of money from banks and automated teller machines (ATMs) anytime soon.
This leaves questions on when the situation would return to normal unanswered.
Officials said new incentives and discounts might come soon and include incentive to hospitals, which go for cashless payment systems.
The ministry of food and consumer affairs had, on late Tuesday night, announced a 5% additional discount to all farmers who have stored their produce in Central Warehousing Corporation godowns over and above the existing rebate if they make cashless payment.
Similar steps for other ministries and departments could also be considered.
Last week, the finance ministry announced a slew of incentives and discounts for consumers to promote digital transactions.
These included a 0.75% discount on the sale price of petrol to consumers, if the payment is made digitally, 0.5% discount to customers for monthly or seasonal tickets and 10% discount on premium from public-sector insurance companies, if the payment is made without cash.
The NITI Aayog, in consultation with the National Payments Corporation of India (NPCI), is working on weekly and quarterly lucky draws to promote digital transactions for which it has allocated a budget of Rs 125 crore (Rs 1.25 billion). Some reports said it would award Rs 1 crore (Rs 10 million) to each selected individual.
The Aayog has also constituted high-powered panel headed by its Chief Executive Officer Amitabh Kant to prepare a road map for moving into a cashless economy.
It is working with another panel of chief ministers headed by Andhra Pradesh Chief Minister N Chandrababu Naidu to push digital transactions in rural areas and also across the country.
The ministry of information and technology has also started a 24-hour channel called Digishala to promote digital transactions.
The government has sent out strong signals, suggesting that the pain of demonetisation will reduce by early January, but there are no answers yet on when the situation will return to normal.
Responding to Business Standard's query on when the government would lift the curb on cash withdrawal from banks and ATMs, officials said there was no decision on such a date yet, thereby keeping it open-ended.
Currently, the withdrawal limit is capped at Rs 24,000 a week for savings accounts and Rs 50,000 a week in the case of current accounts.
For ATMs, the withdrawal limit is Rs 2,500 a day.
On November 8, Prime Minister Narendra Modi had through a national address on television banned Rs 500 and Rs 1,000 currency notes. Withdrawal limits came into force soon.
The PM had said the 'pain' of demonetisation would reduce in 50 days, by December 30.
In a social media post on Tuesday, Finance Minister Arun Jaitley said the pain of demonetisation would ease in another three weeks, which implies the first week of January.
But no minister or government official dealing with the matter was willing to put a date on when demonetisation would come to a logical end.
In fact, officials have indicated that the cap on withdrawal limit from banks will continue much beyond January 2017.
Reserve Bank of India Deputy Governor R Gandhi had said on Tuesday that since the start of the demonetisation programme, banks have issued notes worth Rs 4.61 lakh crore till December 10.
This is only 37% of the Rs 12.44 lakh crore in old notes returned to the system till that date, and 30.7% of the Rs 15 lakh crore in old Rs 500 and Rs 1,000 notes.
Sources said this was way below the finance ministry and the RBI's comfort level at which they would want to remove withdrawal restrictions.
"We do have a plan in mind on when to remove withdrawal restrictions. Any such decision will be deliberated upon and taken when the government and its central bank see there is a fair amount of money disbursed to the public," said a senior government official.
Officials were tight-lipped about a comfortable threshold for the restrictions to be lifted. The sense is that such removal would be gradual in nature rather than an outright lifting of caps.
What is clear is that a complete lifting of withdrawal caps could be months away, a source said.
Former government and RBI officials said the State-owned Security Printing and Minting Corporation of India's capacity could be around 10 billion banknotes a year, while the RBI-owned Bharatiya Reserve Bank Note Mudran's capacity is 16 billion banknotes a year.
Most estimates put the monthly capacity of the four printing presses currently printing notes, two of SPMC and two of BRBNMPL, at three billion notes a month.
At that rate, it would take seven months for the 23 billion notes demonetised, former finance ninister P Chidambaram had said recently.
The timeline could be shorter if all notes were only of Rs 2,000, but that could create another cash crisis as change for such notes is not easily available.
"There are a lot of issues at play here. One is the sheer number of new notes being caught by the income tax department in their raids. That means, these notes are not available for the masses," said a former RBI official who did not wish to be named.
"There is also a psychological factor. People are hoarding the Rs 100 notes, depriving the banking system of that denomination. Also, the Centre and RBI will be very cautious before lifting withdrawal restrictions. They would like to be absolutely sure before doing so," the official added.
IMAGE: A queue outside a bank in Mumbai, December 13, 2016. Photograph: Arun Patil