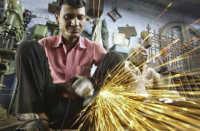 Dismal third-quarter figures have led many to believe it would be tough to achieve even 6.9 per cent gross domestic product growth for the current financial year as calculated in advance estimates, but a key Planning Commission official is confident the economy would clock over seven per cent growth in 2011-12.

Pronab Sen, principal advisor to the Commission, said advance estimates were driven heavily by the Index of Industrial Production, but noted they did not capture the small-scale industries data.

This has "been doing better than big companies this financial year", he said. The GDP growth in October-December slid to 6.1 per cent, the same as the third quarter of the global financial crisis-hit 2008-09.

The start to the fourth quarter has not been bright, either. The index of eight core industries that has a 38 per cent weight in IIP grew just 0.5 per cent in January.

This shows the IIP will also be muted for that month. Here too, Sen disagreed with the popular notion. "It is quite possible the core sector does not do well, while the rest of IIP performs well," he argues.

Most economists believe IIP will be muted in January. "I will not be surprised if IIP is negative for January," said Anis Chakravarty, director, Deloitte Haskins and Sells.

On the GDP for 2011-12, Sen said small-scale industries' data come out only annually.

"If SSIs roughly behave the same way as corporate, then quarterly estimates are the true indicator. However, if SSIs behave differently, then there is a problem."

This year, large companies are down heavily, but not SSIs, he added. However, SSI data was excluded last year, too, in the advance estimates.

Then again, there was not much difference in the advance estimates. GDP grew 8.6 per cent, while - according to the quick estimates - it was revised down to 8.4 per cent.

Last year, both SSIs and large industries were going in the same direction.
This year, the former is way ahead in terms of growth in activities.
"In 2010-11, both corporates and SSIs were doing well," said Sen. "This time, corporates are not doing well, whereas lending to the SSI sector has gone up enormously."
The monthly RBI data suggest credit to small-scale industries as on January 28 was up 13.3 per cent against 11.2 per cent in the corresponding period last year.
Whereas, credit to large industries grew 21.2 per cent against 28.7 per cent in the same period. But Madan Sabnavis, chief economist, Care Ratings, did not agree SSIs would make any significant impact on the GDP numbers, pushing it over seven per cent.
"Lending to SSIs has been high because it comes under priority sector lending. SSIs were squeezed the most due to high interest rates. High-interest rates affected SSIs much more than the large industries," he said.
According to him, the interest cost for SSIs went up enormously. "I do not see any turnaround in GDP numbers," said Sabnavis. "I stick to it: 6.9 per cent GDP growth for 2011-12."
The high lending by large industries last year, Sabnavis added, was due to the 3G telecom auctions that helped the government realise Rs 1 lakh crore.
However, advance tax data also suggest smaller companies are not doing as badly as big companies.
For example, advance tax payments by the top 100 companies in September recorded only 10 per cent growth, while overall advance tax payments in the second quarter were up 15 per cent, suggesting smaller companies paid more tax.
An official in the Central Board of Direct Taxes had earlier said smaller companies were doing better, taking tax numbers as an indicator.
According to the MSME annual report for 2010-11, the small-scale sector, along with micro enterprises, contributed eight per cent to the GDP in 2008-09.
The Indian economy, for the first nine months of this financial year, grew by 6.9 per cent against 8.1 per cent in the corresponding period of 2010-11.