Murthy said he was anguished by the allegations, tone and tenor of statements made by the Infosys board.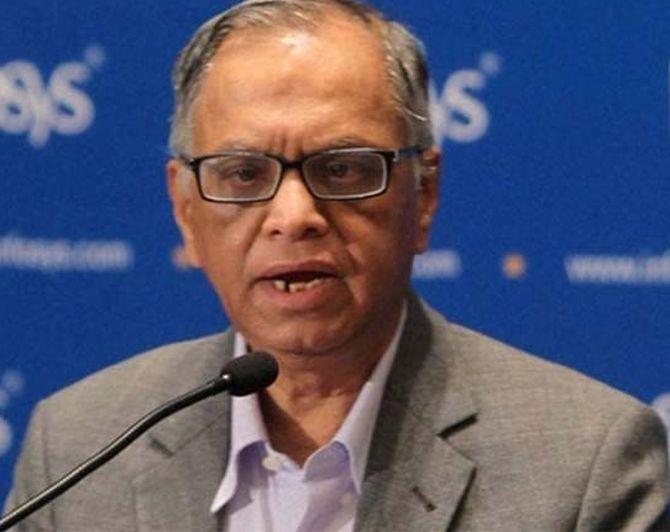 As Vishal Sikka, the first non-founder CEO of Infosys abruptly resigned due to the "continuous assault" and "campaign" by founder and ex-chairman N R Narayana Murthy, the Board of the $10 billion firm came out with a strongly worded statement defending Sikka's performance and ruled out a formal role for any of the co-founders in the company's governance.
Sikka, 50, a former German IT major SAP executive under whose three year tenure Infosys' revenue rose by about 25 per cent, did not himself name Murthy directly as the reason for his exit but said he faced "false, baseless, malicious and increasingly personal attacks".
Hitting back, Murthy said he was anguished by the allegations, tone and tenor of statements made by the Infosys board and it is "below my dignity to respond to baseless insinuations".
He said he will reply to the board's allegations in the right manner, right forum and at an appropriate time.
Sikka's resignation follows a year-long acrimony between the board the high-profile founders led by Murthy, who raised issues of "poor corporate governance" and executive pay as well as doubts over acquisitions.
Founders still hold 12.75 per cent in Infosys.
While Pravin Rao, currently chief operating officer, has been named interim CEO, Sikka will become executive vice-chairman for $1 annual salary to help find new MD and CEO latest by March 31, 2018.
The latest provocation seems to be Murthy claiming in an email, which found its way to the media, that he had been told by Infosys independent directors that Sikka was more suited as a chief technology officer than chief executive officer.
The Board sought to assure shareholders, employees and customers that it "will not to be distracted by this misguided campaign" by Murthy and will continue to adhere to the highest international standards of corporate governance.
During an investor call, Sikka said the "continued drumbeat" about former CFO Rajiv Bansal's severance package and Panaya deal in the last 4-5 quarters have been "sickening".
Infosys co-chairman Ravi Venkatesan said the management is highly distressed by the continuing allegations against Sikka and Board members.
Sikka said that addressing this "noise" has consumed hundreds of hours of his time in recent times and therefore, he came to the decision to quit.
Photograph: Jagadeesh NV/Reuters