He was most recently credited as one of the brains behind labour law reforms in Rajasthan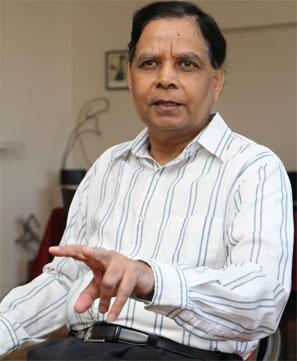 Renowned Columbia University professor Arvind Panagariya will be the first vice-chairman of the newly created NITI Aayog (the prime minster will be chairman), at a time when the world is looking at India to shed years of slack economic growth.
His first big challenge will be to give a firm direction and focus to NITI Aayog, the first name being an acronym for National Institution for Transforming India. It is supposed to play a different role from the command-oriented Planning Commission of India.
A Business Standard columnist till now, Panagariya, in an article published on December 30, 2014, said the government's real test would be in the next Budget document. And that without a clear road map of reforms in it, the dream of "good days" (acche din) might become history.
He'd also favoured a slight relaxation in the fiscal consolidation schedule when Finance Minister Arun Jaitley presented his maiden Budget six months earlier, to spur economic activities. A point also made in the Mid-Year Analysis for 2014-15, penned by Chief Economic Adviser Arvind Subramanian.
Panagariya, mentored by renowned trade economist Jagdish Bhagwati, was most recently credited as one of the brains behind labour law reforms in Rajasthan. He was vice-chairman of the Rajasthan chief minister's economic advisory council.
Born on September 30, 1952, he has been a supporter of the prime minister's economic policies and openly spoken on the success of the latter's tenure as chief minister of Gujarat.
"Gujarat also deserves applause for the large cuts in poverty among scheduled castes and Muslims. At 7.7 per cent, Gujarat boasts the lowest poverty ratio for Muslims in rural areas. The state also counts among the seven states with a lower poverty ratio for Muslims than Hindus in rural and urban areas combined," Panagariya had said in an article published in this newspaper in October 2013.
He did a Master's degree in economics from Rajasthan University in 1973 and a doctorate from Princeton University in 1978, in international economics and development economics.
"(His) main challenge would be to articulate the vision of NITI Aayog and in a manner that it becomes relevant to changing times," noted economist and chairman of the National Statistical Commission, Pronab Sen, told Business Standard.
The Jagdish Bhagwati Professor of Indian Political Economy at Columbia University is considered a 'pro-reform' economist and ran a lively debate with Nobel Laureate Amartya Sen on the issue of redistribution of wealth and economic growth. He'd argued that economic growth should be given priority, as without it, social goals are difficult to meet.
He has been chief economist at the Asian Development Bank. He is also an editor of India Policy Forum, a journal modelled on the Brookings Papers on Economic Activity and jointly published by the Brookings Institution, Washington, DC, and the National Council on Applied Economic Research, Delhi.
His technical papers have been printed in the American Economic Review, Quarterly Journal of Economics, Review of Economic Studies, Journal of International Economics, and International Economic Review. Besides, his policy papers have appeared in Foreign Affairs, Foreign Policy, World Economy, Journal of International Affairs and Finance and Development.
Panagariya has also written or edited a little over 10 books. His India: The emerging giant, was published in March 2008 by Oxford University Press, New York, and described as the 'definitive book on the Indian economy' by CNN and 'a tour de horizon and a tour de force' by Jagdish Bhagwati. Some of his earlier books include The economics of preferential trade agreements, 1996, and Lectures on international trade, 1998.