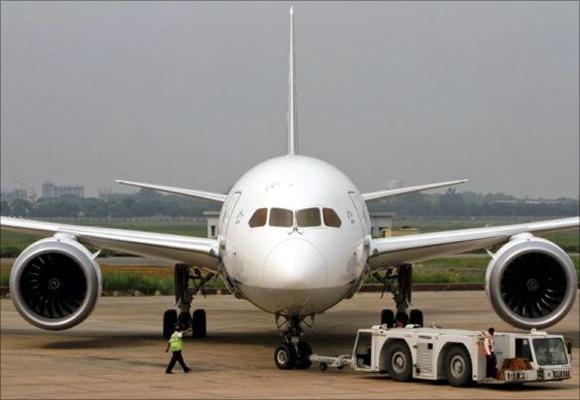 The government on Thursday said it will amend the existing policy for grant of air operator permit to bring it in line with its recent decision to allow 100 per cent foreign direct investment in domestic airlines.
It would also be 'examining' the substantial ownership and effective control norms of the various countries which permit more than 49 per cent foreign direct investment in their airlines, Civil Aviation Secretary R N Choubey told reporters on the sidelines of an aviation event in New Delhi.
Under the current norms, AOP or flying licence is granted to a company only if its chairman and two-third Directors are Indian citizens and its substantial ownership and effective control is vested in Indian nationals.
"The policy relating to AOP being given, that policy will be completely aligned with the FDI Policy.
"So if there is something when higher FDI investment is not resulting in AOP being given, then the AOP requirement will be to that extent will be amended," Choubey said.
Foreign investors, barring overseas airlines, are now allowed to have up to 100 per cent stake in local carriers under the recently liberalised FDI norms.
Under the new set-up, 49 per cent FDI will be through the automatic route and for anything beyond, government nod will be required. At present, up to 49 per cent FDI is permitted in scheduled airlines.
However, foreign airlines, under the norms, cannot invest more than 49 per cent in the domestic carriers.
The requirement of SOEC comes up at two places -- for grant of AOP to an Indian citizen and at the place where India has to grant bilateral rights, he said.
"For the purpose of granting AOP, because the FDI limit has been increased, therefore, correspondingly the AOP requirement of substantial ownership and effective control will also have to be aligned with it.
"That will require amendment," he said.
As far as bilateral rights are concerned, the requirement of SOEC is also a condition from International Civil Aviation Organisation and not of a particular government or country, he said.
"All that it means is that if you are having more than 49 per cent then there may be an issue in getting the bilateral rights for flying abroad.
"But if you wish to fly within the country, then there is no bar," he said.
The image is used for representational purpose only. Photograph: Reuters