Airline clearing up to 40% of daily AAI costs of about Rs 80 lakh since Tuesday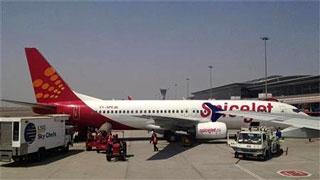 Troubled low-cost carrier SpiceJet has since Tuesday started clearing part of its operational costs to state-run Airports Authority of India, on a daily basis.
The move follows a warning that AAI might stop the credit facility extended to the airline, if its liabilities rose further.
AAI had said the airline, awaiting Rs 1,500 crore of (Rs 15 billion) funds from new investors led by founder-promoter Ajay Singh by March, would be put on cash-and-carry if regular payments were not made.
The warning had come after SpiceJet's dues to AAI (including interest at 12 per cent) exceeded Rs 300 crore (Rs 3 billion) this month -- from Rs 230 crore (Rs 2.3 billion) early December last year.
The total amount was much higher than the airline's bank guarantees of Rs 82 crore or Rs 820 million (Rs 30 crore or Rs 300 million of which was recently renewed), civil aviation ministry sources told Business Standard.
"SpiceJet's credit facility with AAI has been extended to January 27, on the assurance that the part payments will continue.
If that stops, we will put it on cash-and-carry.
Its previous payment was of Rs 5 crore (Rs 50 million) in December.
It has now assured us that it is getting new investments, so we are giving it time to clear its dues," an official said.
After a few days of gains, the SpiceJet shares on Wednesday declined 8.3 per cent from their provious close on BSE to end at Rs 21.10 apiece.
When asked, a SpiceJet official confirmed that the airline had started making daily payments to AAI.
The airline has also been making daily payments to oil firms for aviation turbine fuel since mid-December, when its flight operations had come to a halt for two days over fuel-related issues.
AAI's monthly billing to SpiceJet for various airport charges, such as landing and parking, is Rs 25 crore (Rs 250 million) at present (on a reduced fleet of 34 aircraft). Before December last year, with a fleet of 50 aircraft, the charges stood at around Rs 40 crore a month.
Another ministry official added: "We have told AAI to take an independent decision. Beyond a point, the government should not be involved in business decisions for private parties; it has already helped quite a bit."
While most other agencies, such as oil companies and banks, refused to extend loans or credit line after SpiceJet's finances nosedived last December, AAI has been offering the airline credit on the directions of the civil aviation ministry.
SpiceJet currently has the second-highest dues to AAI (not backed by adequate bank guarantees), next only to Air India's Rs 2,000 crore (Rs 20 billion).
SpiceJet, whose revival plan is yet to be cleared by the ministry, had said in the plan it expected to increase its Boeing B737 fleet to 26 aircraft soon after fresh investments (from 19 at present), a third ministry official said.
However, this would be challenging, given that lessors have asked for 11 B737s to be returned because of mounting dues.
These include three B737s owned by Bank of China Aviation, whose officials had asked the Directorate General of Civil Aviation to de-register the aircraft.
Of the airline's total liabilities of Rs 1,400 crore (Rs 14 billion), it owes lessors about Rs 700 crore (Rs 7 billion).
"SpiceJet officials have assured us they are in talks with the lessors and hope to settle the matter soon.
"So, we have not de-registered the aircraft yet," the third ministry official said.