'Over the next 10 years we expect more than 100,000 new start ups to come up and create more than $500 billion in value and 3.5 million to be employed in these start ups.'
'And these are the start ups that will be solving India's problems.'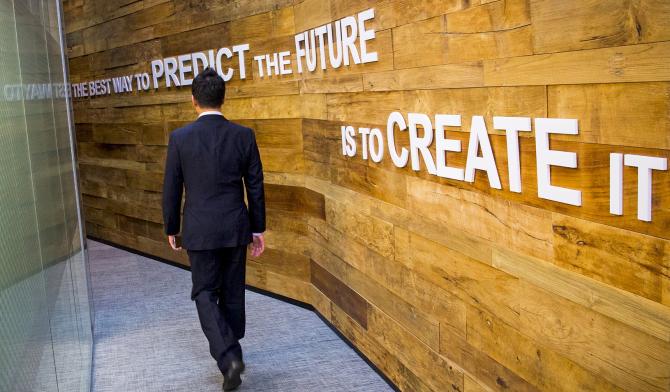 TV Mohandas Pai, former chief financial officer and then head of HR and Infrastructure at Infosys, in his current avatar is a venture capitalist who handholds as well as invests in start ups.
Pai, a founder member of Gateway House, the Mumbai-based think-tank, spoke to Prasanna D Zore/Rediff.com on the sidelines of The Gateway of India Dialogue in Mumbai about the start up ecosystem, his ideas for job creation for India to reap the demographic dividend, and his former boss N R Narayana Murthy's second coming.
How exciting is the start up scene in India today?
The start up scene in India is very exciting and transformational. As of today we have more than 20,000 start ups who have created value of $80 billion and employed 350,000 people.
Only last year there were 5,000 start ups out of which 1,200 got funded and it is very important that we analyse this and create an ecosystem that will further encourage entrepreneurs.
Lot of people want to be entrepreneurs and, yes, many of them will fail as we proceed, but that is par for the course.
Every start up has two to three founders and we have now around 55,000 to 60,000 entrepreneurs in the start up community.
Over the next 10 years we expect more than 100,000 new start ups to come up and create more than $500 billion in value and 3.5 million to be employed in these start ups.
And these are the start ups that will be solving India's problems.
The IT services in the last 20 years solved the world's problems, but these start ups will solve domestic problems like supply chain management, education technology, medical technology, financial technology, and many other important areas.
It is hence very important that we allow the young people to realise their dreams to start companies and to struggle and create great companies.
I see good days ahead for the start up entrepreneurs and the government has taken many measure, the most important being the Start Up India policy.
That is helping people get recognition and sends a message to the country and parents that if your children want to start up on their own, let them go for it.
If they succeed, it's good and if they fail, it is still okay; they can go to the next start up.
Your failure is not a reflection of your capability; it is only a reflection of the market conditions and it is perfectly fine to fail.
I think we are in for very good times led by young entrepreneurs.
Could you talk about three start ups that are very disruptive ideas?
There are so many of them in India. I don't want to name just three start ups, four start ups, because I may be an investor in them, or, may be I am biased but it (creative disruption) is happening and now these need to scale up in a big way.
There are start ups that connect farmers to markets; there are start ups that are raising agricultural yield; there are start ups that connect handloom weavers and artisans to markets; there are start ups in deep technology trading platforms so that people can scale up; there are start ups in SaS (software as a service) which are creating global platforms out of India; there are women entrepreneur start ups that are doing cutting edge technology work; there are start ups in areas of travel and tourism and ticket booking; the start up scene in India is unbelievable.
Tell us about a few start ups that you are handholding or have invested in...
I like a start up in Bangalore where I am an investor called Licious because it is delivering fresh meat at 5 degree Celsius and enhancing the quality of the product in Bangalore. They are growing at a tremendous pace; I think they have got a very clear strategy and they have got some very unique food products.
My favourite is Byju's Classes. Byju is India's greatest ed-tech entrepreneur. In the last four years, it has got 125,000 people on its platform, adding 25,000 people every month and is created employment for 1,000 people and raised $75 million at a valuation of $350 million.
I invested in it when it was just a Rs 4 crore (Rs 40 million) company with a valuation of Rs 150 crore (Rs 1.5 billion).
My colleague Ranjan (Pai of Manipal Education & Medical Group with whom Mohandas Pai has an investment fund called Aarin Capital) found it and I asked him if he really wanted to invest in this company and he said he believed in this company. We took a leap of faith.
Byju is a natural genius. I haven't seen any person who can do math with such passion, energy and creativity.
In Byju we divested and we got a very nice return: 4x (four times initial investment) in three years. Even though he raised money at a higher price when we invested, but we had an agreement that he would buy it back at 4X, but he is still walking all the way to the bank with a smile.
Your advice to start ups who have failed...
Just sit back and reflect upon why you failed and make sure to get your act together for your next venture.
If you are a business and use technology please remember that business is important and technology is a way to do business.
If you are a tech company, remember that the tech should be useful to the users and you should be able to scale it up...
If you are a company into other lines of business then find out how to dominate the market by staying frugal because don't think that money is unlimited and money is going to come to lose and buy customers/
Please share with us some ideas that can help create jobs so that India can reap its demographic dividend...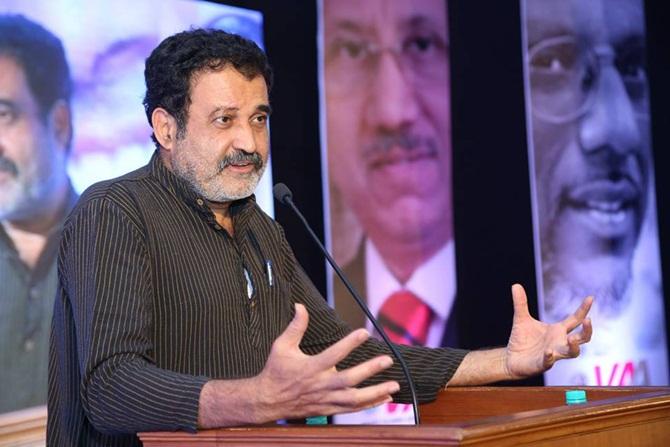 IMAGE: Mohandas Pai, former CFO, Infosys, is known as an outspoken social commentator. Photograph: Kind courtesy: Vishwa Konkani Kendra
One is supply chain. India has to bring in supply chain efficiencies; we still spend 14 per cent in supply chain management against 6 per cent in China and 5 per cent in the US.
We should use agri-tech to create jobs; we can connect all the self-employed people to the market.
Ed-tech and med-tech skills will be in demand for those who will need jobs as these are fast emerging as disruptive technologies.
E-commerce companies, once great value creators, seem to be losing their charm especially as stretched valuations have begun to get real...
E-commerce was a phenomena because they created a new business model and used technology and capital to win loyalty of their customers. But whatever they have done they need to make sure they continue to create a unique offering and sustain themselves.
I have been hearing so many people comment about valuations of these companies, but please remember that valuation is something that an investor pays; it is very real. We don't have to comment upon it and say it is high or low. If the valuation comes down, it is still fine, because that is what the investor has paid.
Sometimes, valuation gets ahead of value. Then there is a bubble and then value comes back. This is cyclic and we have to live with it. This happens all the time.
What would be your advice to students who have got offer letters from these e-commerce companies, but have been kept on hold because of the prevailing market condition?
'There are no guarantees in life and it doesn't mean that just because you are an IIT or IIM or ISB you are top of the heap and you are entitled to a job. There are no entitlements.'

'If you take a risk in the hope of high rewards you also face the consequences of that risk when it doesn't work your way.'
It is ridiculous for students to expect that everybody will keep promises because they are selling themselves to the highest bidder.
You go to an IIM or IIT... who comes on Day One? The people who offer the highest salaries!
You are selling yourself to the company offering you the highest salary and so, in effect, you are taking a bigger risk for which your reward is your salaries, joining bonuses, etc.
And how many of you actually join? 15 to 20 per cent of the people who get these offers don't join. So, the IITs compel people who got the offer to go join the company, they also have no loyalty.
This is a mercenary system and if companies withdraw (their job offers) it is completely fine. That is a risk you have to accept.
Also, when they join, is there any guarantee that they will not change their job within six months? If someone were to offer more, they will sell themselves to the highest bidder. So, all this absurdity is ridiculous.
Please correct me if I am wrong, but did you say to the other interviewer that 'It was good for Infosys that N R Narayana Murthy left it?
No, not good. He has left and the story is over. Look, we need new leaders, we have to look to the future. You can't have same people come back and run companies.
All leaders would self destruct if they stay back after their days are over. Just walk away when your days are over and do something else.
Why do we think that some people can be gods? When Murthy came the second time, I think he made a mistake.
Your advice to India's prime minister and finance minister regarding the creation of jobs for India's vast young demography...
My advice would be incentivise job creation, don't incentivise capital.
Make sure that such incentivisation is clear and not mixed in bureaucratese.
Reform higher education because it has been in a mess.
Accelerate investments in education infrastructure and reduce the impediments that destroy businesses. Our tax system is in a mess, so please simplify our tax system.