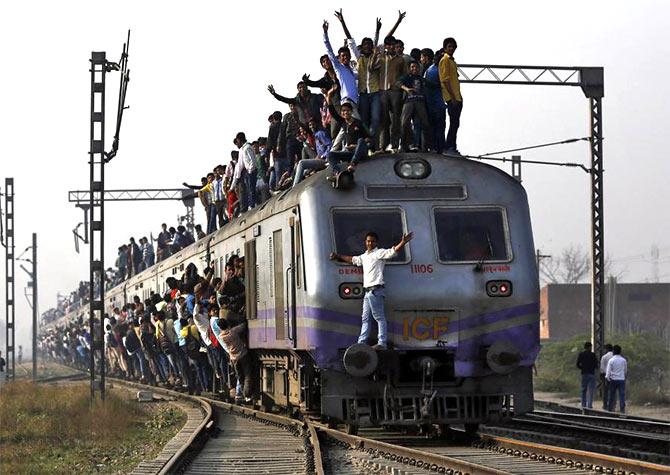 'Despite the slow growth and the hit to freight loading, we have achieved an operating ratio of 90 per cent.'
'The Indian Railways is a multi-disciplinary organisation and co-ordination must happen among all departments.'
'For the first time, the Indian Railways has attempted zero-base budgeting to cut down avoidable expenditure.'
The Railway Budget has laid a major focus on passenger amenities, but the Railways' financial indicators remain worrisome.
Railway Board Chairman A K Mital and Financial Commissioner S Mookerjee respond to queries in a post-Budget press conference.
Excerpts:
How do you rate the Indian Railways' performance in the light of the claims made last year?
We were facing severe challenges when the Budget was presented last year.
These had to be addressed to effect a transformation for the Railways journey ahead.
The core sectors of the economy have not done very well in the past one year in the wake of the global slowdown.
These factors are outside our control.
Given these constraints, the financial performance of the Railways has been reasonably good.
Despite the slow growth and the hit to freight loading, we have achieved an operating ratio of 90 per cent.
What has been the guiding philosophy and the key focus areas?
We have tried to address many basic issues.
A major focus has been to improve passenger amenities. The second issue we have addressed is of high freight rates.
There has been a tendency (to consider) that increase in freight rates is an easy way to increase revenues.
So, rates have gone up significantly and have become uncompetitive.
This explains why the Railways modal share in total freight traffic has come down to 33 per cent.
Freight rationalisation has traditionally meant increased rates for people.
This time rationalisation will mean bringing down rates marginally.
The third area of focus is non-tariff revenue, which has not received enough attention in the past. We will increase non-tariff revenue by sundry earnings, advertising and commercialisation of land bank.
With these efforts, the share of non-tariff revenue should go up to 15-20 per cent, the world average.
The share of non-tariff revenue is budgeted to go up from around Rs 5,000 crore (Rs 50 billion) now to Rs 8,000-9,000 crore (Rs 80-90 billion) with these measures.
How does this Budget address the ballooning of expenditure, particularly given the pay commission impact?
For the first time, the Indian Railways has attempted zero-base budgeting to cut down avoidable expenditure.
Earlier, the Railways never thought about looking at cost specifics while framing the expenditure budget.
We are expecting cost reduction due to many innovative efforts, including the dip in diesel prices, equipment efficiency and direct purchase of power.
Another focus area has been to cut dependence on gross budgetary support.
We have budgeted for a Plan outlay of Rs 1.21 lakh crore (Rs 1.21 trillion) against the past six years' average of Rs 48,000 crore (Rs 480 billion).
We have tried to increase resource availability from extra budgetary resources, including institutional financing, joint ventures with state governments, etc.
How will the Railway Board reorganisation be carried out?
The Indian Railways is a multi-disciplinary organisation and co-ordination must happen among all departments.
We felt a combined contribution requires cross-functional co-ordination.
And this is being addressed through re-organisation.
The board today works on functional lines.
We have attempted to reorganise it on business lines.
For example, the reason why the average speed of freight and passenger trains has varied between 25 and 50 kmph is that no single department handles this issue.
Similarly, we are creating a holding company that will have equity in all railway public sector undertakings.
What has been the budgeted impact of the pay commission in this year's Budget?
The government has worked out the overall impact of the pay panel's recommendations as Rs 28,500 crore (Rs 285 billion).
Our calculation includes Rs 12,500 crore (Rs 125 billion) on account of wages, Rs 8,500 crore (Rs 85 billion) on account of pension liability and remaining for allowances.
Overall, the Plan outlay of Rs 1.21 lakh crore includes the government's financial support of Rs 45,000 crore (Rs 450 billion), Rs 12,700 crore (Rs 127 billion) from internal resources, Rs 18,000 crore (Rs 180 billion) from partnerships and joint ventures with states, Rs 23,000 crore (Rs 230 billion) from institutional financing and Rs 21,700 crore (Rs 217 billion) of Indian Railway Finance Corporation bonds.
We plan to raise rupee bonds of around Rs 2,000 crore (Rs 20 billion) in 2016-17.
The Budget has talked about expanding the freight basket. What additional commodities do you plan to tap?
Today, we are concentrating on 10 bulk commodities, which take care of 88 per cent of the traffic.
But, the fast-moving consumer goods and the automobile sectors have grown in recent years. We have not captured that traffic as we did not encourage it.
Now, we are going beyond the 10 commodities towards an identified basket of 40 commodities -- including ballast, bamboo, bauxite, charcoal, chemicals, cotton, fodder, gypsum, jute, manganese and molasses.
Image: An overcrowded train. Photograph: Reuters