'We have adequate currency. Day by day, the queues will shorten.'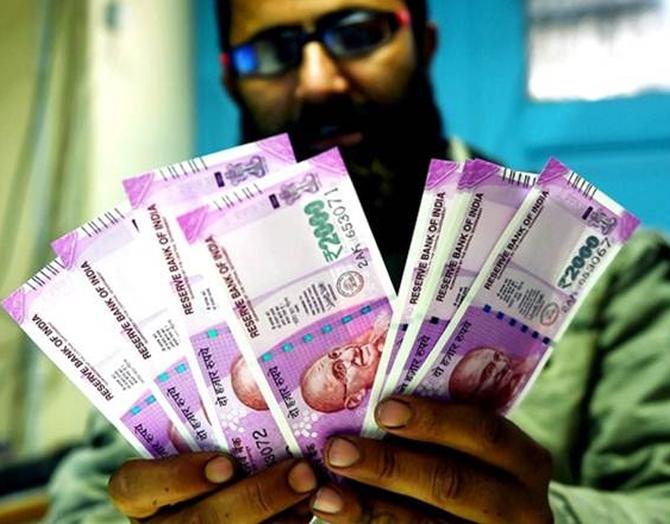 As reports come in about the inconvenience caused to the Indian people by demonetisation, Union Minister of State for Finance Arjun Ram Meghwal tells Business Standard's Indivjal Dhasmana and Dilasha Seth that people support the move.
Meghwal says a decision on lowering income tax rates in the Budget will be taken after consultations with stakeholders.
Did the finance ministry underestimate the hardships the people would face in the aftermath of demonetisation?
People are waiting in queues. However, they are saying that they will bear the inconvenience. I myself stood in a queue in Rajasthan.
We are taking suggestions from the public. We have allowed payments by old Rs 500 and Rs 1,000 notes in petrol pumps and pharmacies.
There is no need to panic. Everyone should welcome the move.
Were the preparations adequate?
If the move was not kept secret, we would not have been as successful as we are.
There are Rs 2,000 and Rs 5,00 notes, there is enough currency in Rs 100 denomination.
But people are withdrawing money and keeping it at home. They are not spending it.
I would appeal to the people to spend. We have adequate currency.
Day by day, the queues will shorten.
There are reports that holders of black money are using others to deposit and withdraw money in banks. How grave is the situation?
When these facts came to light, we started using indelible ink.
Economists are saying this will affect economic growth, at least in the third and fourth quarters...
They also agree that the economy will receive a boost subsequently.
When interest rates come down, the economy will get a fillip.
Today, trucks are held up, 86 percent of the currency will take time to regenerate. These are short-term problems.
Is the finance ministry considering a cut in income tax rates in the Budget to increase disposable income with the people?
Pre-budget consultations with stakeholders will start shortly. Various suggestions will come in.
We will take a call on the issue then. We can't rule out anything.
With the Opposition united against the government over the issue of demonetisation in Parliament, do you think that GST Bills could be passed in this session and the new indirect tax system could be introduced from April 1, 2017?
GST will be rolled out from April 1, 2017. There will be no delay there.