'After some time, they all want to know what is happening in their companies.'
'It is better they remain board members rather than talk outside.'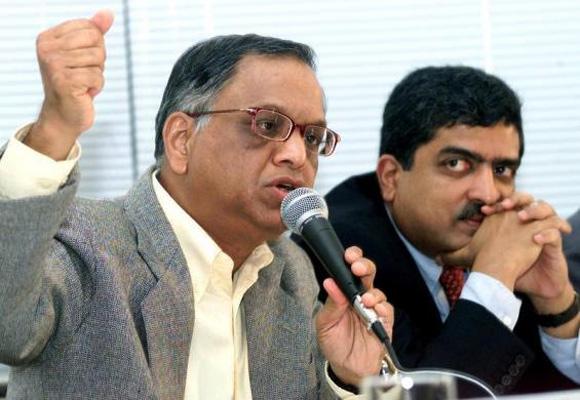 The ugly squabble between then Infosys CEO Vishal Sikka and Co-founder Nagavara Ramarao Narayana Murthy ended in Sikka's resignation.
The Infosys board blamed Narayana Murthy for Sikka's exit.
Kris Lakshmikanth, bottom, left, founder, Head Hunters India, the country's first executive search company that specialises in senior level talent acquisition for clients across businesses in India and overseas, tells Rediff.com's Shobha Warrier what may have gone wrong at the top at Infosys.
After resigning as CEO, Vishal Sikka issued a strongly worded letter blaming the 'unrelenting, malicious and increasingly personal attacks' for his resignation.
Do you think Narayana Murthy was interfering in the company's functioning?
Narayana Murthy has always been a tough person and a taskmaster.
From day one, he has not been known as a diplomatic person. He is also a principled man.
Though as an outsider he has all the right to air his opinion about Sikka. As the founder of Infosys he should have taken a position inside the board and then spoken about the CEO.
He is not a small shareholder. He should have become a board member and asked all these questions.
It was not right on his part to talk about Sikka almost every day to the press about things that had absolutely no proof.
For example, he said Sikka was CTO (chief technology officer) material, but then it was he (Murthy) who selected him (Sikka) as the CEO.
Moreover, from what background did Narayana Murthy himself come? He was also a technical person.
So what he did, according to me, was uncalled for. And that's putting it mildly.
Sikka had all the reasons to blame Murthy in his letter.
The board supported Sikka. Who is right here?
From whatever I have heard, I understand that it was an ego tussle between Narayana Murthy and (board) Chairman R Seshasayee because according to Murthy and some of the people around him, they felt the latter was being dictated to by Sikka as he did not know much about technology.
And Sikka, it seems, had formed a Punjabi coterie around him.
Sikka was caught in the battle between Narayana Murthy and Seshasayee.
You have to understand that technology has changed dramatically in recent times.
What was good 20 years back is not relevant today.
When Infosys started, what you could do for $100 in the US, you could do for Rs 10 in India. That was how companies like Infosys was built.
They did application maintenance. In the new digital era, application maintenance has come down drastically.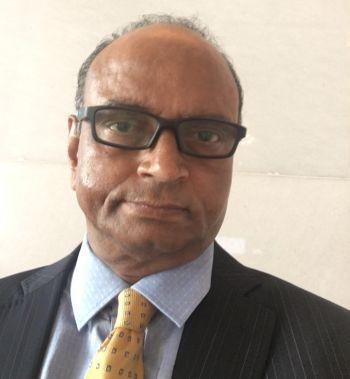 Today, there are many small companies or start-ups working in New York, London, Holland, etc started by graduates from Harvard, MIT, Stanford, who are able to give what the local markets want.
Accenture in India is the leader in digital today with a turnover of $32 billion while TCS (Tata Consultancy Services) has a turnover of $15 billion.
In the last quarter, while Accenture grew by 7.1 per cent, TCS grew by 3.5 per cent.
Accenture grew because it was a digital company.
And they became one by acquiring companies, not just one or two, but 100 to 150 firms in the last three years.
They did not change the DNA of the company overnight.
Panaya, acquired by Infosys for $200 million, also was a start-up, but it was mired in controversy.
After Panaya, they only bought a small company.
No other acquisitions were happening because, faced by the questions raised by Narayana Murthy on the Panaya deal, the board got scared and Sikka was not allowed to go in for new acquisitions.
Do you think the founders, once they come out of the companies they founded, should not interfere in the day-to-day functioning?
Founders are founders and they won't change.
If you look at Ford Motors, you will see that the third generation Ford is running the company now. There are many such examples.
So, what Narayana Murthy is doing is normal.
Narayana Murthy should have come into the board and raised all the questions instead of airing them in public.
Narayana Murthy complained of the deteriorating work culture. He felt Infosys executives didn't follow simplicity, austerity etc.
Do you think it was right on his part to expect the company to be the same under a different leadership?
It is very difficult to let go. That is a human tendency.
The mistake Narayana Murthy did was not taking a seat on the board where one could ask all the questions and even influence it.
Nobody told him not to sit as a board member, but he walked out saying he didn't want to be on the board. But then you cannot ask questions in public after that.
A month go Narayana Murthy said he regretted leaving the board...
But he could have gone back.
With a 12 per cent share, he is eligible for two seats. Why didn't he take it?
Can you justify Sikka's salary hike from Rs 6 crore to Rs 64 crore and for the chief operating officer's (Pravin Rao), from Rs 4 crore to Rs 12 crore when the company was laying off thousands of lower level employees?
Infosys is an NYSE (New York Stock Exchange) listed company.
Sikka was being paid as per American standards.
You cannot convert dollars to rupees and compare it to what is being paid here.
If you look at his salary, what went up were the variables and the stock options, not his basic salary.
Do you think these companies should groom people within to take over so that conflicts like this don't happen?
You have to think of two things. One is the change in technology. There is a quantum jump in technology.
When you take someone from inside, s/he may not understand this change.
That is why many companies appoint people from the US who are familiar with new technologies.
Why did Wipro bring in Abidali Z Neemuchwala from America? Because none in Wipro here understood the transition.
That's why today many Indian companies are forced to look outside.
Infosys also has people in the US. I don't know why they didn't look for them.
They chose this guy and that was a mistake, and both the board and Narayana Murthy are responsible.
Another thing is, we see marketing guys occupying top positions as they are in touch with customers.
Only those who are in touch with customers will know what they want, and not someone sitting inside the Infosys campus or any other campus.
Do you think Nandan Nilekani's coming back will make any difference?
Seshasayee has time till April 2018.
I doubt if Nilekani would come back because he doesn't like to get into any controversy.
He also will not agree to all the things Narayana Murthy says. For example, he voted for an increase in Sikka's salary.
I think Kris Gopalakrishnan may come in as chairman.
Sixty per cent of the board will not like to have Narayana Murthy anymore.
All the mutual funds have lost big money after this.
The board will make a compromise with the founders for either Kris Gopalakrishnan or Nandan Nilekani.
What lessons can be learnt from this?
The truth is, no founder will retire and walk out.
After some time, they all want to know what is happening in their companies.
It is better they remain board members rather than talk outside.
This is the lesson that can be learnt.
IMAGE: Infosys Co-founders N R Narayana Murthy, left, and Nandan Nilekani.