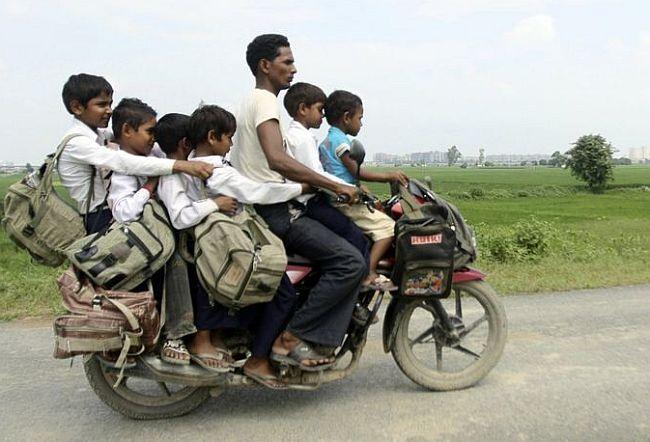 Image: A man rides a motorcycle carrying six children on their way back home from school at Greater Noida, Uttar Pradesh. Photograph: Parivartan Sharma/Reuters

Minister of State for Coal, Power & Renewable Energy Piyush Goyal (photographed below) has stayed in the news through the Narendra Modi-led government's first year in office.
While India saw its first coal allocation through the e-auction method, power generation grew to record 22,544 Mw, and the target for the renewable energy sector was set at 175,000 Mw.
Goyal tells Business Standard in an interview that his next set of plans have already been designed -- getting investments into power transmission, providing private players a level playing field and taking all states along.
He calls it killing 10 birds with one stone.
Edited excerpts:
The country has this year achieved its highest capacity addition. But when is the plant load factor, a factor of increased supply, likely to improve?
We have enough coal to increase production.
We have a lot of power to sell.
I hope the states would now start getting into power-purchase agreements and buy more power. That is the way forward for PLF to increase.
A huge amount of work has been done over the past year to set the investment climate right, and to get back international and national investors' confidence in India.
Our own competitiveness vis-à-vis China is getting better.
I see a lot of industrialisation happening in the country in the days to come.
There will also be new investment.
And we need to serve 280 million unelectrified Indians and save millions of dollars spent on diesel generators.
As we work on these three big-ticket demands, both electricity generation and PLF will increase.
Since March 2013, no state has signed any power-purchase agreement (except Kerala). Once all these stranded assets get coal & gas and start firing, who will buy?
The uncertainty in the sector was the reason.
We have been able to resolve problems, to a large extent.
There is demand and states will soon start buying more.
I am told Uttar Pradesh is coming up with nearly 3,500 Mw of power purchase in a month.
How has your dialogue with states been, given that most of your schemes -- the Integrated Power Development Scheme or the Deendayal Upadhyaya Gram Jyoti Yojana -- will need states' participation?
I have had a very fruitful dialogue with almost all states.
One good thing is that governments have in the past five years understood they will be judged by their performance when they go back to people in next elections.
The governments that perform well are voted back with renewed majorities, while the bad ones go out.
We have seen that happening at the Centre and in many states.
It's a clear reflection of people's anger over non-performance; that strengthens my resolve, of not only winning the election but giving 24x7 power supply.
When you go to Parliament with amendments to the Electricity Act, you will need support from states. . .
I am doing my work in an honest way, with the intention of serving the last man standing at the bottom of the pyramid.
If anyone has objections, we will leave it to the people of India to decide.
I am very committed to 24x7 power and these amendments will help me change the picture.
How do you plan to have an efficient transmission?
The transmission sector is going to be the next sunrise industry.
We believe it is something for which you have to plan for generations, and not only years.
We have already begun planning for the medium and long terms -- only we have redefined medium term as 20-25 years and long term as 50 years.
In the next six to 12 months, at least Rs 1 lakh crore (Rs 1 trillion) worth of transmission capacity will be bid out.
And, I see global players coming to India. It's a great annuity business.
Where do you see private investment coming?
There is a huge potential coming for the private sector.
Also, there will be a lot of 'Make in India' opportunity -- smart meters, infrastructure, towers, cables conductors, etc.
In generation, there will the opportunity of completing the stranded projects.
Also, there will be ultra-mega power projects; my idea is to dovetail the replacement of old plants with plug-and-play UMPPs.
So I don't kill two birds with one stone; I kill 10 birds with one stone.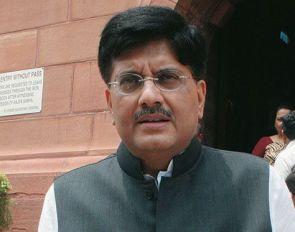 Both you and the PM are enthusiastic about renewable energy. But investors are still waiting for a framework for financing, PPAs, etc. . .
I have publicly pledged myself to cause of the 175,000-Mw capacity target.
There already are 19 solar parks being planned, and we are discussing with states to have a new renewable policy.
I discuss this with every chief minister I meet -- West Bengal, Punjab and Maharashtra. We are working on various things to bring the cost down and make this viable.
Unless we plan properly, the 32-year-old ministry, which has achieved 3,000 Mw of solar capacity, will only manage to double it over the next five years.
Instead, I want to see a 3,300 per cent increase.
Coal auction, gas mechanism and enhanced renewable capacity -- all of these -- will impact the financial health of distribution companies. . .
It's a cause for concern that has accumulated over the years.
They have Rs 70,000 crore (Rs 700 billion) of losses every year.
There was a financial restructuring plan that remained a non-starter.
First, there cannot be a one-size-fits-all solution for a sector in distress.
We need to calibrate each problem separately and understand what can and cannot be done; a roadmap on how things will pan out will have to be made.
Also, there should be some handholding for these states so that part of their commitment is fulfilled, too.
Second, any action that we decide has to be in a time-bound manner.
PM Modi came out with DDUGJY to separate agriculture feeders, give them assured power supply, and make sure supply is calibrated so that the entire sector does not get stressed and there is no misuse.
Similarly, to reach out to remote villages, to give more T&D facilities and to create smart grids for cutting down power theft, you have IPDS.
For me, the job is easy -- learn from the PM and implement it.
Be it coal auction or new gas supply mechanism, the government's focus has been thermal-based power. What about the troubled hydropower sector?
Hydel is one sector that has been plagued by difficulties.
The previous government cancelled many projects, some of those at an advanced stage. That, in a way, sparked demand for several other cancellations.
As a legacy, I narrated the issue of a stalled Teesta, Subhansari, Lower Demwe and Maheshwar.
Teesta is 95 per cent complete and we got all investors, promoters and EPC (engineering, procurement and construction) contractors and lenders on board.
Now, the state government has a few small things to sort and I hope Teesta can come on stream.
As for Subhansari, we met activist groups of Assam and now have an eight-member committee working out the environmental impact, safety of the structure and impact on the riparian areas.
I have talked to the chief minister and power minister of Madhya Pradesh and my suggestion is to set up a committee under the chief secretary or power secretary.
They are trying to work out an acceptable solution to resolve the issue with Maheshwar. The lenders of Lower Demwe are also trying to see how we can kickstart that project.
Hydel has tremendous potential. It's a sector we cannot ignore.
It is clean energy and has fixed tariff for years.
But we also want to make sure the 'Aviral Ganga' or the perennial flow of the Ganga and other rivers is not affected.
We want to make sure the interests of the state are protected and there is no structural damage to the ecosystem.
At no point should there be an indirect risk or threat.
What would be the next big thing for the power sector after the recent coal auctions?
Transmission, clearly, will be one -- Rs 1 lakh crore is not a small amount.
I'd move it suo motu, and fast; I want to meet world power transmission companies. Discoms sorting out their problems is clearly a focus area, and so is taking renewable energy pledge to its next level.
But if I was to look at something, environment would be my next big concern area.
In the coal ministry, we are completely clamping down on pollution -- we are making it mandatory to bring in modern technology and best practices.
I have told them that there is no budget when it comes to environment protection.
This government is completely and totally committed to environment protection.