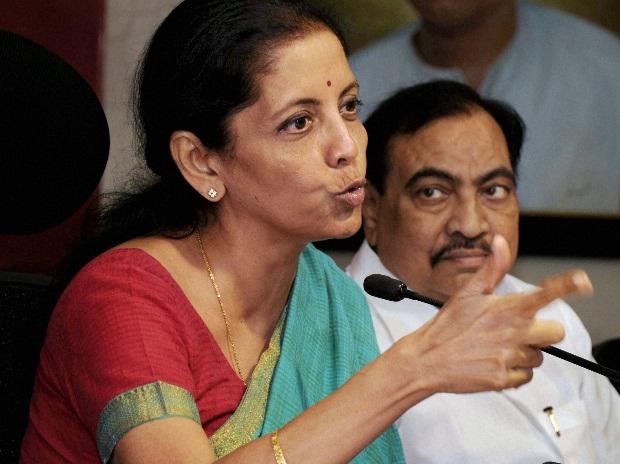 Nirmala Sitharaman, Union Minister of State Commerce & Industry, adresses the media along with BJP leader Eknath Khadase (R) at party office in Mumbai. Photograph: Kind Courtesy, Business Standard
Minister of State for Commerce and Finance Nirmala Sitaraman, in Mumbai to address election rallies, took time out to talk about the economy, foreign investment and trade facilitation in an interview with Business Standard.

Excerpts:

When will the government announce its foreign trade policy?

Very soon.

The government wanted to announce it by the end of August.

But we decided to hold meetings of stakeholders.

Their viewpoints are taken and the policy will be released soon.

Prime Minister Narendra Modi had a discussion on India's stand at the World Trade Organization with US President Barack Obama. Do you expect an early solution?

Both the WTO and the US appreciated why India took its position.

We explained that India was not alone in stocking grain.

Yes, we want trade facilitation, but are you going to leave farmers high and dry and when you feed your poor is it trade distortion?

We cannot have the same countries come to us saying there are starving people in India.

My understanding is that both the US and the WTO are willing to hear us.

We are hopeful that a (WTO) committee on agriculture meets and meets frequently.

Has investment picked up?

The atmosphere is completely changed.

There is a feeling that the business environment is improving.

It makes sense to invest in India as there is huge demand and a ready market.

Foreign investment is clearly in favour.

Can we expect more reforms in foreign direct investment?

In just 115 days the government has raised the ceiling in FDI in defence from 26 per cent to 49 per cent.

The government has drawn up a list of segments within defence where production can be delicensed.

The railways have been opened up.

We are going to ease operations in construction too.

This government has opened up on many more fronts than 10 years of the United Progressive Alliance's rule.

Is the economy reviving?

There are strong indications that inflation is low, the trade deficit is reaching acceptable levels, money is stabilising and industrial production is showing positive signs.

Standard & Poor's too provided an outlook much better than five years ago.

Is it time for diesel price deregulation?

The minister concerned will be able to tell you. It is true that petroleum prices have come down.

Will the government be able to meet the GST deadline?

Several meeting were held with states by Finance Minister Arun Jaitley.

The GST is moving closer to a solution.

The finance minister has made a commitment to bring in a constitutional amendment by the end of the year.

States are talking about compensation, particularly in the manufacturing sector.

These are areas where detailed discussions are on.

Resolution is near.

Parties in Maharashtra are targeting Modi and the Bharatiya Janata Party during assembly election campaign. . .

The Nationalist Congress Party and the Congress have nothing to say about their achievements.

They are spreading baseless allegations about a party in opposition.

The wind is blowing in the direction of the BJP.