'TCS has always maintained that India as a geography is cyclical in growth as it is more project-driven. But, in the recent past, the decline in Indian business has spiked.'
'Digital technology today might be a one-off but we've to keep innovating and changing.'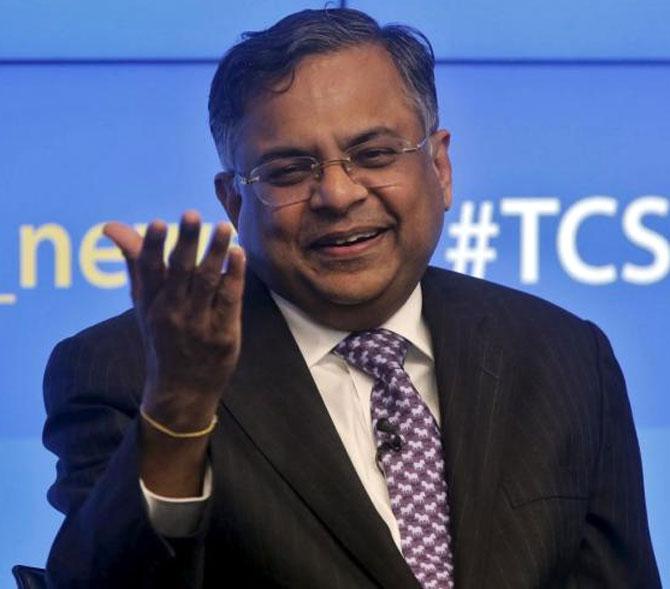 India's largest information technology (IT) services provider, Tata Consultancy Services' growth in the second quarter was one of the slowest in a decade. Other than macro economic factors, the company is also challenged by the technology disruption the IT sector is facing. N Chandrasekaran, chief executive officer and managing director, however, considers it as a temporary blip. He talks to Shivani Shinde Nadhe on what makes him confident about growth and the constant need to focus on margins. Excerpts:
You have been at the helm of the company for seven years and seen two cycles of downturns in tech spends. Which of these seemed more challenging?
There are two things we are dealing with here - macro environment and technology shift. I've seen many tech cycles in the past 30 years of my working life and the current phase is the most exciting.
We're able to participate with clients in enabling this transformation and are in a unique position. This is one-of-a-kind transformation.
If you look back, you can see technology-supported business, which meant automating back-end systems to hasten processes. With digital, business is getting embedded in technology. It's a profound transition.
Digital transformation is about building real-time, data-driven enterprises. It is about helping companies become intelligent and then using technology from machine learning to bots to artificial intelligence to response based on intelligence.
The issue is not whether it's challenging or not; it is how we participate. And, we've deep relationship with clients. We've access to domain knowledge, we've talent and we're building and training talent to interact with clients.
For instance, we're engaged with 40 banks on block-chain technology. We're doing such exercise across retail, telecom, and health care. Overall, the digital journey has started. For the short term, we're seeing some softness.
This quarter's performance has been disappointing.
You have to separate the two. We had a lower growth last year that is also weighing on people's mind.
But, last year's lower growth had nothing to do with macro; it was because we had three tough spots to resolve and took multiple quarters to do that.
We continue to see slow growth. Currently, the only thing I'm saying is there is nothing structural. I'm arriving at a conclusion that, maybe, macro is playing out by the process of elimination. I'm saying I can't find a reason for this because every customer is talking about digital.
The digital growth story was also hit this quarter. Are digital spends discretionary?
Yes. It comes with customer-spending budget but the impact of digital is so profound that customers are committed to this.
TCS has always maintained that India as a geography is cyclical in growth as it is more project-driven. But, in the recent past, the decline in Indian business has spiked.
I do not think I can still say the nature of the business will change. The size is still very small as we are building the market. I'll be happy as long as they are in line with company growth.
You said the US elections and Brexit would not impact you. Could you elaborate?
At present, there is no clarity on Brexit. Today, it can impact me and that's due to currency movement.
From Rs 95 to £1, it has now moved to Rs 81-82. We've had an impact of this on margins.
If Brexit were to become a reality, we need to understand what would be the additional opportunity. What are the regulatory changes that would come. But, we are prepared.
Improvement in margin is a factor of top line growth, which seems to have slowed this year. But, you have said you'll continue to invest and maintain 26-28 per cent margin.
Do you have enough room?
We have a philosophy that we're focused on growth but on sustainable growth and sustainable margins.
I believe it's important to operate at high-margin business because we want to have the ability to invest.
Digital technology today might be a one-off but we've to keep innovating and changing. Hence, it is important to be able to invest. So, the 26-28 per cent band is fair and we think we can maintain that.
Managing margins will have many things like efficiency improvement, business mix, people and location mix, automation, etc. Moreover, we are a decentralised company and have so many leaders facing headwinds but still looking for growth.
In 2009, TCS restructured itself into smaller units to become agile and be able to grow fast, with digital becoming a reality. Do you think you need to relook at how business units need to be reimagined?
We have invested in creating several groups. For instance, for automation we created Ignio; for digital, we created a separate enterprise solutions group. We might make structural changes or consolidate some of these at some point, but not now.
Photograph: Shailesh Andrade/Reuters