'Flying full-service is more than offering free in-flight meals.'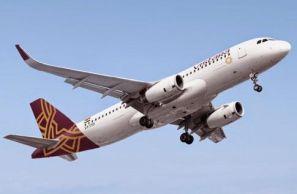 Vistara, the Tata-SIA full-service airline, is set to take to the skies on January 9 next year.
Ahead of the launch, its chief executive officer, Phee Teik Yeoh, talks to Business Standard about the carrier's differentiated service offerings.
Edited excerpts:
Vistara has opted for a full-service model in a market known to be dominated by budget carriers. In terms of fares, the differentiation is marginal. What made you bet on such a model?
In India, the line between full-service carriers and budget airlines is blurred because there is hardly any differentiator in the products offered by each.
Flying full-service is more than offering free in-flight meals.
For the Vistara customer, we have designed an end-to-end service experience -- from the time he reaches the airport to post-flight engagement.
We have various new offerings, including premium economy seats. We are the first Indian airline to offer this.
Our team has made every effort to live up to our brand promise and to bring a world-class full-service carrier to India.
Who is your target consumer and what is the market potential?
For a start, there are a lot of business and high-end travellers who want to be treated differently.
They treasure a personalised experience, space and exclusivity.
Our premium economy seats offer them more legroom; they will have a different queue for boarding.
When they approach our customer care executives, they are treated as a different class.
The idea is to transform their travel experience from merely functional to a memorable one.
Vistara is offering 36 premium economy and 96 economy ones. Is this ratio the optimum one for running operations profitably?
We offer a range of fares across three class configurations.
Pricing is dynamic and a function of demand and supply.
We are offering value-for-money fares for all our customers and value is perceived by each customer differently.
There is no precedence of premium economy offering in the Indian market.
With this product, we are aiming to create demand where none existed.
There is a lot of interest in the product and I am confident we will fly full when we commence operations on January 9.
In India, there are challenges in having a high-cost operating environment. How will you address this?
India is a high-cost market but that is man-made. The government can change that with a stroke of the pen.
So, I am optimistic on that front. We will maintain cost leadership.
We have a very lean workforce and we are keeping costs low through innovation and technology.
We have no legacy cost to inherit.
So, we will not continue with whichever cost isn't sustainable.
We are rewriting rules on all accounts, including costs.
Images: (Top) A Vistara aircraft; (Bottom) Phee Teik Yeoh