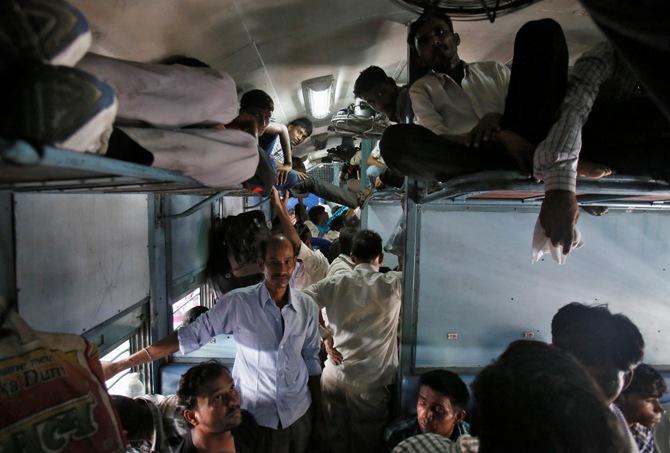 'We have secured long-term funding of Rs 5 lakh crore (Rs 5 trillion) from Life Insurance Corporation from which we can draw at least Rs 30,000 crore (Rs 300 billion) annually.'
'We are trying to redevelop 400 A1 and A category stations to bring them on par with global standards of service quality.'

'We are creating a Special Railway Safety Fund with a corpus of Rs 1 lakh crore (Rs 1 trillion).'
At the Indian Railways, the tenure of Union minister Suresh Prabhakar Prabhu does not coincide with the National Democratic Alliance government's two-year anniversary on May 26, 2016.
After assuming charge on November 10, 2014, the Narendra Modi government's very own infrastructure expert decentralised decision making in the mammoth organisation.
In an interview with Sudheer Pal Singh and Jyoti Mukul, Prabhu says the Railways created history by saving Rs 12,000 crore (Rs 120 billion) through operational efficiencies.
Excerpts:
How comfortably is the Railways placed in terms of fund raising? Have you been able to mobilise funding as targeted when you took over as minister?
The Railways is working on a capital expenditure target of Rs 1.21 lakh crore (Rs 1.21 trillion) for the current financial year.
This includes Rs 20,000 crore (Rs 200 billion) of institutional financing where we are very comfortable.
Even with the current estimates of spending, we have a lot of leverage.
For instance, we have secured long-term funding of Rs 5 lakh crore (Rs 5 trillion) from Life Insurance Corporation from which we can draw at least Rs 30,000 crore (Rs 300 billion) annually.
It is important to understand that the long-term capital expenditure target of Rs 8.5 lakh crore over five years includes spending on all rail-based projects.
This includes projects for which funding will come from outside the Railways' balance sheet and may not be provided for in the Union Budget.
For example, Rs 1 lakh crore (Rs 1 trillion) funding for the Mumbai-Ahmedabad High Speed Rail (HSR) project will come to the Railways but was not provided in the Budget.
Similarly, the Rs 40,000-crore (Rs 400-billion) worth of contracts placed on GE and Alstom for Bihar locomotive factories are not coming entirely from the Railways' balance sheet.
What are the other such sources of funding being tapped?
A lot of funds will be channelised into the massive station redevelopment project.
We are trying to redevelop 400 A1 and A category stations to bring them on par with global standards of service quality.
We have already placed the first contract for the redevelopment of the Surat station.
In the coming days, eight or nine more stations will be taken up for redevelopment.
Now, the Maharashtra government has shown a lot of interest in this project.
Also, we are signing Memoranda of Understanding with state governments for taking up projects on a 50:50 partnership basis.
This mode will make Rs 50,000-60,000 crore (Rs 500-600 billion) of spending feasible.
At the same time, now multilateral institutions like the Asian Development Bank are expressing willingness to provide financing.
How would you ensure the pace of spending picks up this financial year?
Last year, we were facing constraints on spending on projects.
Detailed Project Reports were not ready in most of the cases of new projects, which were mostly meant to de-congest the existing system.
So, a lot of time went into preparing DPRs and new yards for doubling projects, taking the proposals to the NITI Aayog followed by approvals from the expanded Railway Board, etc.
This year, we already have sanctions for Rs 5.6 lakh crore (Rs 5.6-trillion) worth of projects out of the spending target of Rs 8.5 lakh crore (Rs 8.5 trillion).
What is the status of the mega fund to be created with the World Bank as anchor investor? How will that funding be utilised?
I had a meeting with World Bank officials recently and they expressed their confidence in the Railways' ability to spend money judiciously.
The corpus of that fund is yet to be decided, but it might not be used only for Indian Railways' projects and would be channelised for all rail-based projects, including even public private partnership.
The World Bank has given its in-principle approval for the creation of the fund.
Now, the proposal is with the Department of Economic Affairs.
We are ready with the basic structure.
We'll take it forward once other formalities are in place.
Therefore, I don't see funding as a constraint anymore for implementing projects.
Similarly, for safety aspects, we are creating a Special Railway Safety Fund with a corpus of Rs 1 lakh crore (Rs 1 trillion).
It is an ambitious plan to set up the non-lapsable Rashtriya Rail Sanraksha Kosh, which we are taking to the finance ministry.
Do you think the rail ministry has improved service quality and upgraded infrastructure to a level that would justify passenger fare hike any time soon?
The subject of fare hike would be dealt with by the independent regulator when it is set up.
The regulator will look at fixation of passenger fare and freight rates -- based on our petition, of course -- apart from increasing competition through private participation and also setting efficiency benchmarks.
This is not the only success area.
This year's rail budget was the first time the Centre brought down expenses by as much as Rs 12,000 crore (Rs 120 billion).
Which other government can boast of such a major achievement?
What was the need to create a special department for non-fare revenue?
We got Rs 5,600 crore (Rs 56-billion) in revenue in the last financial year from non-passenger fare and freight revenue.
This year, we are targeting Rs 10,000 crore (Rs 100 billion).
So, from 3-4 per cent of the total revenue we want to raise the share of non-fare revenue to 10-20 per cent.
For instance, we hope to raise Rs 1,700 crore (Rs 17 billion) from advertising.
We will be conducting e-auction of greenfield assets, which can be used for advertising.
Non-fare segment used to come under different directorates so there was departmentalism.
This new approach will take care of this issue, too.
Image: Passengers sit inside a crowded stationary train at a railway station in New Delhi. Photograph: Anindito Mukherjee/Reuters